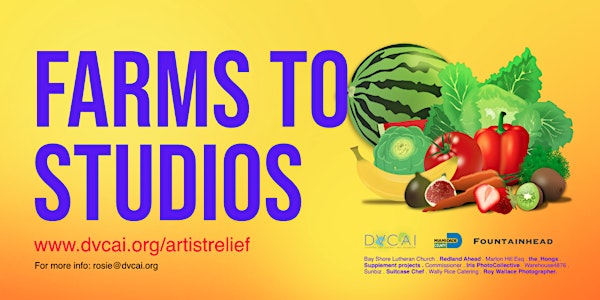 DVCAI: Artist Relief (JUNE 20TH)
When and where
Location
Bay Shore Lutheran Church 5051 Biscayne Boulevard Miami, FL 33137
Description
Description
June 6th, 2020, 12 noon - 2:00 pm
Farm To Studios.
Farm share Boxes with fruits and vegetables.
To assert an authentic action and in partnership with artists
DVCAI will lead by partnering with Homestead Farmers to
prepare boxes of fruits and vegetables for artists bi-weekly.
These boxes are $25 value of fresh food - Fruits and vegetables.
Simple access. Register here then pick up.
Donors can donate to the ecology of care online as well @ dvcai.org
Bay Shore Lutheran Church lawn
5051 Biscayne Blvd
Miami Fl. 33137
Bi-weekly- Saturdays noon - 2:00 pm
May 9th, 2020.
Contact rosie@dvcai.org
Rosie: 305-542-4277
Angela: 786-804-3588
Special thanks: Bay Shore Lutheran Church
Miami Dade County
Sponsors:
Fountainhead Residency
Redland Ahead
Marlon Hill Esq
the_Hongs
Supplementprojects
Commissioner
Iris PhotoCollective
Warehouse4876
Sunbiz
Suitcase Chef
Wally Rice Catering
Roy Wallace Photographer.