Description




Jacksonville's biggest platform for indie brands and talent is BACK during #SpringBreak in #DUVAL county. Event Lineup + Details Below, but news will break weekly as DSF19 approaches so stay tuned!

VIP Industry & Media Suite: Spring Fest Kick-Off Event -- Guests TBA [Got a hot single or project that you'd like taste makers in media + radio/DJs/blogs/local magazines to hear? This event is for you]


*NEW* CASH PRIZE Spring Fest Buzz Contest
*NEW* Game Night Music Trivia + Special Guest Performance
Welcome 2 Duval Industry Mixer + After Party
Fasihon & Talent Revue + After Party
2nd Annual Community Seafood Boil + Prom Dress/Tux Rental Giveaway
Artists To Watch 2019 Showcase + After Party
& MORE

>> Monday March 11-Sunday March 17

>Mon March 11
VIP Media Suite
with Special Media/Industry Guests, DJs, TV/Radio Personalities, Artists/Producers, Models, Photographers, Videographers, Writers/Bloggers and Entertainment Entrepreneurs

6pm Reception @ Cowford Chophouse 101 E Bay St 32202 | 7-11pm @ The Kreative Corner 121 E Bay St 32202 | DJ E Nice of Fleets DJs | Hosted by Go Go Gadget Bridget of CW17's LIVE from New Jax City

>Weds March 13
Game Night + Karaoke Mixer
@ Bay Street Bar & Grill 119 E Bay Street 32202 6-10pm (Happy Hour 4-7pm) hosted by Jermeka Monae of CW17's Life & Grind: Duval Seasons 3 & 4
>Thursday March 14
Welcome 2 Duval Young Urban Professionals Mixer
6-9pm @ Element Bistro 333 E Bay Street 32202
10pm-until After Party @ Myth Nightclub (connected to Element)

>Friday, March 15
IONE Fashions & LIVE from New Jax City Present: CW17 NFSG Fashion & Talent Revue

North Florida/South Georgia Televised Fashion & Talent Showcase with special guest designers IONE Fashions, Event Host Makeeta Lé Modél of CW17's LIVE from New Jax City, Grand Doyenne, Couture Stylings, and Saachi Wears

6:30-11pm @ Get Candid Studios 903 Edgewood Ave W 32208 7-11pm | Duval DjBravo
11pm-2am After Party @ Live Bar 335 E Bay Street 32002

>Saturday, March 16

Bob Hayes Invitational Track Meet 2019
High School Finals - CW17 Taping
8am-12pm @ William M. Raines High School

JJS HOUSE & The Beauty Industry Group Present: 2nd Annual DSF Community Seafood Boil
with Special Guest Speakers including 2019 Jacksonville Mayoral Candidate
Omega Allen (Facebook Page: OMEGA 4 MAYOR)

+Prom Dress & Tux Rental Giveaway | Kids Eat Free, Adults Must Purchase Their Own Plates
+Free Haircuts for Students

1-4pm @ Zeta Phi Beta Park 3805 Moncrief Rd W 32208 | Duval DJ Bravo | Hosted by Beta Alpha Zeta/Omega Zeta Zeta Chapters of Zeta Phi Beta, Inc. and Nu Beta Sigma Chapter of Phi Beta Sigma, Inc.

CW17/Live from New Jax City's 90s Yard Party + 2019 Artists to Watch Showcase
with VIP Guests, DJs, Magazines/Blogs, and Some of the Southeast's Hottest Indie Talent Performing for a Special Spring Fest Episode of CW17's LIVE from New Jax City
7pm-11pm @ Spliff's Gastropub 15 Ocean St. 32202

Afterparty @ Real Ting Café
Hip Hop/Reggae Night
128 W Adams St. 32202 11pm-until


>Sunday, March 17

Sunday Service
10am-12pm @ OACF Church 2763 Dunn Ave 32218

DSF19 Historic Beach Clean Up
1-3:30pm Historic American Beach Clean Up, American Beach
(Fernandina Beach, 30-45 mins north of Jacksonville)
Historic American Beach was the First and Only Beach to Welcome African
Americans During the Jim Crow Era
-Interested in Vending at these Events?

-Got a Brand/Business, Event, Talent, or Client who Could Benefit from Exposure to 100,000+ Potential Consumers that our Promotional/Marketing Campaign will Reach?

-Interested in Sponsoring any of these Televised Events and Receiving Unmatchable Visibility and Unrivaled Access to our NE Florida/SE Georgia Demographic? Let's Work!

>> CONTACT: 904.651.7960 or STAFF[at]VIPSquadNation.com <<
________________________________________________


**We are seeking volunteers for our community service efforts which will involve beach clean up (light physical activity), monetary donations (to cover Prom tux rental costs for underserved local students), and in-kind donations (Prom dresses for underserved local students)-- Contact 904.651.7960 or 904.576.3676 or email STAFF[at]VIPSquadNation.com for Donation Info


+Quarter 4 2018/Quarter 1 2019 - Florida All-Star Mixtape #FLAsFinest6 Available TODAY [Click the Hashtag to Stream or visit www.VIPSquadNation.com to download in FULL for FREE]

+The Much Anticipated album "LogophiliYaH" from Dez Nado will be preceded by two UMG-distributed mixtapes, the 1st of the 2 will be released in February with the Official Listening Party going down March 11 as a part of the Duval Spring Fest 2019 VIP Media Suite Kickoff Event
+LIVE from New Jax City TV Series will be Filming and Featuring Select Artists for Interview and Performances will be aired on the CW Network (Contact STAFF@VIPSquadNation.com for TV/ad placement & features)

_____________________________________________________________________


**Celebrating the release of #LPYH90sTape + #FLAsFinest6-- THE go-to mixtapes for your Spring Break festivites during Spring Fest week -- FF6 Series Available NOW @ https://audiomack.com/artist/flasfinest6/ + www.audiomack.com/FreestyleFilez6 or download in FULL @ www.VIPSquadNation.com --FEATURING

Rick Ross | A Boogie Wit Da Hoodie | Tokyo Jetz | Kamillion | Trina | T-Pain | Ace Hood | XXXtentacion | Caskey | Plies | Lil Duval | Ball Greezy | Drake | Cardi B | Lil Wayne | Dez Nado | Jacquees | Tory Lanez | G-Slim da Vet | Bangem Bandz | Seerious Penny | The Weeknd | Travis Scott | August Alsina | Bad Bunny | Ty Dolla $ign | Nicki Minaj | Snoop Dogg | K Camp | Kirko Bangz | Popcaan | A$AP Ferg & MORE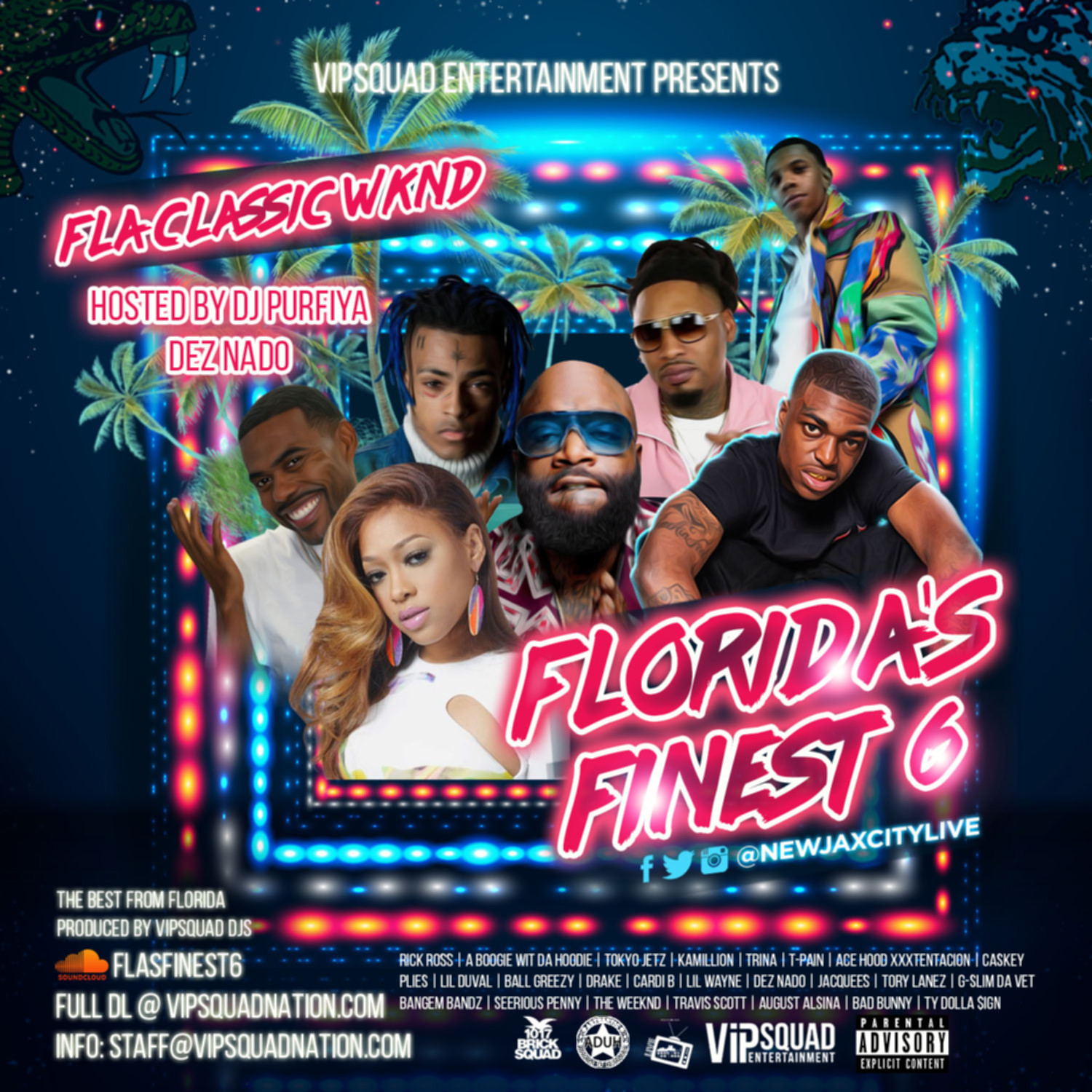 Check out past versions (400,000+ REAL Plays/Downloads since 2012) BELOW


and #FreestyleFilez6 the unofficial BET HIP HOP AWARDS weekend mixtape with exclusive content straight from the 2018 #HipHopAwards Green Carpet -- Contact www.facebook.com/NewJaxCityLIVE for info and/or to submit your music for consideration to be on the mixtape(s) or to be featured on the CW Network (North Florida/South Georgia)

Freestyle Filez Vol. 6 features Lil Wayne, Drag-On, Sheek Louch, Jadakiss, Drake, Pusha T, Eminem, Machine Gun Kelly, Dez Nado, LJ Da Joker, VIPSquad, Yewmanyeti, Hood Celebrity, Nas, Jay-Z, Kendrick Lamar, J. Cole, Chris Rivers, XXXTentacion, T-Pain, Joe Budden, August Alsina, Bryson Tiller, Seerious Penny, Fabolous, Black Thought, and MORE available NOW @ www.soundcloud.com/FreestyleFilez6 and Downloadable in FULL @ www.VIPSquadNation.com

PRESS/INFO >>

>>> Follow www.facebook.com/VIPSquadDJs for up-to-the-minute updates as DSF19 approaches

Every September/October, the unofficial BET Hip Hop Awards Weekend mixtape hits #ATL (or wherever the Awards are; #Miami in 2018) and features some of the HOTTEST indie & major talent all on one tape -- like the page Freestyle Filez - Mixtape Series (fb) & be the first to DL/stream -- Past editions can be found at the bottom of this page -- #FreestyleFilez4 was the first and only #Live mixtape uploaded with behind the scenes content from the 2016 #BETHipHopAwards in #Atlanta .. The second mixtape series that follows Freestyle Filez produced by 1017/VIPSquad DJs is Florida's Finest/ #FLAsFinest which is released in November after #FAMUHomecoming weekend & before #FloridaClassic weekend where the #FLAsFinest6 release party will be in Orlando

CONTENT recorded from the events will be TELEVISED on CW17 & DeKalb-Comcast 25 Atlanta -- like/follow these links to be the first to check out the footage which might feature YOU -->
www.youtube.com/LifeGrindDuval
www.facebook.com/LifeGrindDuval | www,facebook.com/NewJaxCityLIVE -- Instagram: @LifeGrindDuval & @NewJaxCityLIVE -- www.LifeandGrindSeries.com [Season 5 premieres this November on northeast Florida/southeast Georgia's CW affiliate network CW17]


Jax's 1st and ONLY cable reality TV series Life & Grind: Duval and the newest show LIVE from New Jax City will be taping at the events for CW17/BounceTV/DeKalb25

#Support the #Indie MOVEMENT!

For info: 904.651.7960 | 904.576.3676 | www.VIPSquadNation.com | www.LifeandGrindSeries.com | www.Facebook.com/LifeGrindDuval
www.Facebook.com/DezNado | www.Facebook.com/LifeGrindATL | www.Facebook.com/VIPSquadENT

Eventbrite Page: https://www.eventbrite.com/e/duval-spring-music-community-fest-2019-tickets-55351964215

Facebook Page: https://www.facebook.com/events/328726061305375

LIVE from New Jax City BET Awards 2018 Media Coverage -- https://youtu.be/Dnvq-NoQY8c
www.facebook.com/LifeGrindATL
Organizer of DUVAL Spring Music & Community Fest 2019
VIPSquad Entertainment was founded in 2006 by two teen-aged business partners in Jacksonville, Florida. One of the partners, Dez Nado, is an American hip hop and reggae singer, songwriter and record producer from Jacksonville, Florida. He is also a television producer who produces and directs Jacksonville's first and only cable reality TV series Life & Grind: Duval.[1]
VIPSquad Entertainment specializes in event management and production, including (but not limited to) event coordination, marketing, promotion, digital asset management and creation, public relations, media relations, communications (mass and inter-personal), communication/marketing strategies, business management and consulting, advertising and budgeting, scriptwriting/creative services, talent booking, event hosting and staffing, venue booking, content creation and production, logistics, quantitative and qualitative data collection/analytics and research, proposal drafting and presention, contract drafting and negotiation, songwriting and music production, studio engineering, mixing, TV/radio commercial casting and production, blogging, publishing and royalty consultation, image consultation, TV coaching, life coaching/motivational and public speaking, copywriting, DJing, audio/visual editing, TV/movie pitching and placement, concept development, website development and basic HTML coding, and more