Description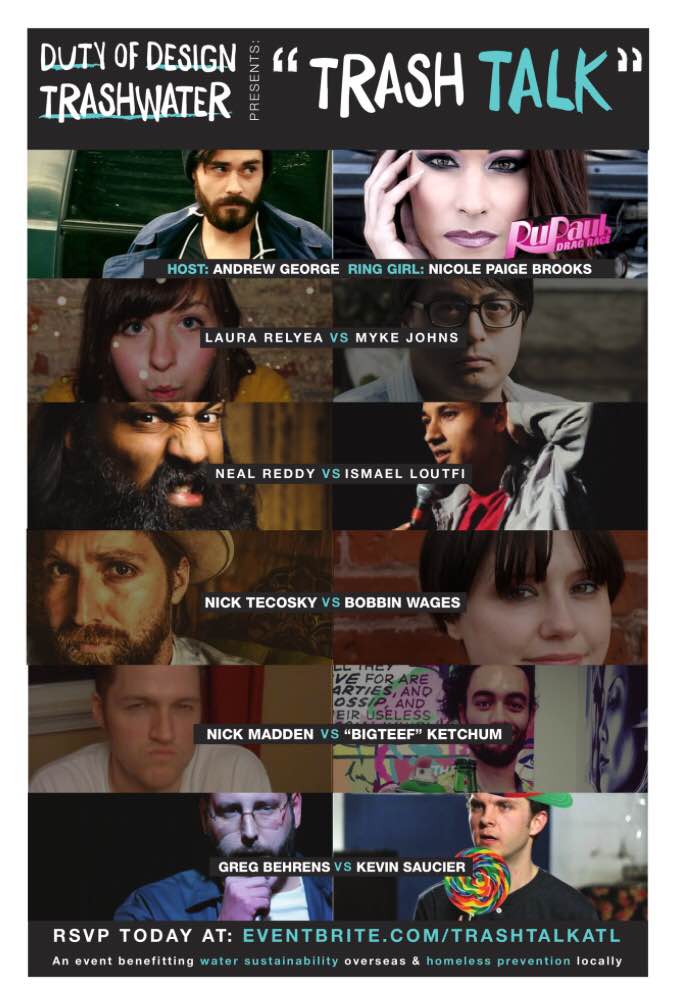 Trashwater and Duty of Design present "Trash Talk" an event to benefit Trashwater International and The Duty of Design and their work providing clean water in Nicaragua and job resources for homeless women in the City of Atlanta.

In collaboration with our sponsors The Laughing Skull Comedy Lounge and Bang!Arts this event will pit Atlanta's best and brightest against each other in a night of head to head battles. Our brave warriors will brandish their talents to defeat their enemies in literary battles, comic battles, mural battles, bar battles, and a surprise battle. Our competitors include some of Atlanta's most talented folks like:
Laura Relyea
Myke Johns
Nick Tecosky
Bobbin Wages
Ismael Loutfi
Neil Reddy
Greg Behrens
Kevin Saucier
Carlitos Rivera
Nick Madden
Matt Ketchum (aka Big Teef),
A special appearance by DragRace star Nichole Paige Brooks and a ton more.

The victors will be decided by the audience and the event will be refereed by Laughing Skull legend Andrew George. Andrew has opened for legendary comics Aziz Ansari, Louis C.K. and recently for Amy Schumer.

A silent auction will be held featuring items from heavy hitters like:
Kendra Scott
DryBar Salon
King of Pops
Jeni's Ice Cream
The Atlanta Ballet
Laughing Skull Comedy Lounge
Monday Night Brewing
Red Brick Brewing
Green's Package Store
Dragonly Salon
The Modern Classic Salon
Sq/Ft Boutique
A tattoo session with Austin Archer or David Victor from Kingdom Tattoo
A signed copy of Laura Relyea's book "All Glitter Everything", Art from local artists including Ashley Anderson and Heather Lund

and much, much more!

Fantastic food will be provided by Tin Lizzy's Cantina.
Delicious desserts provided by Penelahpe's Bakery.

All of the proceeds will make it possible for Trashwater to continue providing clean water and sanitation in Los Brasiles and La Chureca, Nicaragua and Duty of Design's work with Atlanta's homeless women. If you are interested in attending the event please visit our EventBrite page. If you are interested in joining our trip in March please email us sonofsanders@gmail.com

About Trashwater:
Trashwater is an Atlanta based non-profit providing innovative, clean water and sanitation solutions through partnerships with communities in developing nations. Trashwater uses education, filtration, and mobilization to maximize lasting change for those burdened by unsafe water and unsanitary living conditions. This past spring, we delivered countless water filters to families in need. Since traveling to Nicaragua, The Trashwater team has delivered 5 ultraviolet purification systems and 60 terra cotta water filters to the communities of Nicaragua; which amounts to 60 families and 3000 students approximately receiving clean water. The Trashwater team has 5 UV Water Purification Systems in Nicaragua; which last for at least 10 years and can provide up to 5000 gallons of clean water per day.

We have a dedicated and diverse team that includes community organizers, geologists, film makers, interactive designers, mothers, fathers, interns, and students from various age groups, nationalities, and orientations. Every member is invaluable to us. Please visit Trashwater.org to learn more and get involved.

About Duty of Design:

Duty is an award-winning design company that's a little different from the rest. Using their modular needs assessment tool, they offer discount (and free) design services to charitable organizations, service groups, and non-profits. All one needs is an idea and a cause to spur action, spread awareness, initiate change, and transform lives. They have worked with The National Coalition for the Homeless, Atlanta Mission, senior advisors from Sundance, Live FullE Women's Empowerment, and more. Since our opening, Duty has won six design awards and assisted many homeless women with their custom design tools, assisted with a expansive Photography Wall to be installed across California, aided in humanitarian and sanitation efforts over seas and more. You can check out Duty's main site www.thedutyofdesign.com and Duty's blog atwww.designersduty.tumblr.com