Paint, Powder, Water, Vibes! ! Leave your behavior at home! Dutty Up Jouvert CAMOUFLAGE Edition. 100% Soca Jouvert in Miami, FL.
About this event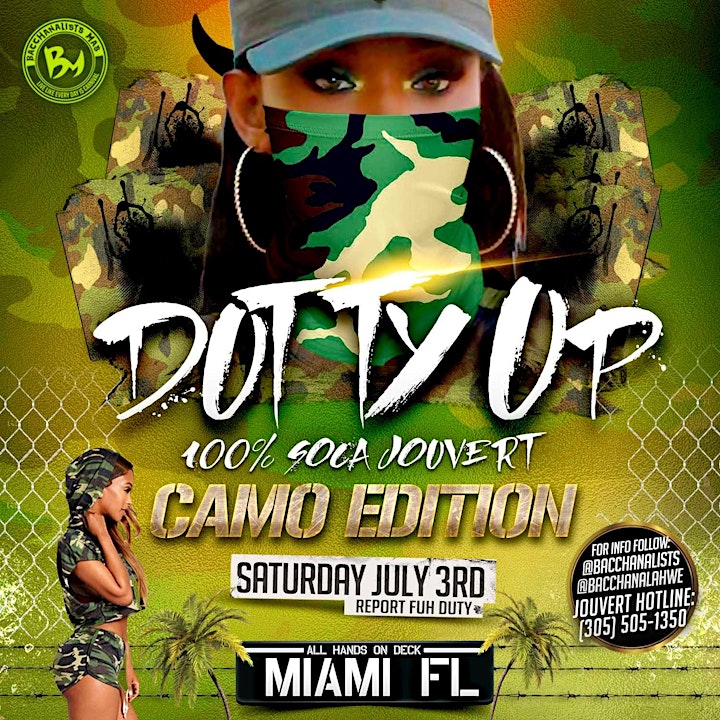 Dutty Up - CAMOUFLAGE Edition
100% Soca Jouvert in Miami
Paint • Powder • Water• Vibes🔥
If you missed our amazing January and April events don't miss this one. Check out some of our highlights below. Also follow facebook.com/bacchanalahwe for a full recap.
The first 100 guests will receive a free bacchanalists mas bandana.
The colors are going to be enchanting, the Soca music is going to sink into your soul and the energy is going to be raving as usual.
Be ready to get smacked everywhere with powder, paint, and even water! Instead of trying to avoid it, be ready to get down and dirty in the true spirit of the J'ouvert. Being Dirty is exciting!
Come out on Saturday July 3rd Independence Weekend and Celebrate the Culture of pure Caribbean J'ouvert.
- More Mas, More Paint, More Water, More Music, More Fun!
Register now to secure your spot before the packages sell out. Limited Capacity❗️
-Gates open at 9 am
-Outdoor venue
-No mask no entry
-No Ticket No Entry
For more info follow: @bacchanalists @bacchanalahwe
OR
Call/Text the Jouvert Hotline: 305-505-1350
Rain or Shine event. Refunds will be issued ONLY if the event is canceled.
#soca #socafete #socajunkie #partytime #brickell #fiu #dadecounty #lauderdale #sobe #southflorida #miaminights #miamilife #soflo #afrobeat #afrosoca #954 #lauderhill #jouvertmiami #hialeah #island360 #bacchanalahwe #broward #browardcounty #561 #772 #socaparty #fiucsa #miamigardens #jouvert #jouvert2021 #miamicarnival #socaparadise #305 #westpalmbeach #bocaraton #fortlauderdale #islandbox #miamijouvert #dafeteransintl #fortlauderdalebeach #nobehaviorallowed #duttyupjouvert