Problem Child Performing Live. Register now purchase ticket and secure your spot. Duttiest Jouvert in Miami Paint • Powder • Water• Vibez!
About this Event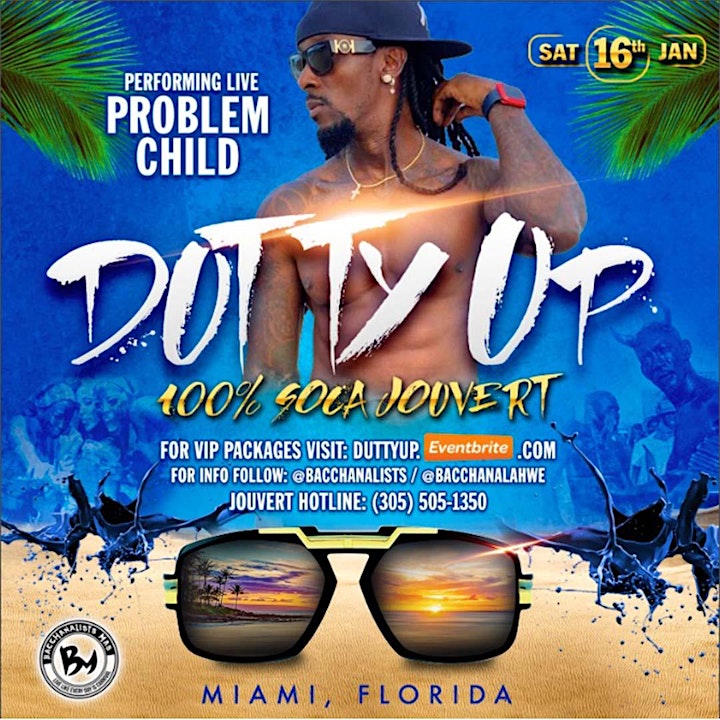 Dutty Up
100% Soca Jouvert in Miami
Paint • Powder • Water• Vibez!
Get ready to dance and jump up as we are organizing the 2021 kickoff Soca Fete J'ouvert party in Miami, Florida! Be part of the experience, recharge your energy levels, and have fun in the most exciting street party called "Dutty Up J'Ouvert"!
Come and experience seven hours of pure fun! Blend into the mas by splashing different colors of paint and mud onto yourself and your friends, while the rhythm of the music lifts you off your feet.
The first 100 guests will receive a free bacchanalists mas bandana.
The colors are going to be enchanting, the Soca music is going to sink into your soul and the energy is going to be raving as usual.
Be ready to get smacked everywhere with powder, paint, and even water! Instead of trying to avoid it, be ready to get down and dirty in the true spirit of the J'ouvert. Being Dirty is exciting!
Come out on Saturday January 16th and Celebrate the Culture of pure Caribbean J'ouvert.
- More Mas, More Paint, More Water, More Music, More Fun!
Register now to secure your spot before the remaining packages sell out. Limited Capacity❗️
The headliners for this year's event will be MiamiDreamTeam, DJ JonJat, DJ Ziah. alongside a host of the best local DJs.
If you missed our amazing 2019 program check out our highlights and make sure to get ready for 2021 as we'll be back bigger and better!
-Gates open at 7 am
-Outdoor venue
-No mask no entry
-No Ticket No Entry
For more info follow: @bacchanalists @bacchanalahwe
OR
Call/Text the Jouvert Hotline: 305-505-1350
Rain or Shine event. Refunds will be issued if the event is canceled.
#soca #socafete #socajunkie #partytime #brickell #fiu #dadecounty #lauderdale #sobe #southflorida #miaminights #miamilife #soflo #afrobeat #afrosoca #954 #lauderhill #jouvertmiami #hialeah #island360 #bacchanalahwe #broward #browardcounty #561 #772 #socaparty #fiucsa #miamigardens #jouvert #jouvert2021 #miamicarnival #socaparadise #305 #westpalmbeach #bocaraton #fortlauderdale #islandbox #miamijouvert #dafeteransintl #fortlauderdalebeach #nobehaviorallowed #duttyupjouvert