Sales Have Ended
Registrations are closed
Unfortunately, our sale has ended for this event. But don't worry, the Dutchify platform demo gets hosted every Wednesday at 15:00 PM CEST. So be sure to register for the next one.
Sales Have Ended
Registrations are closed
Unfortunately, our sale has ended for this event. But don't worry, the Dutchify platform demo gets hosted every Wednesday at 15:00 PM CEST. So be sure to register for the next one.
How do we help clients at Dutchify? Can I get a demo of the platform? What does your service cost? Join our free demo to get the answers
About this event
Hey future mover!
Or maybe you are just curious what Dutchify is all about? Dutchify is a company that helps people, and companies, move to the Netherlands. We help you in a personal way and we are able to help with the moving plan you have in your head.
We can offer help and service for all your challenges in housing, career, immigration, and much more. And we have a team of professionals that all have an international background, so we can connect well with you as a person.
We manage your move on an innovative platform. This platform is designed to make life easy for you and your HR manager. During our weekly demo, you can experience how this platform works & how we can help you. Are you joining?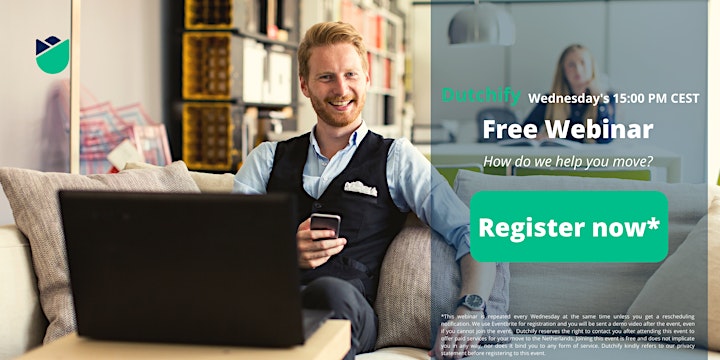 The webinar will be hosted for a minimum of 5 participants and will last about one hour. During the webinar, you can expect a demonstration of a client profile, and the services we performed to complete the move of this client. This will give you a good idea of how we work and what we can achieve if Dutchify helps you move.
The webinar will contain the following topics:
A brief introduction of Dutchify and how we started
Examples of assignments Dutchify completed
Who some of our major clients are
A full demonstration of our platform and showcasing our services
Some time for questions and answers (Q&A)
We will host this webinar every Wednesday at 15:00 PM CEST to make it easy for you to attend.
Please note that this webinar is an introduction only, if you want to speak to Dutchify for your personal move, dedicated to your plan specifically, we advise you to schedule an appointment here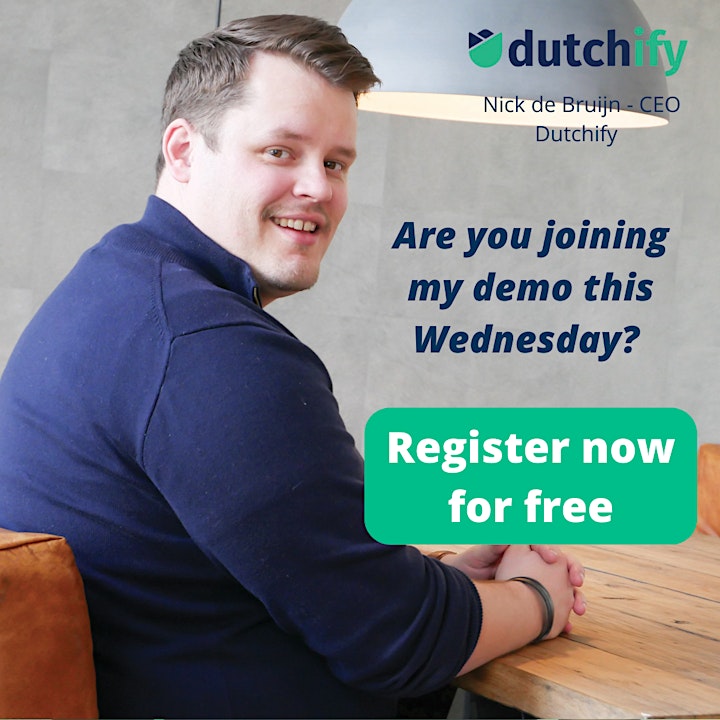 Did you register but you cannot make it to the webinar? No worries, we always send the video of our demo afterward. So be sure to subscribe, even if you cannot attend.
Joining this webinar is free and nonbinding. When you join this webinar you register your personal details. Joining this webinar makes you agree with our privacy statement which allows a representative of Dutchify to contact you to offer paid services to help you move.
Organizer of Dutchify free demo - repeats every Wednesday at 15:00 PM CEST
Dutchify offers an innovative platform to help everybody move to the Netherlands. Our company is full of passionate people that are experienced in moving countries. We use the experience we gathered in our journeys to help you. 
Dutchify was founded in 2016 by two expats who traveled the world for work and studying. Our founders experienced the need for a personal assistant for their move. Time zone differences, the need for physical appointments, and the lack of knowledge on the domestic market proved really big barriers to moving abroad. 
Nowadays, Dutchify helps by hosting free webinars, local events for networking and we offer our services for your move. Engaging with our platform will allow you to get expert information to manage your move and get a better local network of like-minded people.
The way we like to work:
Schedule a personal call with one of our assistants or join one of our free webinars
Apply for a personal moving plan. This plan will be drafted by one of our assistants and is fully dedicated to your personal situation. 
Start managing your move like a pro!
Or hire one of our assistants to be your personal pro. 
Whatever you choose, you'll benefit a lot from joining one of our webinars or events! Get started with your move today.