Description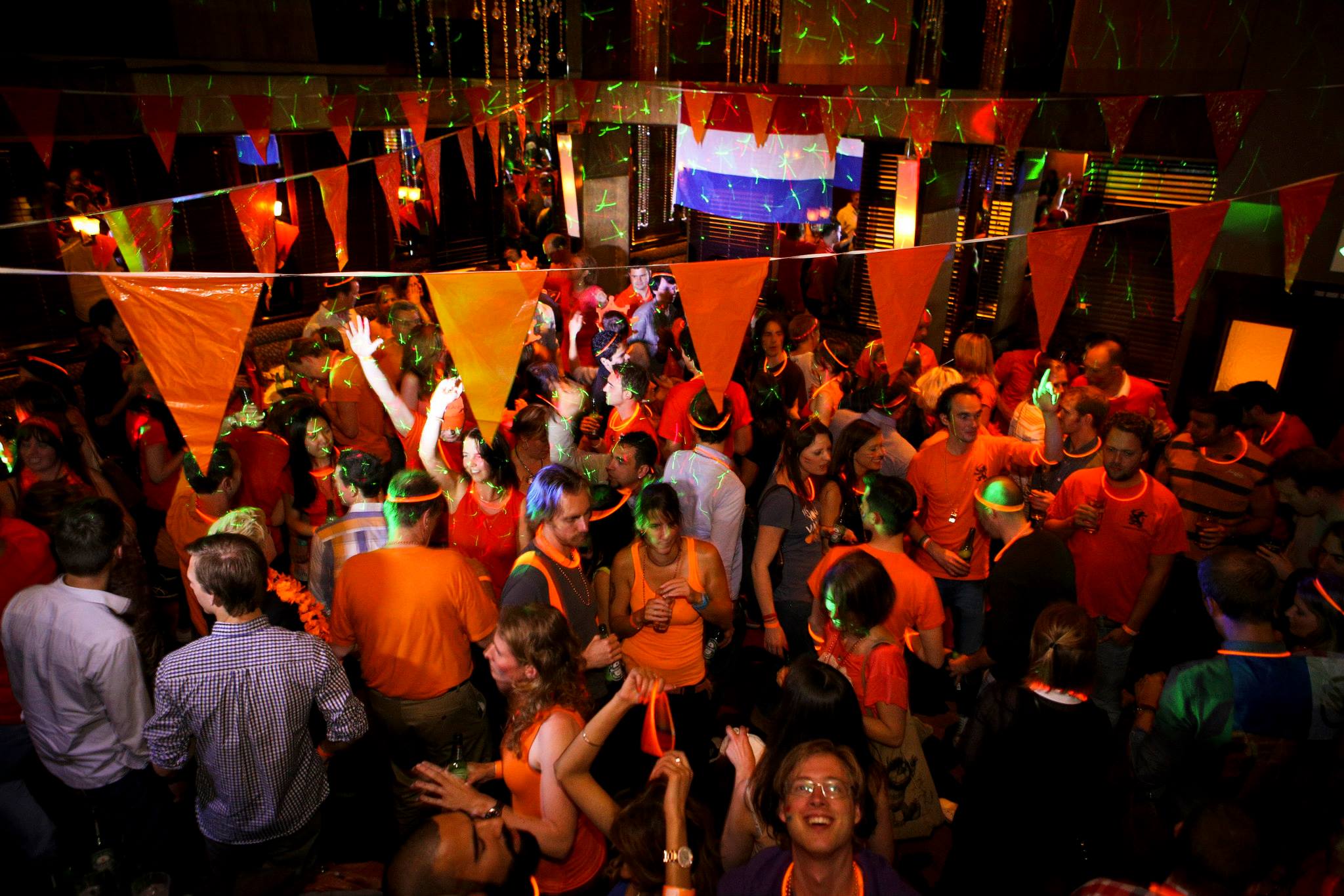 The Koningsdag Night will be held at Bar Nua, a great Irish Pub with great big windows, comfortable seating, full bar, and plenty of room to dance in the heart of Northbeach!!

Dutch cheese (Jonge Kaas) or cheese from the fist from Holland with Amsterdam Onions and a Dutch Flag!

Best dressed orange competition


Spijkerpoepen and other fun Dutch games in the beginning of the evening


Orange Balloons and Orange party favors

Great Dutch decor including a plethora of Dutch flags

Drop, chocolate, and other goodies

Public transportion is highly recommended
And of course Marc van Brabant the founder of Kingsday in SF as your Master of DJing.
Marc van Brabant is the No. 1 Dutch DJ West of the Atlantic Ocean and will be in
NEW YORK: Saturday April 28
LOS ANGELES: Sunday April 29
And of course in SAN FRANCISO to kick of the Dutch Party on Thursday April 26!!
In the beginning it will be 80% Dutch 20% Dance/House/EDM and after 11pm we will flip those numbers!
Volunteers always needed and receive free entry and a drink. Must sign up by April 20 and arrive by 7PM and are willing to help decorate :) We have flags, balloons, slingers, vaandels, emblems, and waaiers to put up plus all kinds of snacks to put out

We also have a buy 3 tickets and get 1 free ticket special please go here www.djmvb.com or email djmvb1@gmail.com

WHAT IS KINGSDAY?

From Princess' Day to King's Day
Originally, Princess' Day was celebrated in Holland on Wilhelmina's birthday (31 August), when she was still a princess. The feast involved many children's games and decorated streets. When Wilhelmina became the new queen after her father's death, it was changed to Queen's Day.
Juliana, the next queen and Wilhelmina's daughter, celebrated Queen's Day on 30 April with a parade on Soestdijk. Beatrix also celebrated Queen's Day on 30 April (her own birthday is in January) but contrary to her mother, she took her entire family and travelled around the country to visit several municipalities. King Willem Alexander has followed in this tradition. He was born on 27 April and this became the official King's Day in 2014.
Orange
The Dutch royal family bears the name: House of Oranje. This literally means the colour orange. As a result it has become Holland's national color. On King's Day people wear orange clothes, often even donning orange wigs or make-up and wearing Dutch flags on the side of their faces!!!

Kingsnight or Koningsnacht

It is Dutch Tradition that makes the world green of envy to see all the Dutch Flock in Orange to go into party mode the Night before the King's birthday. The Dutch will drink, dance, eat dutch snacks, and party all night so the next day they can sell their used items on the braderie or sidewalk sale or just go hang out and watch a live band and eat a herring to cure their hang over! We won't have herring available for the hang over but we do have the pre-remedy of a cure available not to drink as much the night before :)
FAQs
What can I bring into the event?
You can bring all kinds of Dutch goodies so long it is not alcohol, there will be plenty of that available

FAQs
What are my transportation/parking options for getting to and from the event?
Lyft/Uber or it is North Beach so plenty of Busses/Cable Car take Bart to SF and walk

FAQs
How can I contact the organizer with any questions?
Just Email DJMVB1@Gmail.com

What's the refund policy?
It's $8 really are going to make pay $2 to refund $6. One Pound of Jonge Kaas is over $6 so just come and eat some Dutch Cheese. I consider it a donation to all the other Dutch People that can come if you can not! :)