Dutch King's Day Night or Koningsnacht 2015

Friday, April 24, 2015 at 8:00 PM (PDT)
Event Details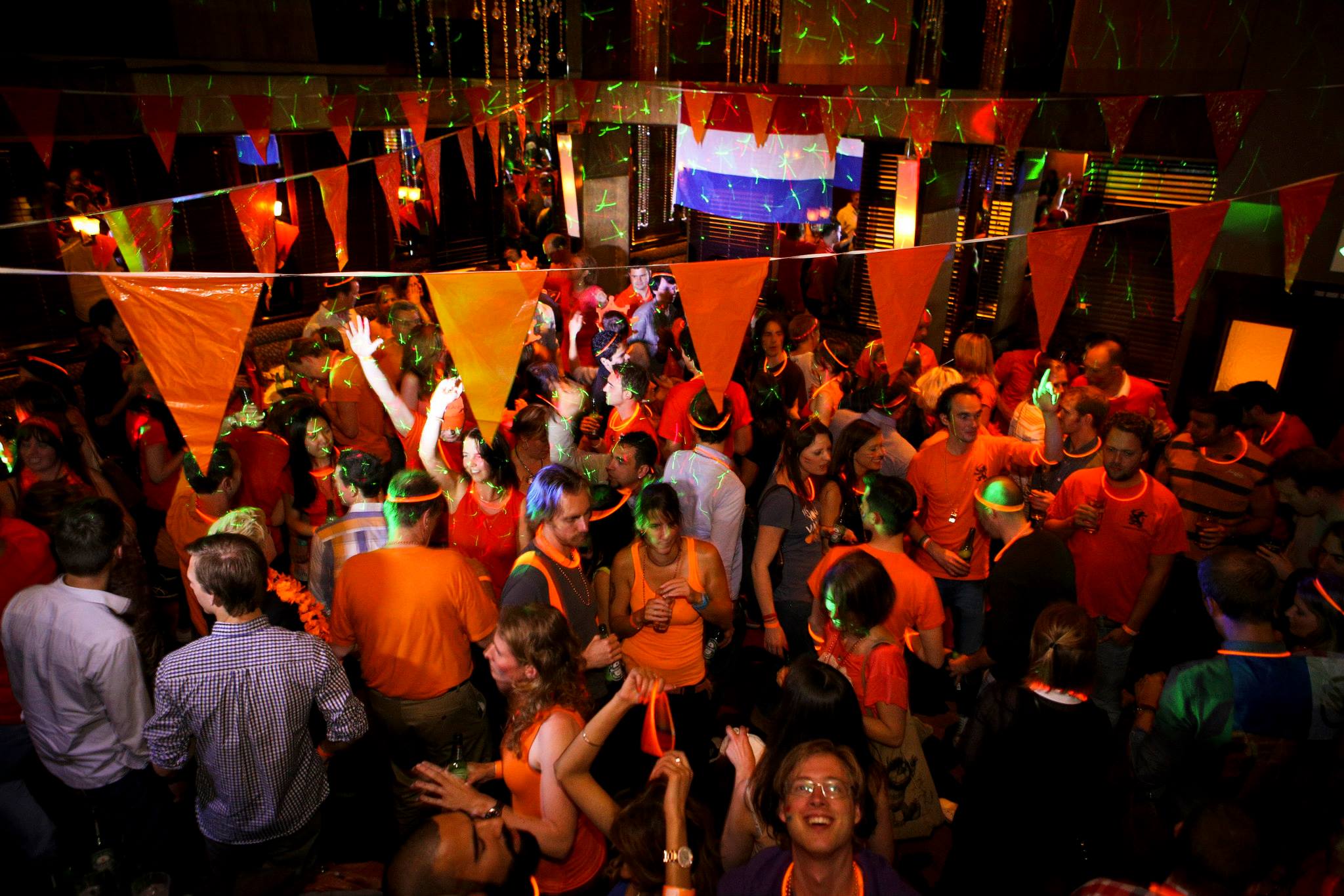 ONLINE SALES HAVE ENDED, PLEASE FEEL FREE TO COME TO THE VENUE AND PAY CASH FOR ENTRANCE
HUP HOLLAND HUP!
Friday April 24 @ 8PM
Circa Lounge, 1200 Chestnut Ave, SF, CA 94123
To all Dutch People, Europhiles, and friends of Holland.
After a DECADE of succesful Queen's day Parties in San Francisco and one awesome King's Night Party!  We bring you the second EVER KING's DAY PARTY!

The name may have changed slightly but the festive spirit of the day is sure to remain! You'll be treated to a sea of orange as everyone is covered head to toe in oranje (orange) as a show of pride for the Dutch Royal family, the House of Orange-Nassau.

Ater 10 Queen's day Parties, NLBorrels, EuroCircle and DJ Marc van Brabant will team up again to create a Dutch Party in San Francisco. It is the biggest King's Night Party west of the Missisppi.

So what can you expect:
FREE ORANGE PARTY FAVORS!  (ORANGE T-SHIRTS FOR THE FIRST 75 TO SHOW UP)
FREE HEINEKEN PARTY FAVORS and PROMOTION TEAM
FREE KETEL ONE PARTY FAVORS and PROMOTION TEAM
DUTCH CANDY (DROP (LIQOURICE), COLAFLESJES, STROOPWAFELS, SOME DUTCH CHOCOLATE
GOUDA CHEESE WITH AMSTERDAM COCKTAIL ONIONS & PINEAPPLE
UNOX ROOKWORST (SAUSAGE)
last year we went through 7 Kilo of Gouda Cheese in 2 hours :) so get there early. 

A couple of hundred Dutch Expats, Students, and Dutch People who have been in the United States for Decades but arrange a baby sitter for this Crazy Orange Night :) Plus all the people who have been in Amsterdam for this great Party and can't go to Holland this year will surely attend this party. The one thing in common that is they all be wearing orange and partying together 
Format:
8PM-10PM  Dutch Gezellig Music mixed with 80's, 90's and top 40
10PM-11PM International and European Dance Music
11pm-1AM  A mix of Dutch DJ's, EDM, DIRTY & DUTCH HOUSE and Party Classics
1AM-2AM   Remixes of the Best Songs!  Techno, Rave, Happy HardCore, 90's, Trance, Acid House, Guus Meeuwissen, Andre Hazes, De Dijk, and Tiesto!!!!

People who purchase tickets will have guaranteed entry! At the door it will be $20-$30  plus one would have to wait for people to leave.

Please take public transportation to this event as for 10 years the average consumption of Dutch Person at the Orange Party has been 5.2 drinks so way over the driving limit.

The 22 Fillmore stops right at the venue or take a taxi.

After you purchase a ticket, your name will be on the Will Call List and all you have to do is present a valid license or passport to claim your wristband. Only people who purchase the wristbands can collect the wristbands and then you are to distribute them to your friends outside for safe passage into the orange haven.

Tickets are available at
http://dutchking.eventbrite.com/
21+


NLBorrels Team
EuroCircle Team
Ketel One

History of King's Day

The entire country of the Netherlands will celebrate King's Day (Koningsdag) for the first time in 2014, after the inauguration of King Willem-Alexander on 30 April 2013 (what was then still Queen's Day).

The royal celebrations were first held on 31 August 1885 in honour of the birth of Queen Wilhelmina, and the Queen's Day (Koninginnedag) tradition was born. After Wilhelmina's daughter (Juliana) succeeded to the throne in 1949, the day was changed to 30 April in accordance with the new Queen's birthday.

When she became queen, the now Princess Beatrix chose to retain the day in honour of her mother but as of 2014, King's Day will officially be celebrated on 27 April (the king's birthday). However, the event is traditionally not celebrated on a Sunday which means that the first King's Night is the start of the weekend activities on Friday April 24.
for any questions please free to email
djmvb1@gmail.com
When & Where

Circa
2001 Chestnut St
in the Marina
San Francisco, CA 94123


Friday, April 24, 2015 at 8:00 PM (PDT)
Add to my calendar
Organizer
Eurocircle,NLBorrels, Marc van Brabant
EuroCircle:
http://www.EuroCircle.com/ is an informal community for European professionals & Europhiles & Expats (= interest or heritage in Europe)founded by Kaisa Kokkonen from Finland in New York City on Jan 11 1999 - married or single - with almost 100,000 members worldwide run by volunteers in different cities. With no political, religious or ethnic affiliations, EuroCircle.com is a place where you can exchange ideas, tips, professional contacts, make friends and more. You can meet people offline at our local events, online through the membership features or via the forums. EuroCircle has many "Circles" worldwide from New York, Rome, Milan to Los Angeles.

NLBorrels:
http://www.nlborrels.com
Dutch Organization invented for People who Love the Netherlands and love to mingle and meet other Dutch People.

Marc van Brabant:
http://www.facebook.com/djmvb

Original from the Nethelands has traveled the world and has played over 20 counties. At the age 14 he amazed fellow dutch dj's by mixing tapes on his Akai Tape Decks at high school dances. He commented that it was easy as the Akai tape decks at an automatic search button on it so no biggie. After moving up to cd players he still had a search for knowledge and studied for his master's in England, when he was not studying he was a bottle collector for Gate Crasher in the U.K. He collected the best bottles but he was always listening to the sounds of Pete Tong, Marco V and other top dj's. Then he made a break to start his dj career in a small pub in england where there was more fighting than dancing but here he found a niche what music stimilates violence and what induces love.
After a lot of the latter and a Master's in International Business Marc van Brabant decided to fight for his country as a Naval Officer and became inspired with all the Arabic beats surrounding him. Then at the height of the Gulf War, MVB moved to the USA to fill the deep need for Arabic and Persian DJ's. Many were too terrified to even play anything foreign sounding. But Marc van Brabant was not scared for any enemy especially an enemy of good music. He put a Euro Beat to the Best Persian and Arabic Music he acquired and within months the fans were speaking Farci to him as they thought he must be one of us as his knowledge of the music was beyond realization. Marc van Brabant became the no.1 Persian Arabic DJ with a blend of Dutch Electronic in Northern California for 7 years.
Then in 2004, Marc realized that he was from the Netherlands and after meeting with a friend who had a Hardwell mix, he realized that it was his Patriotic duty to introduce the rich Dutch Electronic sound to America. This was a failing endeavor and became the most hated DJ for the general clubs as they had never heard of Chuckie, AfroJack, and Hardwell. But as a true fighter he kept on mixing his Dutch Ideal Music into his American requests of Billy Jean and Various Sold out hip hop artists. So as the pioneer of the Dutch Electronic Sound in SF he only felt relief in the annual Queensday party he organizes together with other dutch organizations. There a launch of Electronic music splurged after he DJ'ed on Union Square for 4000 people with his Dutch DJ's ensemble of Nickie Romero, Quintin, and old skool dj Jean. So many questions where in the air and so many people realized that they do in fact love Electronic Music in the USA.
So everybody who had money bought laptops, Serato and Shazaamed MVB's music and tried to imitate his style and for 4 years it worked as the crowds just liked the music and the auto synched Serato beats however the audience is a more music educated audience and are not satisfied with 2 minute song mixed copycats. They need to have their envelope pushed to the musical frontiers. This is good news for Marc van Brabant as his not so good beat matches is no match to the 2 min addj's however his style plus his front forward thinking will always give the listener more excitement and a story told by his music as it was a beautiful passionate dream
Marc van Brabant laughs at his critics and just remarks that I have never DJ'ed where there was no fight or kissing going on the dance floor. I prefer kissing but i would rather have people fight then be drones to mass produced music. He agrees that there is a certain passion for him to get the right song as he researches for weeks at a time to simply attain the best recorded remix he heard of a sound track of an independent film from the 1980's. It is the search is 100 percent of the work the pressing of the button of a cd player is none. So if you want to hear some fun come check out Marc van Brabant, just his life story is fun enough to listen to. jimmy of online music enthusiast media.
Dutch King's Day Night or Koningsnacht 2015