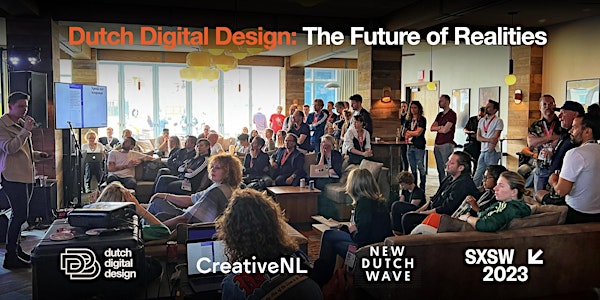 Dutch Digital Design: The Future of Realities
Dutch digital design agencies and brands share their vision on immersive and virtual realities - and where digital and real world merge.
Date and time
Monday, March 13 · 2 - 4pm CDT
Location
Wax Myrtle's in Thompson Austin 506 San Jacinto Boulevard Austin, TX 78701
About this event
Dutch Digital Design: The Future of Realities
Dutch designers and agencies are global leaders in digital design. During this event, several agencies and brands will share examples of inspiring interactive experiences and their vision of what is to come. For the third edition, Dutch Digital Design is part of the trade mission New Dutch Wave, in collaboration with CreativeNL. The event 'The Future of Realities' will take place on Monday, March 13 from 2.00 pm to 4.00 pm, followed by networking drinks. Join us for a glimpse in the future!
Speakers from agencies
Several speakers from agencies, that are partners of the Dutch Digital Design collective, will each make 15 minute presentations. They will share examples of immersive, augmented and virtual realities, where digital and real world merge, and the potential contribution of immersive (VR/AR/XR) to social issues. The session will be moderated by Claartje Vogel (journalist), Suzanne Visser and Bert Hagendoorn (Dutch Digital Design). The speakers are:
- David Vogel, Executive Experience Director at code d'azur
- Amanda Boomstra, Studio Director & Jeroen van Erp, Innovation Strategist at Fabrique
- Cees Dingler, Creative Director at Capitola
- Rogier Vijverberg, Executive Creative Director at SuperHeroes
- Flin Nortier and Rory de Graaf, Managing Partners at Soda Studio and Resoluut
Discussion members
After the presentations, an exchange with several brands and organizations will follow on the same topic. Amongst them are the following discussion members:
- Barbera Wolfensberger, Director General of the Ministry of Education, Culture and Science
- Alexandra Popova, Senior Director Digital Product at Adidas
- Karen Palmer, Storyteller, AI Award Winning International Artist, TED & TEDx Speaker
- Mia Huynh, Product Designer (Product Experience, Design, and Innovation) at T-Mobile
- Tom Beck, Executive Director at Society of Digital Agencies (SoDA)
Networking drinks
The event will close with networking drinks with all the speakers, attendees, and the organization. This will take place right outside the roof terrace of the Thompson Hotel.
More info will follow, as this page will be continuously updated!
**IMPORTANT : An official SXSW badge is required to enter this event.**
Badge holders only: This event is aimed at delegates of SXSW.
Contact us at info@newdutchwave.com if you are not a badge holder but want to attend.
Please note: Just in case you registered but can no longer attend the event, please let us know as soon as possible so that we can give your spot to another person.
Please let us know if you have any questions: info@newdutchwave.com
We are very much looking forward to meeting you all.
Declaration on the granting of rights to one's own picture when attending the event:
Photographs and videos will be produced for the purpose of comprehensive reporting as part of all "New Dutch Wave" events during SXSW 2023.
By registering for this event, you grant the New Dutch Wave network the right to use the photographs and video recordings (hereinafter referred to as image material) taken during the event with your images and presentations as follows:
The images created may only be used for reporting purposes with regard to the event and for advertising purposes with regard to the upcoming events of New Dutch Wave and its partners for reference purposes in marketing and PR documents of New Dutch Wave.
The created image material may be used spatially and temporally unrestricted for the aforementioned purposes.
The created image material may be used in all media; i.e. the image material with the image of the event participant and/or the presentations of the event participant (in video recordings) may be duplicated and distributed, made publicly accessible, exhibited, reproduced on video or audio carriers, transmitted and reproduced as a radio broadcast or made publicly accessible within the scope of all known types of use.
The right also includes the right to transfer the rights to third parties if the transfer of rights is necessary for the use of social media platforms on the basis of their terms of use (such as Facebook, Instagram or Twitter) within the framework of the of the fulfilment of the purpose.
The right includes the right to redesign and edit the images and presentations while respecting the right of personality insofar as this is necessary to achieve the purpose (in particular adjustment of image sizes and formats).
The right includes the right to transfer the rights to the aforementioned extent to third parties for reporting purposes with regard to the event.
There shall be no commercial use of the images except to the extent specified in Clause 1.
The participant is aware that New Dutch Wave is not obliged to provide any consideration for the use of the participant's photographs to the aforementioned extent, i.e. the event participants make the rights to their own picture available free of licence fees.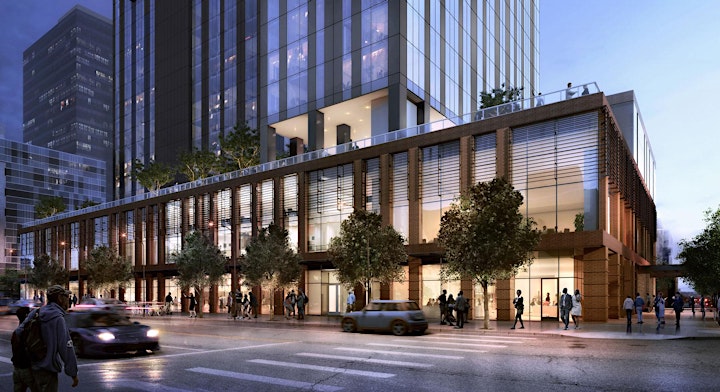 Dutch Digital Design celebrates outstanding digital design by creatives and agencies from The Netherlands. The goal of the association is to increase the appeal for potential clients, partners and talent at home and abroad. In addition, Dutch Digital Design is a community where leading agencies work together to strengthen their network and put the best work on the map. The independent collective has 30 agencies as partners. During this edition of SXSW, many of their partners will be present in Austin.
This event is made possible by CreativeNL, the international governmental platform for the Dutch Creative Industry. The event is also part of the Tour by New Dutch Wave, from 11 to 15 March. If you want to join this event as well, see for more info here: www.newdutchwave.com
Video above: the Dutch Digital Design session during SXSW 2022.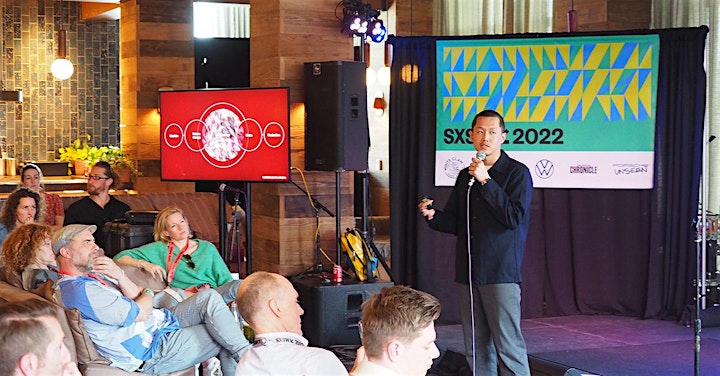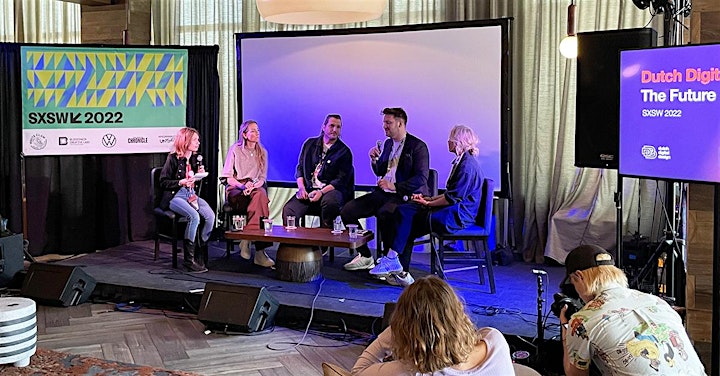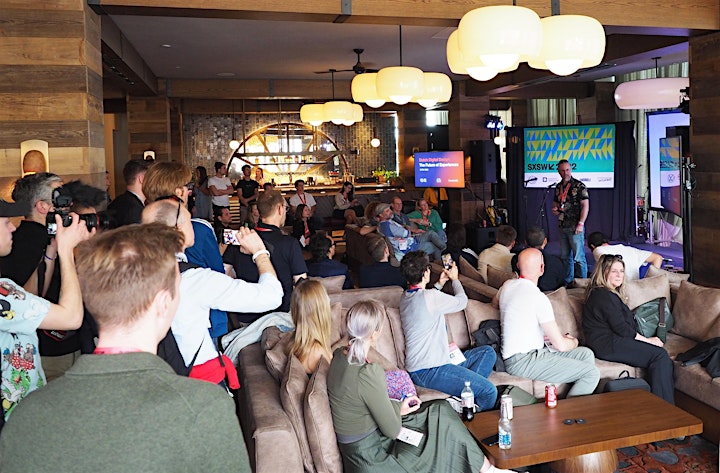 About the organizer
DESIGNED TO INSPIRE, CONNECT, CONVERGE AND DO BUSINESS   
NDW presents ambitious entrepreneurs to an international audience and embraces the continuous innovation that is so stereotypical for,- and lovely about, the creative industry. For this, NDW creates meeting points to connect like-minded people from all over the world.
As a new style trade mission, NDW does not go to a specific country, but it is present at places where these people do business. 
NDW has helped to connect many businesses, artists and entrepreneurs on an international level and will continue to do so in the future.