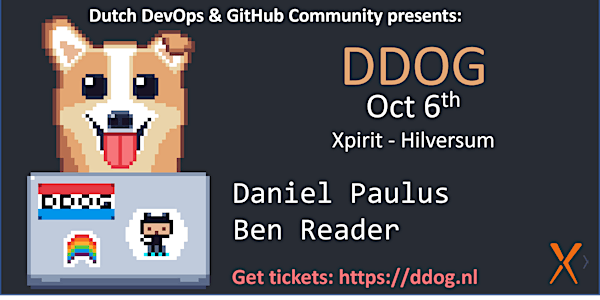 Dutch DevOps & GitHub Community October 2022
We are very excited to announce the eleventh edition of The Dutch DevOps & GitHub Community!
When and where
Location
Xpirit 27 Laapersveld 1213 VB Hilversum Netherlands
About this event
Visit https://ddog.nl for more info
What is DDOG
We want to create a community for content related to DevOps and GitHub. We believe GitHub has a lot to offer and deserves a user group in the Netherlands. But we also love the different elements that enable DevOps. So we decided to combine those two into the community you are looking at. Our goal is to have a platform where we can teach, learn and meet each other.
Thursday October 6th
We are proud to announce our great speakers!
(Session to be announced)
Daniel Paulus
Daniel is a serial conference organizer and meetup runner. As a principal consultant at Bryte Blue, a Microsoft Azure focused, consultancy company and a Microsoft Azure MVP. He is helping companies succeed with Cloud Native technologies and DevOps practices.
VSCode 💖s Devcontainers (and so should you)
Let's spend some time diving into how remote container development works in VSCode so you can build awesome solutions on any device in the world and stop saying "..but it worked on my computer"
Ben Reader
Australian IT Professional with 13+ years of experience. Working with Patch My PC as a software engineer, bringing automation ideas to life and making 3rd party patching simple!
Equally as obsessed with PowerShell as I am with Coffee, Beer and Punkrock.
I'm a Linux nerd who is very excited about the future of Microsoft and open source.
Schedule
The event will take place on Thursday October 6th in the Netherlands
The schedule for the night is as follows:
18:00-19:00 |Arrival and diner made possible by Xpirit!|
19:00 -19:15 | Start of event: Introduction - Barbara Forbes & Jaap Brasser
19:15-20:00 | Daniel Paulus
20:00-20:45 | VSCode 💖s Devcontainers (and so should you) - Ben Reader
20:45 -.... | networking
As we want a relaxing environment to enable learning, times can still change
Location
The event is hosted at Xpirit in the Netherlands.
Address:
Laapersveld 27
1213 VB Hilversum
Signing up through Eventbrite is required! Please let us know if you will join us for diner or just for the sessions. Follow us @DDOG_nl on to get the latest updates.
This event is under the DDOG code of conduct