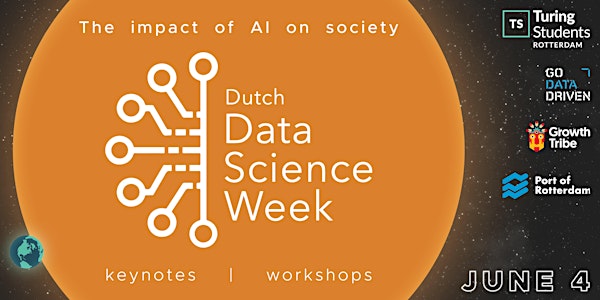 Dutch Data Science Week - Rotterdam
When and where
Location
Erasmus University Rotterdam 50 Burgemeester Oudlaan 3062 PA Rotterdam Netherlands
Description
THE TWO WORKSHOPS WILL TAKE PLACE AT THE SAME TIME (16:00), SO PLEASE ONLY SIGN UP FOR ONE!
* The event is in English.
How can we use public data to make products and services more efficient? In which way can we leverage AI and Machine Learning for sustainable purposes? Will the data revolution change the way we envision traditional industries?
The Dutch Data Science Week consists of workshops, keynote sessions and hackathons organized in multiple locations throughout the Netherlands, centered on the impact of AI on society. For the first time, Rotterdam will also host an event, in collaboration with Turing Students and GoDataDriven
Keynotes:
▪️ Boston Consulting Group - keynote about some of the most interesting use cases of AI in business and challenges faced by companies who try to integrate AI in their operations
▪️ Growth Tribe - session covering the process, mindset and tools that will help you on your journey towards a more consumer centric, experiment- and data-driven organisation
Deadline for signing up for the workshops: 2 June 2019, 23:59
AGENDA
12:45 - 13:00 - Ticketing
13:00 - 13:15 - Introduction
13:15 - 15:00 - Keynotes: BCG | Growth Tribe
15:00 - 16:00 - Networking Drinks
16:00 - 18:00 - Beginner workshop | Introduction to Data Analytics in Python | Workshop 1
16:00 - 18:00 - Intermediate workshop | Machine Learning & AI for Data Science | Workshop 2
Note
Due to limited capacity, getting a workshop ticket does not guarantee a spot in the workshop. In the registration procedure, we ask for your LinkedIn profile and send you an email if you are invited to the workshop.