Drive-In Diner with carhop servers on roller skates, music, vendors, a bar + more!
About this event
Tickets temporarily frozen to deal with technical difficulties. Please check back tomorrow, we will make them live again once it is sorted! :) Thank you for your patience.
-IMPORTANT-
Tickets:
Under "Select A Date" -
*******WHEN PURCHASING TICKETS, ONLY BUY TICKETS LABELLED "SUNDAY" ON SUNDAY. If you purchase a "Friday" slot listed after originally clicking on Saturday your tickets will be null and refunded. Due to the different hours this was the only way tickets could be displayed and purchased. *******
THANK YOU!
----------------------------------------------------------------------------
YES FUN TORONTO.
We are feeling nostalgic. This 1950's/60's/70's recreation of a Drive-in Diner is an immersive pop-up experience that transports you back into time. Come get served in your car by our 'carhop' roller skate servers. Don't have a car? We have picnic tables you can reserve. DJ's will be spinning & mixing all the fun classics: funk, soul, disco + more. Tune into your car radio, they will be able to play right on your car stereo.
Milkshakes, Hotdogs, + Fries - OH MY.
We will be an outdoor extravaganza. Equipped with a bar sponsored by Hop City Brewery. We will have market vendors selling vintage clothes, wares and handmade, artisinal goods.
Location:
Galleria Mall back parking lot, behind Pet Value, beside Emerson Wallace Park. 1245 Dupont St, Toronto, ON M6H 2A6
Days+ Hours:
August 13th-15th, 2021
Friday August 13th: 3pm-11pm
Saturday August 14th: 1pm-11pm
Sunday August 15th: 1pm-9pm
Prices:
$25 per car - reserves your car spot. Can have as many people in vehicle as are seats/legally allowed. (Designated driver must wear special wristband.)
$25 per picnic table - reserves your table. 6 people per table MAXIMUM. 2 people MINIMUM.
-1-1.5 hours per time slot at each car or picnic table- However, you may stay to walk around after.
Notes, Rules, Regulations + Fine Print:
-No drinking and driving. Designated drivers will be given a special wristband and not served more than once.
-No personal alchohol or drugs brought into the event. Cars or bags may be searched for undesignated, personal alchohol.
-This event is over at 11pm on Friday + Saturday, 9pm on Sunday.
-1 person may not sit alone at a picnic table. Minumim of 2 people per table and maximum of 6. Everyone must show up together on time for reservation as slots are time sensitive.
-Masks should be worn while walking around vendors, however not in cars, tables or at bar while drinking. Please try to safely social distance.
-This event could be cancelled due to COVID for any reason or if rules or regulations change and ticket holders will be given a refund. Tickets are otherwise non-refundable, but are transferable.
-This event is kid-friendly and fun for the whole family, however children or minors are not allowed at the bar. No underage drinking. Everyone will be ID'd.
-$25 reserves the spot for your crew, however food and drinks are separate.
-We would like to have more events however so far this is what we have, so please try to come while we are running!
-Tickets are not interchangeable within different days. Friday is for Friday - etc.
-All of our servers, vendors and staff will practise COVID safety protocols.
-This event is wheelchair accessible.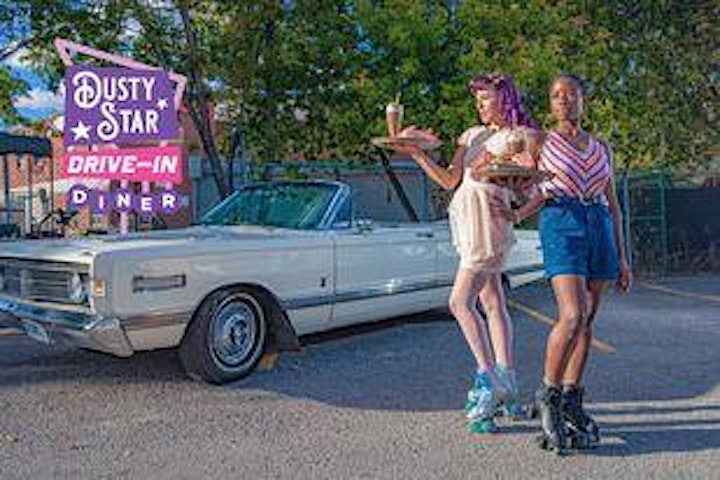 Dusty Star Drive-In Diner Menu
Participating Restaurants: Super Empanada, Sapori, Tanto + Uncle Mikey's
Burgers:
Sapori's Smash Burger – Aged Cheddar, Iceberg lettuce, Bacon, Beer Mustard, Dill Pickles, Mayo, on Martin's Potato Roll – $13
Veggie Burger – Beyond Meat Patty, Red Onion, Iceberg lettuce, Dill Pickles, Aged Cheddar, Beer Mustard on Martin's Potato Roll - $12
Uncle Mikey's Fried Chicken Sando - Gochujang Glaze, Korean Slaw, Iceberg lettuce on Martin's Potato Roll - $12
Tanto Steak Sandwich - Bone Marrow, Spicy Onions & Chimichurri - $15
Popcorn:
Uncle Mikey's Korean Popcorn with Spicy Gochujang butter - $5
Milkshakes and Rootbeer Floats:
Root Beer float – Root Beer and Vanilla Ice Cream - $5
Vanilla or Chocolate Milkshake - $5
Fries:
Plain Fries - $5
Uncle Mikey's Kimchi Fries with Bodega Sauce - $8
Sapori's Smoked Ham Poutine with Chicken Gravy - $8
Tanto's Onion Rings - With Smoked Tomato Aioli - $8
Hot Dogs:
Plain Hot Dog with mustard and/or ketchup - $5
Sapori's Chili Cheese Dog – Beef Chili, Shredded cheddar, jalapenos, sour cream - $7
Sapori's Fried Hot Dog on a Stick – Battered, Rolled in Panko and Bacon Bits, with Spicy Mayo- $9
Super Empanada Hot Dog – Spicy Beef, Cheese, Chimichurri Rojo - $9
*Menu items come as they are and cannot be edited or changed for an order*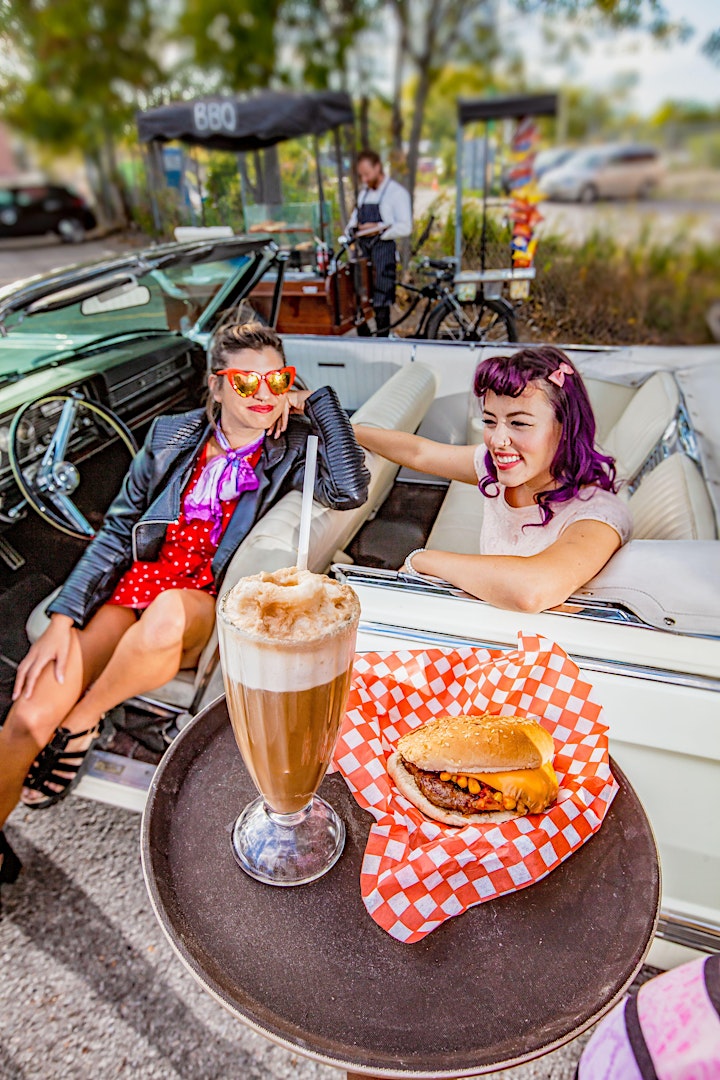 Organizer of Dusty Star Drive-In Diner