About this Event
THE BASICS:
Sunday, October 13th: 2:00 – 6:00
Backstage Pass: 6:00 – 7:00 (additional fee)
Doors open: 1:45
No Host Beer and Wine Bar: 2:00 – 5:30
No Host Food: 2:30'ish – 5:00'ish
NOTE: No outside food or beverages!
THE VENUE:
La Grande Event Center in Oakley, CA | 1799 Carpenter Rd, Oakley, CA | (925) 435-4461
THE TICKET INFORMATION:
General Admission: $25.00 ($30.00 at the door)
Ticket (General Admission)
Backstage Pass: $50.00
Ticket (General Admission)
Glass of Champagne
Photo opportunity and meet and greet with Dustin
11 x 14 Autographed special edition poster
VIP seating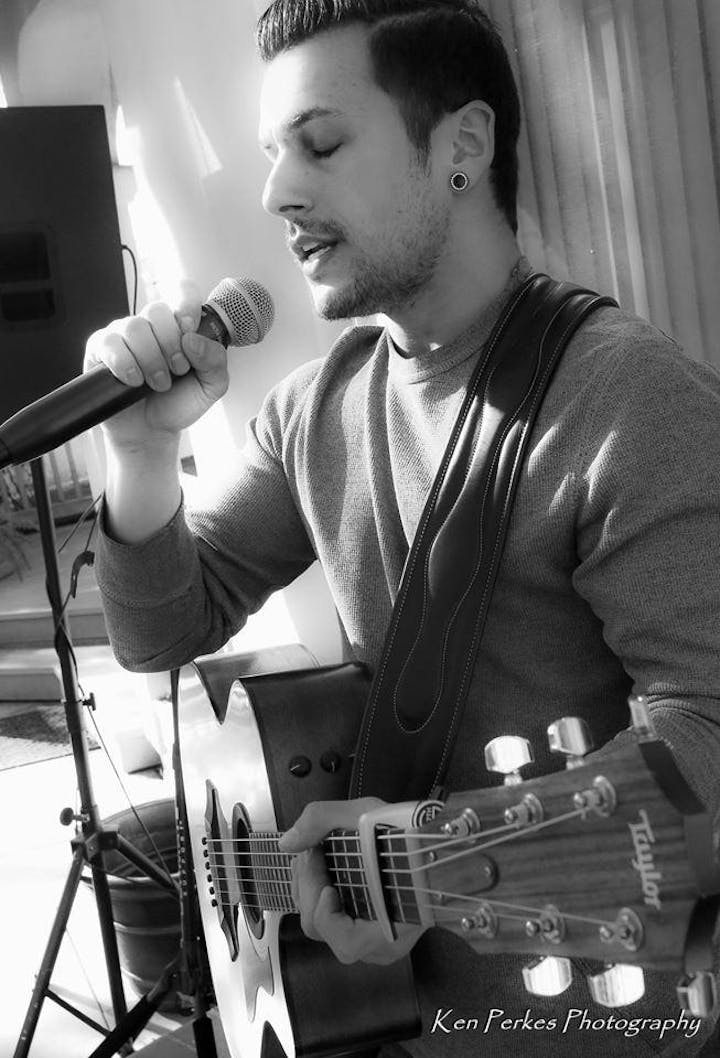 DUSTIN'S STORY
I must have been born with music in my bones as my family tells the story of me as a baby when my dad and sister would purposefully torment me by singing off key. They said my bottom lip would quiver then I would scrunch up my face, and cry. 
Fortunately, my mom was another story. I started performing with her at the age of four. She would whisper the lyrics in my ear as I sang Daddy Big Boots (Elvis) and Street Rat from Aladdin. My mom played a huge role in shaping me, not only as a person, but as a performer.
As young as 2-years old she was developing my brand, making me connect with my feelings, life, movies, music and "carving character" as she called it. Relentlessly, she required that I dig deep and answer the question: "Why do you want to sing?" Only be satisfied six years later when I discovered and shared that I wanted people to know my heart through my songs.
Starting at age nine my mom dragged me to personal development, business seminars and other "exciting events" like speech classes. She placed me in a variety of musical productions. She also exposed me to amazing vocal coaches such as Claire Yarrington and Seth Riggs. We spent hours traveling, listening to music, singing, and going on "Mim and Me Retreats." Some of my favorite moments were listening to Mom sing along with Celine Dion and going to Guitar Center where she would let me hang for hours playing guitars, looking at all he equipment and learning from the musicians who passed through while I was there.
While both parents taught me to have a passion for learning, Mom exposed me to values, character, personal development seminars, musical theater, and a variety of singer/performers, my dad rounded it out with his love for classic rock, dirt bike riding, science, astronomy, and a requirement that I learn to work on my own vehicles. I'm happy to say this resulted in a complete build of my 2000 Saleen Mustang from the ground up . . . bored, stroked, ported and polished, and supercharged. Hell yeah!!!
During those younger years my mom turned down several offers of advancement for my career, including a lead vocal on a CD, various tours, and Disney, maintaining that I didn't yet have enough sand in my bucket to withstand the hollow offerings of Hollow-wood as she called it. After 3 ½ years on the road or more accurately "on the water" with Carnival Cruise lines, it turns out I have followed the same pattern, turning down offers in favor of a quieter home-based life with a desire to maintain a more personable connection with my audience.