Sales Have Ended
Ticket sales have ended
Sorry the registration for 2018 is closed. Please check back for next year's event.
Sales Have Ended
Ticket sales have ended
Sorry the registration for 2018 is closed. Please check back for next year's event.
Description
The 2018 event brings together the leading app developers, publishers and literacy experts for the annual international review of digital publishing for children.
Please visit the event page for the latest speakers and agenda. Here's the link.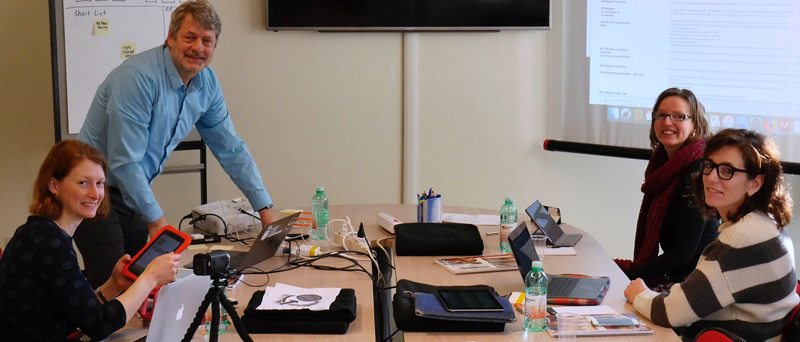 We will look at design, process and the business of apps, and study the winners of the 2018 BolognaRagazzi Digital Award. A panel of new voices and past masters will look at the business and state of the app going over the successes and opportunities in this ever-changing space. This year's edition has two focus tracks around the business of AR and digital audiobook production.
GREAT VALUE — Registration fee* includes one year subscription to Children's Technology Review; with Pro level access to the CTREX database. You'll also get the latest digital version of the Dust or Magic handout packet "Child Development 101 for the Designers of Children's Interactive Media."
Get to know the leaders in the space, and take home the tools you need to make magic.
GUIDING QUESTIONS FOR 2018
ARKit is here. How to work with AR and picturebooks ?

Voice driven apps (via Google Home and the Amazon Echo) what new markets have opened for audio books

What's the state of subscription models for apps?

How do you win an award in 2018. Who chooses, and what do they look for?
2:15 Registration at Block D, Sala Notturno of the service centre . You must have a general pass to the book fair or your Eventbrite ticket to get past the first gate. If you need one you'll be given your fair pass at the Dust or Magic registration desk.
General directions from Bologna: http://www.bolognachildrensbookfair.com/en/visit/get-directions/2499.html
How to find the room in the fair: http://www.bolognachildrensbookfair.com/en/visit/map-of-exhibition-centre/2413.html
3:00 Welcome and Introductions. Bologna Children's Book Fair.
---
3:05 Barry O'Neill, CEO, Touch Press. Working with major IP licenses and bring out the best of AR, VR and a whole suite of learning apps for kids.
Based in Dublin, Touch Press is an educational games and family app publisher that was formed by the integration of Amplify Games, StoryToys, and Touchpress. Barry is a seasoned digital publishing veteran, creating apps based on both original and licensed IP. These include the StoryToys portfolio (My Very Hungry Caterpillar, Mother Goose Club), Touch Press Games' library (12 a Dozen, Crafty Cut, World of Lexica), and its renowned portfolio of reference apps including Theodore Gray's "The Elements", and The Waste Land. Barry is an active investor in mobile content and games ventures.
---
Two perspectives on digital media: Wonderz and Carlton Publishing
3:45 Subscription models by Sebastian Wehner and Daniel Matzke of Wonderz. Daniel and Sebastian will take you on their journey starting from creating monolithic static products, like children films and boxed Nintendo games to fluid experiences with constant content updates. They'll shine a light on the mindset when transitioning from one to the other, common pitfalls, and what the future might hold.
---
4:00 Augmented Reality case study by Japhet Asher, Director of Polarity Reversal and Digital Director of Carlton Publishing. As Augmented Reality technology becomes the next great evolution of digital devices, Carlton Books has established itself as the industry leader in AR-enabled book titles. Japhet Asher, digital director at Carlton, will present how the publishing company built a whole AR title list for both the consumer and educational markets. He will share highlights of new products, demonstrating the potential of digital/print hybrids to deliver new stories and rich information for young readers.
---
4:20 AR/VR: Where are they now? by Luca Prasso, Google. What happened in the last year to these technologies and where are we heading?How our team at Google Daydream is exploring new opportunities and use cases for AR and VR.
---
4:40 2018 BolognaRagazzi Digital Award Winners with Juror Chair Warren Buckleitner, with juror members Lucy Gills, Sylvia Van Ommen and Roberta Franceschetti. Learn from the findings of this year's jury.
---
5:00 Listen Up: The Evolving Children's Audiobook Marketplace by Amanda D'Acierno, Penguin Random House Audio
---
5:30 Demos. Do you have a product you'd like to show? Prepare a short, 3-minute elevator pitch to give to the entire group. We'll have standard audio and video input, plus a document camera.
---
6:00 Panel: The Annual International State of the Children's App AR and Audio 2018 edition with Neal Hoskins Bologna Digital Media Consultant as the Moderator. Let's talk through the current issues facing interactive designers, with leading minds from various parts of the world. We take a snapshot of the state of the industry and look briefly into what we think may lie ahead.

Lucy Gill, Digills Consulting; Aksel Koie, Stepin Books; Japhet Asher, Carlton Books; Giulia Sabbadini, Yoomee, Irina Shagina, Devar Books
Don't miss this rare collection of experts!
All in one place, at one time.
---
6:30 Break: Back to your hotel.
---
8:00 Fixed price communal dinner in the centre city of Bologna.
Once again we will meet informally in the evening to dine together and continue the conversation long into the evening. A NEW venue for 2018 and it's a restaurant inside a bookshop!
Eataly Bologna
Top Floor

https://www.eataly.net/it_it/negozi/bologna
Tel. 051 0952820
Seats for dinner must be reserved in advance and purchased here on Eventbrite.
---
FAQs
Is the price of the dinner included in the Masterclass fee? No. We have negotiated a group fixed menu of about 30 Euros per person (includes all entrees and wine). The single meal only tickets are 40 euro if you do not attend DOM.

What are my transport/parking options getting to the event?
There is excellent regional train service to/from Bologna from all parts of Europe, and the Bologna airport (Marconi) is a major regional transport hub, with daily flights to all major European cities. Our agenda starts at 3 PM, so there should be time for you to fly into town beforehand.

Is my registration/ticket transferable?
For the most part, yes. We'll have blank name tags and markers at the front desk just in case.

I've never been to the Bologna Children's Book Fair. What's it like?
We recommend watching this video. It will help you understand the unique context that the BCBF represents. https://youtu.be/hsQtL17qMvk
Where can I contact the organizer with any questions?
Contact: warren@childrenstech.com by email with any questions.