Actions and Detail Panel
Dust or Magic Bologna Masterclass 2017
Sun, April 2, 2017, 3:00 PM – 11:00 PM CEST
Description
Early Bird Registration Rate is In Effect
Use promo code "earlybird" to save 15% on tickets confirmed before January 31
---
The 2017 event again brings together the leading app developers, publishers and reading specialists for the annual deep dive on all things digital. We will look at design, process and the business of apps as well as an intense study of those apps that were selected for the BolognaRagazzi Digital Award. A professional panel of new voices and past masters will look at the business and state of the app going over the successes and opportunities in this ever-changing space.A GREAT VALUE — Registration fee* includes one year subscription to Children's Technology Review; with full access to the CTREX database; plus the latest digital version of the Dust or Magic handout packet "Child Development 101 for the Designers of Children's Interactive Media."
Get to know the leaders in the space, and you'll leave with the tools you need to apply your new knowledge.
2:00 Registration desk opens at Block B, Sala Bolero at service centre (next to the Press office). Show your Eventbrite ticket to get into the Fair.
2:45 Doors open
3:00 Welcome and Introductions. Bologna Children's Book Fair staff.
2:45 Doors open
3:00 Welcome and Introductions. Bologna Children's Book Fair.

3:05 Feature talk: Magic Lessons
Mark Schlichting is a pioneer of the children's digital space. He is best known as the creator of original "Living Books" -- Brøderbund's Living Books CD-ROM. In 2000 Mark founded his how design and consulting firm. He recently finished a textbook on design, Understanding Kids, Play, and Interactive Design: How to Create Game Children Love.
---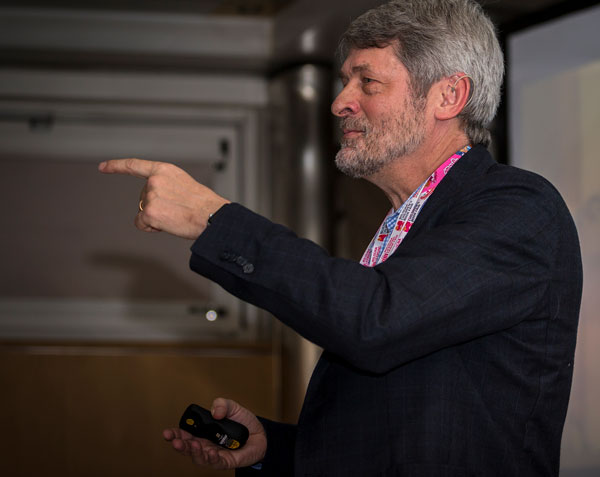 3:50 Introducing the 2017 BolognaRagazzi Digital Award entries and winners by Juror Chair Warren Buckleitner, with juror members and winners who are on hand.
4:00 Fiction Winner demos
4:10 Non-Fiction Winner demos
---
4:20 How to Make a Terrible Picture Book App
Christiaan Coenraads. How to make a terrible Picture Book App and alienate young readers Interactivity in digital picture books is mostly distracting, not engaging, young children. These are the sobering results of research on digital Picture Book Apps by the university of Leiden, the Netherlands.
But there is hope. Christiaan Coenraads argues that we should use a different approach to digitizing picture books. In short: lose the gimmicks and focus on the story. Coenraads will demonstrate his point with the new picture book app "Looking for Lightning", made possible by the Dutch Foundation for Literature. This digital picture book uses simple interactivity to create the literary experience: a feeling of focus, calm, implied meaning, and a sense of discovery. In short: "deep reading". Christiaan Coenraads is the owner of Het Woeste Woud, a Dutch producer of digitally animated picture books.
4:40 Demos. Do you have a product you'd like to show? Prepare a short, 3 minute elevator pitch to give to the entire group. We'll have standard audio and video input, plus a document camera.
---
5:00 State of the Children's App with Neal Hoskins of Bologna Digital as the Moderator.
Take a deep dive on the "dust" and the "magic" of the children's app space.
---
6:15 Break: Back to your hotel.
---
8:00 Fixed price communal dinner in the center city of Bologna.
Once again we will meet informally in the evening to dine together and continue the conversation long into the evening, Bologna style.
The cost is about 35 Euros per plate, and will be collected onsite.
All speakers and members of the Masterclass are invited. Bring a tablet with apps to informally share.
TO REGISTER
Don't delay -- seats are limited due to the meeting space availability. Seats are sold using Eventbrite for 300 or 250 Euros each (the lower rate is for registered fair attendees who already have a pass). The higher rate includes one pass to the Bologna Children's Book Fair, which you can pick up at the Dust or Magic registration desk.
There is also a student rate of 30 Euros, for a block of seats. A current graduate or undergraduate student ID must be displayed at the Dust or Magic registration desk to have access to one of these seats. Note that the student rate does not include a subscription to CTR/CTREX.
FAQs
Can I pay without using PayPal? Yes! It is possible but not obvious on the order form.
Look for the option that says "Don't have a PayPal Account?" and you'll see an option to pay with a regular credit card.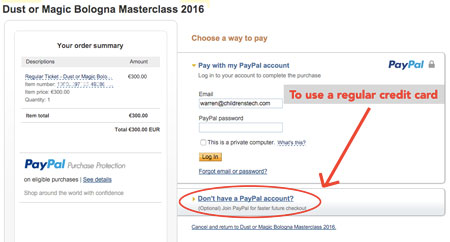 Can I come to just the dinner and not the Masterclass? No. You must be a Masterclass participant to come to the dinner.
Is the price of the dinner included in the Masterclass fee? No. We all pay on site, and have negotiated a group fixed menu (includes all entrees and wine). The cost last year was about EU30 per person.
Are there ID requirements or an age limit to enter the event?
We follow the same ID and age requirements used by the Bolognafiere. Sadly children are not permitted (however, we never mind if one is in the room).
What are my transport/parking options getting to the event?
There is excellent regional train service to/from Bologna from all parts of Europe, and the Bologna airport (Marconi) is a major regional transport hub, with daily flights to all majory European cities. Our agenda starts at 3 PM, so there should be time for you to fly in in the morning. The public bus system in Bologna is important to use and understand. It will get you to/from the city center for just a few euros. You can buy tickets at most magazine stands.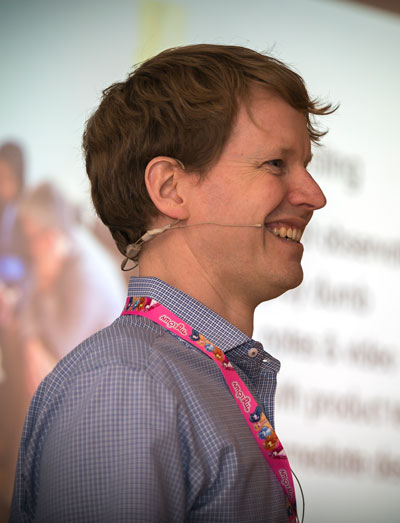 I would like to do a demo. How is that done?
Bring an app to demo in 60 seconds -- have it ready to go -- we'll have sound and audio plug in, plus a document camera. Once again we'll have a "demo drawing" and give each person 60 seconds to show their product to the entire group. When doing a demo SHOW IT FIRST, TALK SECOND. Let the screen do the work. We want to see the product -- we don't want a lecture on the background behind the product.
Is my registration/ticket transferrable?
For the most part, yes. We'll have blank name tags and markers at the front desk just in case.
Three hours isn't enough time for such a big topic!
We agree. That's why we also do other Dust or Magic events.
I've never been to the Bologna Children's Book Fair. What's it like?
We recommend watching this video. It will help you understand the unique context that the BCBF represents. https://youtu.be/hsQtL17qMvk
I would like to pay with USD instead of Euros.
If you're in the USA, we've created a second order form to sidestep some of the currency conversion issues. Contact us if you'd like access.
Where can I contact the organizer with any questions?
Contact Warren Buckleitner at 908-284-0404 (by phone) or warren at childrenstech dot com by email.