Event Information
Performers
Refund Policy
Refunds up to 7 days before event
Description
Dusk to Dawn is an only in SF level Halloween venture brought to you by Opel Productions, The Midway SF, The Vau de Vire Society, and this year joined as well by Deep Blue Events.

Featuring 2 Dance music legends Sasha & Lee Burridge, + 14 more DJ's in 4 Music Areas. We'll be hitting on all cylinders to create an incredible and immersive Halloween party for you and friends.

A Seven-hour Halloween Soiree.... From the edge of darkness to the breaking dawn.
Check the hype video HERE.
Recap video from last year HERE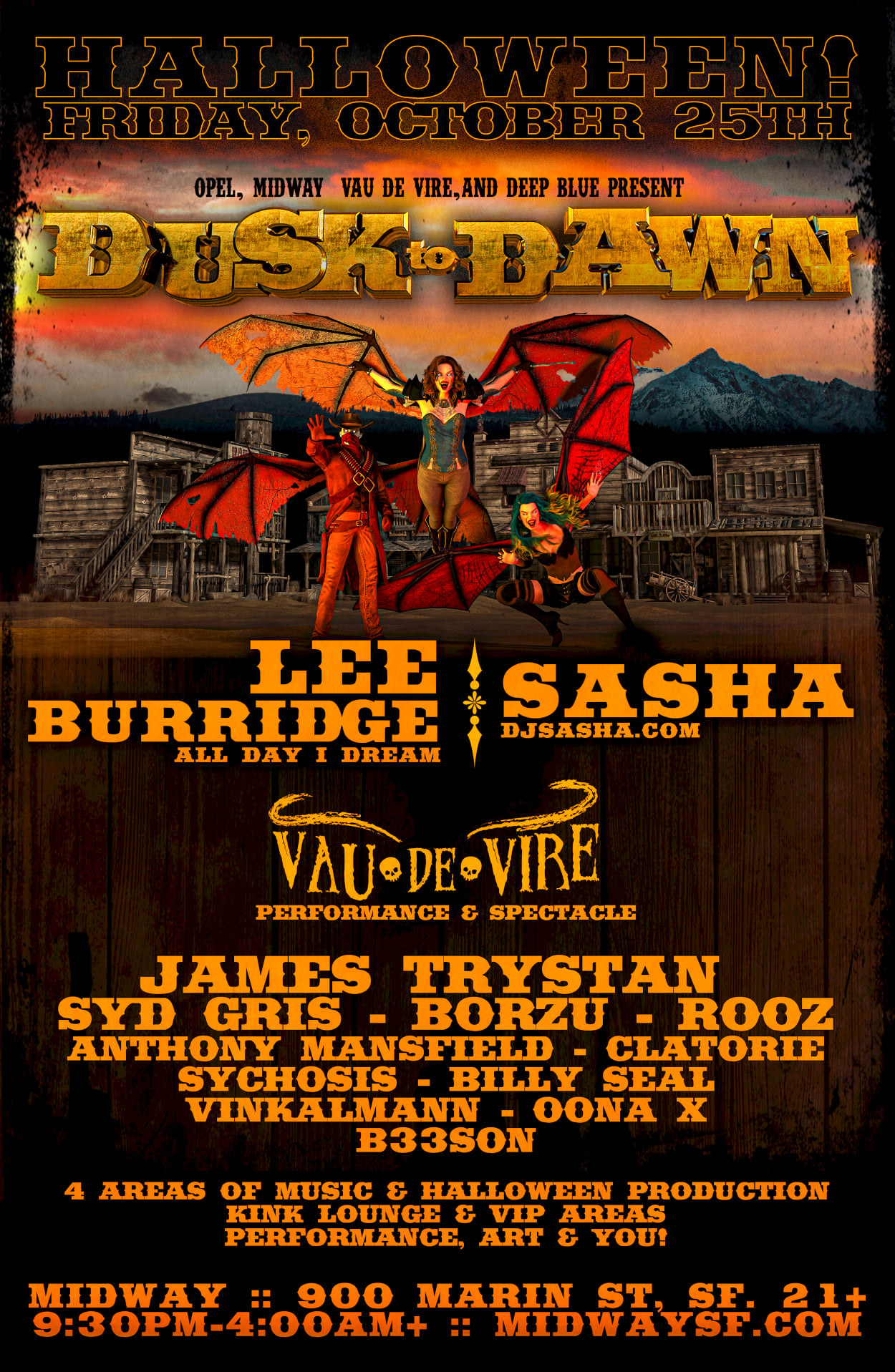 5 ACTIVATED Environments throughout Midway.

~~In RIDE: (Main Room)~~
:: Lee Burridge
facebook.com/djleeburridge/

:: SASHA
(UK)
The Legend!
facebook.com/sasha/

:: Borzu
Deep Blue / Disco Knights / Zero
facebook.com/BorzuMusic
soundcloud.com/boborzu

:: Rooz SF
Deep Blue
soundcloud.com/rooz-sf

:: The Vau de Vire Society
Performance, Side Shows & Spectacle!
vaudeviresociety.com

~~In GODS & MONSTERS~~
:: James Trystan
(UK)
facebook.com/JamesTrystan/

:: Syd Gris
(Opel / Opulent Temple, San Francisco)
soundcloud.com/syd-gris
facebook.com/sydgris

:: Clatorie
Torie (Icarus, Garden Party)
-- B2B Mystr Hatchet (Dusty Rhino)
soundcloud.com/mystr_hatchet
soundcloud.com/yotorieee

:: Sychosis
(Punks)
soundcloud.com/sychosis

:: Billy Seal
(Opulent Temple)
soundcloud.com/billyseal

~~ On the PATIO ~~
With the Heavy Petting Zoo Art Car!
facebook.com/heavypettingzooartcar/

:: Anthony Mansfield
(Disco Knights)
soundcloud.com/anthony-mansfield

:: B33SON
(EPR)
soundcloud.com/b33son

:: Vinkalmann
(Opulent Temple)
https://soundcloud.com/vinkalmann

:: Oona X
(Opel / Opulent Chill)
soundcloud.com/oonaxiss

:: The Vau de Vire Society
Performance, Side Shows & Spectacle!
vaudeviresociety.com

+ cafe open all night.

~~VIP LOUNGE~~
(w VIP Level Ticket Purchase)
-Express entrance at own door
-Exclusive access to Private Lounge with Kink vibes with Live Bondage & Rope Artists, Hot, Fresh & fancy finger foods served throughout the night, private bar with 1 premium drink ticket given with VIP ticket purchase, unique art, performances, eye candy and spectacle in the tradition of the VIP Opel & VdV did on the Upper Floor of the Armory

~~In the GALLERY~~
-Unique art collection curated just for this weekend



Performers
Date and Time
Location
Refund Policy
Refunds up to 7 days before event