A Full Week of Programming dedicated to supporting the growth and development of minority business enterprises.
About this event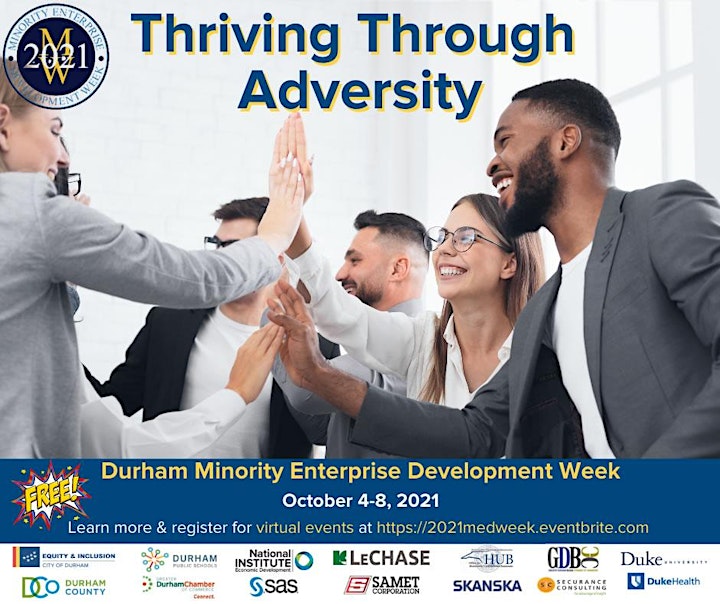 Since 1983, The U.S. President has proclaimed a national MED Week observance to recognize the outstanding accomplishments of minority business enterprises and to honor those corporations and financial institutions supporting minority business development.
Durham's MED Week celebrates the achievements of minority entrepreneurs and affirms government, business and community organizations' commitment to the principle of equal opportunity. Our theme for 2021 is "Thriving through Adversity." The mission of MED Week in the City of Durham is to recognize and celebrate the contributions of minority and women owned businesses to the economic vibrancy of our community and promote their continued growth and success. Through a week-long series of educational outreach and recognition events, we proudly support the development of diverse businesses in Durham.
All 2021 events will be held virtually due to coronavirus restrictions. Here are the events:
Monday, 10/4, 4:30 - 6pm : Meet the Team
Minority Enterprise Development is a cross-boundary collaboration between government, nonprofit, and for-profit corporations in pursuing economic equity. Join us to learn more about this collaboration and meet many of the people involved in this effort.
Tuesday, 10/5, 10am - noon: MED Week Honors Ceremony
This celebratory event will be highlighted by the recognition of minority and women businesses for their excellence and accomplishments in construction, professional services and non-professional services. The keynote speaker for the occasion is Mike Arriola, Director of North Carolina Small Business Administration (SBA) Office. He will briefly discuss the SBA relief and recovery programs during Covid and the impacts and successes it has had on North Carolina.
Thanks to Skanska, If you are one of the first 25 persons to register and attend this event, you will receive a gift card to a local business!
Wednesday, 10/6, 1 - 2pm: Engaging in Local & Regional Growth
Join the Greater Durham Chamber of Commerce, event sponsor, Triangle DEI Alliance, and Research Triangle Foundation to learn about planned local & regional growth and how you can engage. Register here: http://members.durhamchamber.org/events/details/engaging-in-local-regional-growth-5775
Thanks to Samet Corporation, if you are one of the first 50 persons to register and attend this event, you will receive a gift card to a local business!
Thursday, 10/7, 5 - 7pm: The 2021 Minority Business Fair
Make some time to take advantage of a great opportunity to market your products and services while interacting with corporate, government and other procurement agents and the community at large. In this virtual event, we will listen to a business pitch from 30 minority business enterprises as well as approximately 10 pitches from larger organizations and agencies that are seeking MBE suppliers/partners/vendors. If you would like to pitch (share your business, products/services), please email The GDBCC at .
Friday, 10/8, 9 - 10am: How Small Businesses Can Reduce Cyber Risks
So you thought that large corporations were the most vulnerable targets of hackers following the Colonial Pipeline Company ransom payout? Wrong! Ransomware reportedly strikes every 11 seconds and Cyber-crime is projected to cost businesses $10.5 trillion as of 2025. Is your network secure? Find out when Paul Ashe, President, Securance Consulting, discusses proactive steps you may take to reduce your risk of becoming a cyber-crime victim.
Organizer of Durham's 2021 Minority Enterprise Development (MED) Week