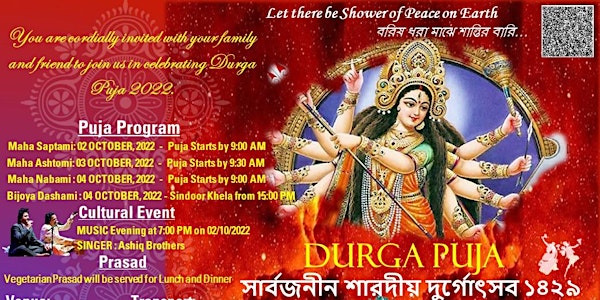 Durga Puja 2022
The festival epitomizes the victory of good over evil.
When and where
Location
Chau. de Wavre 1238 1238 Chaussée de Wavre 1160 Auderghem Belgium
About this event
Durga Puja, also known as Durgotsava or Sharodotsava, is an annual Hindu festival originating in the Bangladesh, India and Nepal.As per Hindu scriptures, the festival marks the victory of goddess Durga in her battle against the shape-shifting asura, Mahishasura.
Durga puja is a ten-day event, of which the last five days involve certain rituals and practices. The festival begins with Mahalaya, a day on which Hindus perform tarpaṇa by offering water and food to their dead ancestors. The day also marks the advent of Durga from her mythological marital home in Kailash.
The next significant day of the festival is the sixth day (Sashthi), on which devotees welcomes the goddess and festive celebrations are inaugurated. On the seventh day (Saptami), eighth (Ashtami) and ninth (Navami) days, the goddess along with Lakshmi, Saraswati, Ganesha, and Kartikeya are revered and these days mark the main days of worship with recitation of scriptures, puja, legends of Durga in Devi Mahatmya, social visits to elaborately decorated and illuminated pandals (temporary structures meant for hosting the puja), among others.
https://en.wikipedia.org/wiki/Durga_Puja
Facebook Group: www.facebook.com/groups/218316977016458/