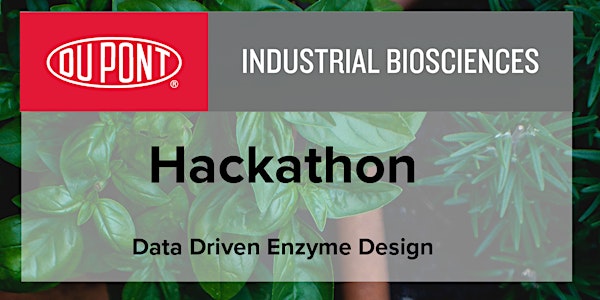 DuPont - Hackathon: Data Driven Enzyme Design
When and where
Location
Hogeschool van Amsterdam Leeuwenburg, Amstelcampus Weesperzijde 190 1097 DZ Amsterdam Netherlands
Description
Data-driven Enzyme Design
Enzymes are natural molecular machines that can perform the amazing feat of enabling and accelerating chemical reactions without themselves being consumed in the process. All living organisms on Earth depend on enzymes to process nutrients, to grow and to reproduce. Thanks to the development of modern biotechnology, enzymes can also be produced in large quantities and employed to speed up all kinds of industrially important reactions, ranging from stain removal by detergents to production of food, feed, and biomaterials.
As our requirements for lower resource use get more demanding, we continuously need to improve our enzymes to make them more stable and effective. At DuPont Industrial Biosciences, we routinely screen thousands of enzymes to obtain models of the relationship between the sequence of amino acid residues that make up the enzyme, its 3D structure, and the observed performance.
In this hackathon, we will provide representative data for our challenge, describe the problem and discuss different approaches of how to employ techniques like deep learning to support enzyme optimization process.
Join and help us design the enzymes of tomorrow!
Program
9:30 - 10:00 Introduction
What are enzymes?
What is enzyme engineering?
What are the applications of enzyme in industrial biotechnology?
Introducing the enzyme (protein) engineering challenge

Notebook in GitLab project with four data sets
Introductory notebook to examine enzyme structure using an example X-ray spectroscopy structure
10:00 Team formation / Getting started
10:15 – 18:00 Hackathon
There are four data sets available with increasing difficulties to generate enzyme sequences.
Participants receive amino acid sequences and associated performances and are free to choose modeling strategy to find the hidden signal.
There is a web services available that acts as the virtual lab that tests the sequence. The web services provides immediate feedback about the sequence.
After the assignment with a data set has been dealt with, the teams present their results and their approach.
During the day, the hidden signal becomes progressively harder to find any you may need to take 3D structure into account.
At the end of the day, there will be a winner of the day: the person or team that creates the best scoring enzymes.
11:30 Coffee break
13:00 Lunch
15:15 Coffee break
18:00 Pizzas
What technologies can you apply?
Technologies that you can consider to apply during the hackathon are random forests, SVM, and neural networks. Demonstrations and helper code is in Python and Jupyter notebooks.
Is there support available?
Yes, there is support team present during the whole day. The team consists of
A screening process specialist
An enzyme engineering and bio-chemistry specialist
Data scientists