Looking for unique gifts during the holiday season? Come to the Dupont Circle Holiday Pop-up on Saturday, December 7th from 12:00-5:00 p.m.
About this Event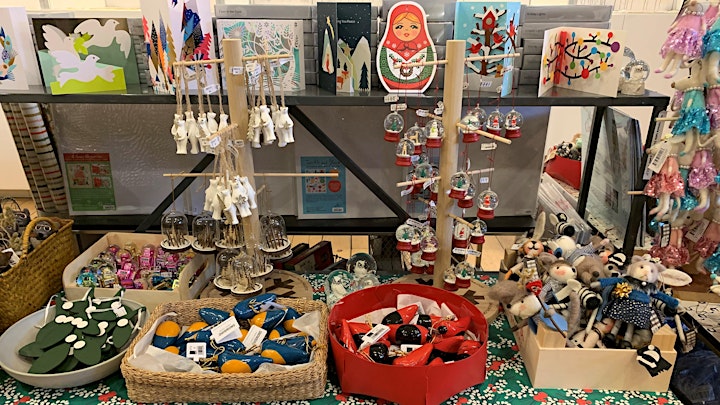 Dupont Circle Main Streets invites you to the third annual Holiday Pop-up on Saturday, December 7th from 12:00-5:00 p.m. to promote shopping in greater Dupont Circle. This unique Holiday Pop-up event co-locates artists and makers inside retail shops around Dupont Circle – for a total of 75 vendors!
Once again, HDCMS is partnering with the Heurich House Museum's Christkindlmarkt with a "passport." When shoppers visit pop-up locations, you can get your passport stamped by six different pop-ups for free admission into the Christkindlmarkt on December 7th from 12:00-8:00 p.m. – a $13 value for the first 500 people.
The pop-up will have approximately 20 vendors selling everything from jewelry to pottery, from paintings to scarves, to ferns and succulents for all your holiday gift giving. Pop-up shops will be located inside retail shops, so you can also check out fine art, imported food, shoes, etc. as you stroll Dupont Circle during the afternoon. The Art Rave Market will have 20 artist at 15th and P Street, NW and the Heurich House Christmas Market will have 25 vendors.
Volunteers will be at the Dupont Circle Metro – North exit on Q Street – passing out maps and 500 passports until they run out, and directing the public to pop-up shops, Christkindlmarkt, and Art Market. This event is free and open to the public.
At 5:30, the public will gather at La Tomate restaurant to warm up with a glass of hot cheer, meet their neighbors, and light the Dupont Circle Christmas Tree, sponsored by La Tomate. This venerable Italian restaurant has decorated a tree at the corner of Connecticut and R Street, NW since 1987. La Tomate is located at 1701 Connecticut Avenue, NW.
New this year, holiday films will be shown in Dupont Circle Park starting at 5:45 until 7:30 p.m., including classics, How the Grinch Stole Christmas, Frosty the Snowman, and Rudolph the Red Nose Reindeer.
The holiday pop-up is organized by Historic Dupont Circle Main Streets, and sponsored by the Department of Local and Small Business Development, the Dupont Circle BID, Dupont Festival, La Tomate, and the Heurich House Museum. A list of locations and vendors will be available on the website www.DupontCirclePopup.com. For the Christkindlmarkt, visit www.heurichchristmas.org.
#DupontCircleHolidays #ShopDupontCircleDC