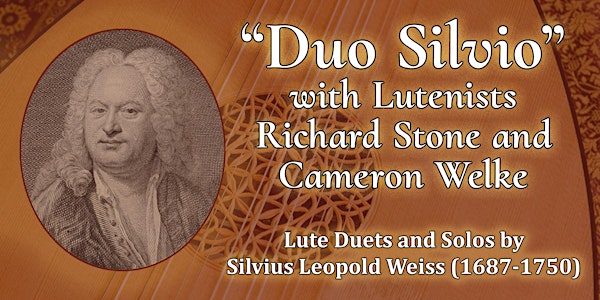 "Duo Silvio" Featuring Lutenists Richard Stone and Cameron Welke
Event Information
Refund policy
Contact the organizer to request a refund.
Eventbrite's fee is nonrefundable.
Silvius Leopold Weiss (1687–1750) duets performed by Richard Stone and Cameron Welke (2nd part restored by Richard Stone, premiered 2019)
About this event
Virtuoso lutenist Richard Stone was introduced to the ensemble music of his favorite lute composer, Silvius Leopold Weiss (1687-1750), while he was studying in London in the 1980's as a Fullbright/Lusk fellow. That was when he attended a lecture where he heard a Weiss lute concerto whose entire accompaniment was reconstructed by the lecturer, because only the solo part survived; the original orchestral parts were lost. Richard was fascinated. Upon finding that no original accompaniments existed for any of Weiss's other ensemble music, including several lute duets, he decided "to try my hand at reconstructing the rest of them myself." The concertos and sonatas he reconstructed launched his group, Tempesta di Mare, the Philadelphia Baroque Orchestra, and the group's success left no time to complete four Weiss lute duets. He put them aside for a future time -- and that time came in 2019.
Stone said on his blog for the orchestra: "Tempesta Di Mare's 2019 Artist Recital Series included the modern premiere of four lute duets by Bach-contemporary Silvius Leopold Weiss (1687–1750). Rehearsing and previewing these Weiss duets with my partner Cameron Welke was some of the most fun I've ever had playing lute."
Stone, Welke, and rural presenter Amherst Glebe Arts Response, Inc (AGAR), enthusiastically planned a repeat of the duets for the AGAR chamber music concert series in rural Amherst, Virginia in Spring 2020, only to be frustrated by COVID-19. Now, working together, we are managing to bring this extraordinary work to you in a performance film, "Duo Silvio." The performance will be streamed, with its premiere on April 18 at 4pm, and will be available for viewing online from April 18, 202 until at least June 15, 2021. An online live chat during which audience members can ask questions of the performers will accompany the premiere. Richard Stone and Cameron Welke will answer questions after the premiere performance ends.
Pictured below are Cameron Welke (left) and Richard Stone (right) with their lutes. Their short biographies are below the photo.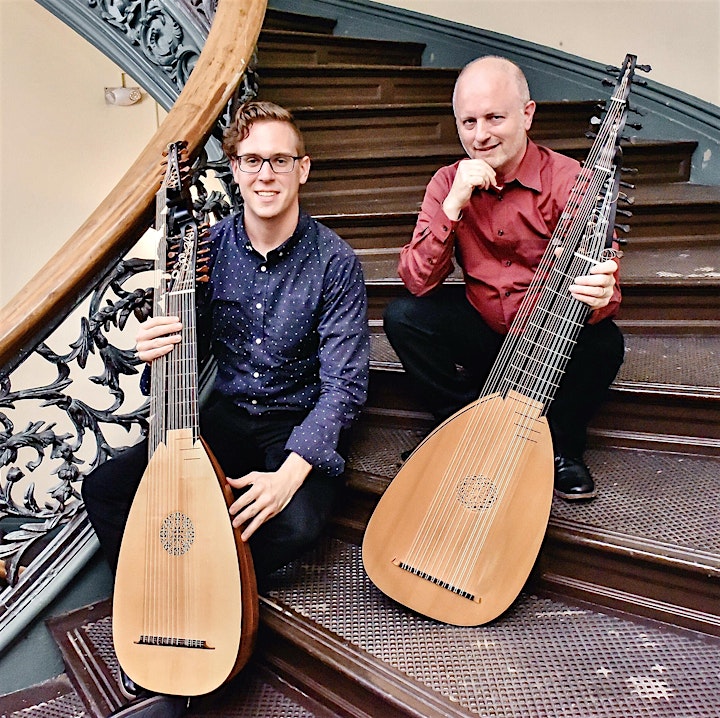 LUTENIST RICHARD STONE has performed as soloist and accompanist worldwide. The New York Times called his playing "beautiful" and "lustrously melancholy," while the Washington Post described it as having "the energy of a rock solo and the craft of a classical cadenza." Solo recordings include the complete Weiss lute concerti and the Fasch lute concerto. He co-directs Tempesta di Mare, the Philadelphia Baroque Orchestra, which records exclusively for the British label Chandos. Stone has conducted from Orlando to Taipei, leading from the theorbo in repertoire from Monteverdi to Handel, and has also accompanied many of today's leading singers. Further recording and broadcast credits include Deutsche Grammophon, Lyrichord, PGM, Musical Heritage, Polygram, Vienna Modern Masters, ATMA, Eklecta, Centaur, Bis, Chesky, NPR, Czech Radio 3-Vltava and the BBC. Stone is professor of baroque lutes at the Peabody Institute of Johns Hopkins University, and an adjunct lute instructor for the Curtis Institute. He studied lute with Patrick O'Brien and guitar with David Starobin at SUNY Purchase, and with Nigel North at London's Guildhall School as a Fulbright Scholar.
LUTENIST CAMERON WELKE spends most of his time explaining to well-meaning strangers that the lute is, in fact, quite a different instrument from the flute. He brings a passionate curiosity and a deep creative drive to all manner of historical plucked instruments, which he plays with "expert technical dexterity, consummate phrasing and endearing expressivity" (Chestnut Hill Local). Past and current engagements include performances with the Washington Bach Consort, Tempesta di Mare, Early Music City, the Baltimore Baroque Band, Vivi Cantando, and the Peabody Renaissance Ensemble. He gave the modern premiere of reconstructions of lute duets by Sylvius Leopold Weiss alongside Richard Stone in the fall of 2019, and he explores Renaissance and Baroque song repertoire in his trio Sacred Monsters with soprano Kyle Leigh Carney and multi-instrumentalist Niccolo Seligmann. Cameron began his musical life as a classical violinist and a rock and jazz guitarist. He holds a B.M. in classical guitar performance from Belmont University, where he studied with Francis Perry and John Pell, and a M.M. in historical performance on lute and theorbo from the Peabody Conservatory, where he studied with Richard Stone.
COMPOSER SILVIUS LEOPOLD WEISS (1687–1750) was born in German-speaking Grottkau, Silesia, near Breslau (now Grodków and Wrocław in modern-day Poland). He, his brother Johann Sigismund and sister Juliana Margareta all learned lute from their father, Johann Jakob Weiss, who one contemporary biographer noted as "a profound musician." A child prodidigy, by age seven Silvius Leopold had performed for Emperor Leopold I, and in his early 30's he won an appointment at the court of Dresden, where he remained the rest of his career as a member of its legendary Hofkapelle. Despite the lute's being among the quietest of instruments, best suited for small audiences, Weiss became the highest paid instrumentalist on the Hofkapelle payroll. He gained an enduring reputation as the greatest lutenist of his day, bearing frequent comparison with J.S. Bach for the quality of his compositions and improvisations.
AGAR's programs in 2020-2021: Funding has been provided by Virginia Humanities and the National Endowment for the Humanities (NEH) as part of Corona Virus Aid Relief and Economic Security (CARES) Act Economic Stabilization plan of 2020, the Virginia Commission for the Arts and the National Endowment for the Arts, the Greater Lynchburg Community Foundation, the Amherst County Board of Supervisors (CARES), the Piepho Charitable Fund, the Blakey Family Charitable Fund, and donations from other organizations and individuals.
Date and time
Location
Refund policy
Contact the organizer to request a refund.
Eventbrite's fee is nonrefundable.