Join us for our dune restoration on Saturday, 05/22!
About this event
Join us for our next dune restoration event to enhance the native ecosystem and natural storm-buffering quality of our local beach dune system.
We will be removing invasives and planting new plants!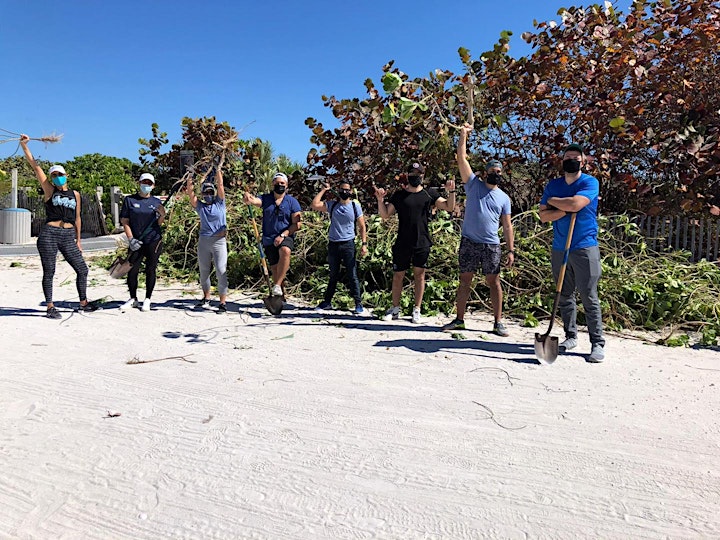 To participate please sign this waiver and bring a screenshot of the confirmation.
Planting tips - please read:
Flags indicate spacing – avg 3 feet spacing
Planting ratio is 3 grasses to 1 non-grass (basically every 4th plant will be non-grass)
Little root disturbance as possible, gently squeeze pot/plug to remove – do NOT force or tear roots
Dig hole bigger than root ball/size of plant (since planting deep – note below)
Put 1 T fertilizer in hole before planting
If plant roots are matted/compacted, can gently tease them apart to encourage them to grow outwards
Plant 6" below grade (DEEPER than you would normally plant if you have planted before) – so top of soil is actually several inches below grade - place plant and then fill back in remaining sand
Water slowly and deeply
Aloha,
Surfrider Miami
Organizer of Dune Restoration with Surfrider Foundation
The Surfrider Foundation is a non-profit grassroots organization dedicated to the protection and enjoyment of our world's oceans, waves and beaches. Founded in 1984 by a handful of visionary surfers in Malibu, California, the Surfrider Foundation now maintains over over 250,000 supporters, activists and members and 100 chapters worldwide.
The Miami chapter was started by Wyatt Porter Brown and T.C over 15 years ago to begin pressing the City of Miami Beach to enforce existing litter laws and reverse the trashing of our local beaches.