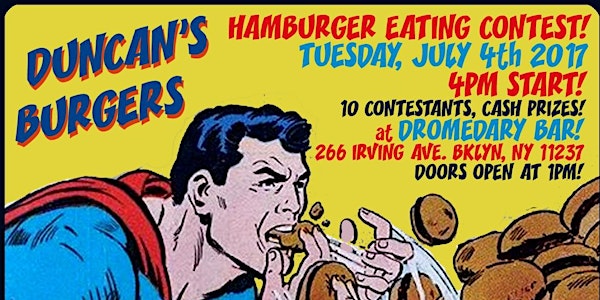 Duncan's Burgers' & Dromedary Bar's July 4th Party & Burger Eating Contest!
When and where
Location
Dromedary Urban Tiki Bar 266 Irving Avenue Brooklyn, NY 11237
Refund Policy
Refunds up to 1 day before event
Description
Duncan's Burgers and Dromedary Bar host their FIRST ANNUAL 4TH OF JULY Burger Eating Contest!
Doors open @ 1pm! Contest commences @ 4!
FIRST PLACE: $300 CASH PRIZE
SECOND PLACE: $150
THIRD PLACE $50
FREE TO ATTEND. $10 buy-in to compete. Limited to 10 contestants.
Drink and food specials ALL DAY LONG for attendees!
•New Belgium Dayblazer "Shotgun-a-Beer-the-Fastest" contests throughout the day! (Win bar swag!)
•Buckets of New Belgium Fat Tire cans for $25!
•Boozy Ice Pops!
•Bayou Rum drink specials all day!
•Fresh $1 oysters & raw bar!
•Bikini babe hostesses!
•Games!
•Giveaways!
•Frosty Flamingo frozen cocktail!
•Captain America movies on the big screen!
•FUN!!!
Event will be in 3 TIMED ROUNDS with top winners moving to the next round.
ROUND 1:
Who eats 4 - Duncan's SINGLE Quick Serve Burgers the fastest?
ROUND 2:
Who eats 3 - Duncan's DOUBLE Quick Serve Burgers the fastest?
ROUND 3:
Who eats the final, TRIPLE Duncan's Quick Serve Burger the fastest?
Rules:
• Contestants must check in @ Dromedary Bar @ 2:30 to sign in minutes before competition begins.
• You will be required to show ID and to sign a waiver
• All contestants MUST be 21 + years of age or older as this event is in a bar
• Contestants who suffer a reversal (throw up) will be disqualified
• Eaters must keep the burgers down for three minutes after time stops.
• Chipmunk rule: contestants must show a clear mouth before their time is stopped.
• The contestant believes that he/she suffers no health limitations that would limit involvement in the contest.
• In the case of a tie, contestants will partake in a ghost pepper challenge as the tie breaker.
• Burgers may be split, dunked, or ripped. Judges reserve the right to eject any contestant for poor manners.
• ALL Decisions by the judges are final