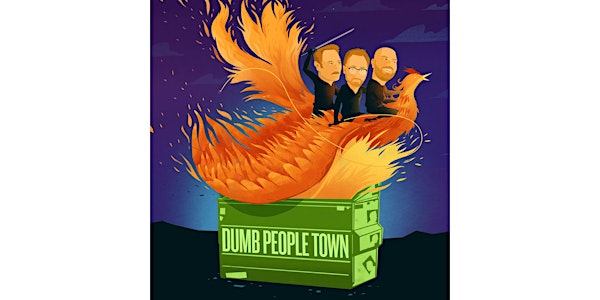 Dumb People Town Live
Nowhere Comedy is a full live comedy show experience from the comfort of your home
Refund Policy
Contact the organizer to request a refund.
About this event
This event is at 6:30PM PT/9:30PM ET.
The show will be approximately 75-90 minutes. Pre-show Live Patreon exclusive episode begins at 5PM PT, with post-show VIP taking place after the event.
With special guests Zach Galifianakis and John Paul White from The Civil Wars
Dumb People Town is the live version of the hit podcast of the same name. Dan Van Kirk (Bob's Burgers) and The Sklar Brothers (Cheap Seats, Better Call Saul, and Glow) riff with special guests on unbelievable news stories of people doing stupid things, like the woman who got her head stuck in the tailpipe of a truck at a country music festival -- or as we like to call her -- woman at a country music festival. It's an exploration and celebration of the dumb behavior that has become rampant in our world.
ABOUT NOWHERE:
When COVID-19 hit, every comedian lost their ability to tour. Nowhere Comedy is a way around that - a full live comedy show experience from the comfort of your home (assuming your home is comfortable). Watch your favorite touring acts while they can't tour. And since there's no travel costs, tickets are more affordable to fans!
RULES AND PROCEDURES:
This show is limited, so don't wait to purchase your ticket.
Your ticket gets you access to the show on Zoom. Please make sure to download the Zoom app on your phone or computer ahead of time. We encourage the audience to keep their mics on so that everyone can hear the laughter. If your mic is on, please make sure you are in a quiet environment. If there is hum or background noise, try wearing headphones. You are welcome to have your video on or off. Please be respectful: if you interrupt the performance or do anything inappropriate on video you will be locked out of the show.
Upon purchase, you will be emailed a Zoom link - DO NOT SHARE IT. Only one person can use each link, and if more than one person tries to use it, both people will be locked out of the show.
DISCLAIMER:
Nowhere Comedy is providing a service via the use of Zoom's platform, a platform we do not own or control. By purchasing a ticket you agree that any problems or issues caused by using zoom's technology are not the responsibility of Nowhere Comedy, but if necessary can be taken up by you directly with Zoom itself.
By purchasing a ticket you are acknowledging you are aware audio and video of the show will be recorded, and you grant the comedians and Nowhere Comedy the irrevocable permission to utilize the footage and your likeness as contained therein, in any way, throughout the universe in perpetuity, so long as the context is not changed to alter the meaning of the original interaction, or to imply an endorsement of any kind. You are welcome to keep your camera off if you prefer not to be seen. That said, most shows will not utilize the recording for anything, as the shows are generally only seen live.