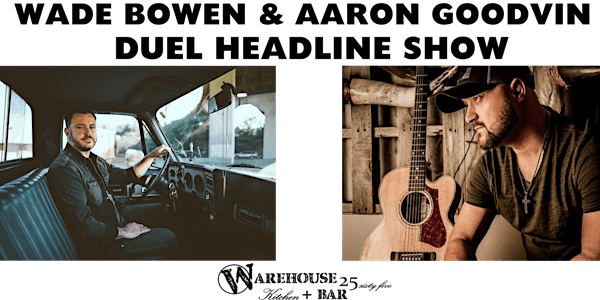 Duel Headline show with Wade Bowen & Aaron Goodvin
Not 1 but 2 full band headline shows as Texas country star Wade Bowen & Canada's rising star Aaron Goodvin hit the W stage Jan. 13th
When and where
Location
Warehouse25sixty-five Kitchen + Bar 2565 American Way Grand Junction, CO 81501
About this event
WADE BOWEN
Twenty years and some 4,000 shows into his career, the name Wade Bowen has become synonymous with Texas country music – and for good reason. An artistic descendant of American icons like Guy Clark, Ray Wylie Hubbard, Robert Earl Keen and more, Bowen is another link in a Texan chain of roots-rock poets stretching back more than 50 years – but his ambition never ended at the state line.
"I will carry that flag proudly," Bowen says of his well earned Red-Dirt distinction. "But I've always said I'm not a 'Texas artist,' I'm an artist from Texas, and I think there's a difference."
Indeed, Bowen has showed the world that difference since 2001 – by going big on integrity.
Seen as one of the genre's finest and most authentic modern voices, Bowen's approach stays rooted in tradition, but also stands on the creative cutting edge. His focus remains on writing unique songs with a literary quality, and shifting his sonic territory to match his life. And while the hard-touring troubadour is constantly breaking new ground, his course was set early on.
Born in Waco and schooled in the clubs surrounding Lubbock's Texas Tech University, Bowen was raised on a steady diet of hardscrabble country realism and rock showmanship. His mother loved Elvis, the Eagles and Creedence Clearwater Revival, while his father spun Texan giants like Willie Nelson, Waylon Jennings and Kris Kristofferson. His first concert was a peak-theatrics Alabama show, but even then, it was the lyrics which spoke the loudest. He began writing poems and short stories as a boy, drawn to the page with a can't-help-it creative spark. And then in college, the songs came.
AARON GOODVIN
It's no small thing when a notorious straight shooter like Aaron Goodvin says, without exaggeration, that his current EP Lucky Stars contains "the best stuff I have come up with since… ever. I write a lot of songs. A lot of songs. And these are my best seven." The EP has already produced Goodvin's second career number one in Canada with "Boy Like Me" and the Top 10 follow up single, the title track "Lucky Stars." "You Ain't" featuring Meghan Patrick is the latest release and is already garnering strong reaction from fans and radio. On the Lucky Stars EP, Goodvin teamed up again with Grammy-nominated producer Matt McClure, with whom he worked on his 2019 JUNO Award nominated album, entitled V.
The Alberta-born, Nashville-based artist brings an esteemed lineup of collaborators to the project, creating dazzling music ranging from the ridiculously catchy to the wildly cinematic. Goodvin was nominated for two 2022 CCMA Awards – Interactive Artist of the Year and Single of The Year for "Boy Like Me" — bringing his career total to eleven nominations.