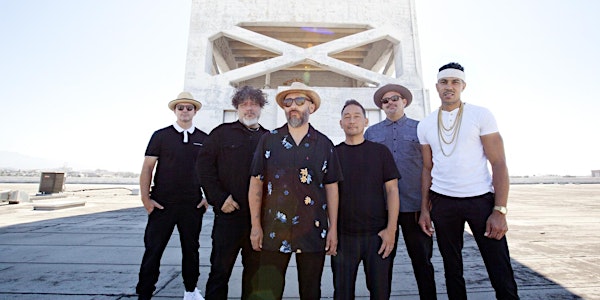 DUE SOUTH W/ OZOMATLI, LA MISA NEGRA (FREE!)
ALL AGES
Noise Pop + SF Parks Alliance present
OZOMATLI W/ LA MISA NEGRA AT JERRY GARCIA AMPHITHEATER
When and where
Location
Jerry Garcia Amphitheater 100 John F Shelley Dr San Francisco, CA 94134
Performers
Headliners
More Performers
About this event
Although this event is free and open to the public, you can become a SF Parks Alliance member to secure reserved seating here, and RSVP on DoTheBay for a chance to win prizes and reserved seating!
If you're a current SF Parks Alliance member and don't have a member code, please email membership@sfparksalliance.org for discounted reserved seating.
About Due South
Due South is a free concert series made possible by the City of San Francisco, District 11 Supervisor Ahsha Safai, and SF Parks Alliance. The concerts will be held at the Jerry Garcia Amphitheater in San Francisco's McLaren Park on August 27th, September 17th and October 8th from 3-7pm each day. The series will feature a diverse lineup of contemporary talent that reflects the local neighborhoods and populations of the City's Southern districts neighboring the park.
How To Get There
Jerry Garcia Amphitheater is located in the natural wonderlands of McLaren Park.
We highly encourage public transportation or biking!
McLaren park has miles of off-road and paved biking trails if you want to ride to the show. Or you can get there by catching the MUNI 29-Sunset bus, which you can conveniently hop onto at the Balboa Park BART station or at the Third Street & Gilman/Paul stop on the K/T MUNI Metro line. Get off at the corner of Mansell Street and John F Shelley Drive and look for the signs!
If you want to grab a car or drive yourself follow your favorite map to McLaren Park; the entrance to JGA is at 52 John F Shelley Drive. There's limited parking in a lot near the eastern intersection with Mansell and street parking on John F Shelley.
This is a fully accessible event – there will be shuttle service from 1:30pm - 6:30pm that will pickup on John F Shelley Dr. in between Cambridge St. and Mansell St. (see map linked here) to shuttle attendees to the amphitheater. Please email events@sfparksalliance.org to reserve ADA accessible seating at the show. Please submit requests for reservations 72 hours or more in advance of the show to ensure availability.
Ozomatli
Ozomatli's music is as multifacetedas its members andinfluences. Meetingas young political activists and musicians,the original band formed in Los Angeles in 1995 to play anotorious urban-Latino-and-beyond collision of hip hop and salsa, dancehall and cumbia, samba and funk, merengue and comparsa, East LA R&B and New Orleans second line, Jamaican ragga and Indian raga—all while following a key mantra: it will take you around the world by taking you around Los Angeles.Their music has been recognized and celebrated widely -having won four Grammy Awards, serving as officialUS CulturalAmbassadors playing to audiences around the world, and here in the City of LA, April 23rd is designated Ozomatli Dayin recognitionof their immense contribution to the cultural lifeof our city. Over the course of Ozomatli's 25 year career, the group has sold hundreds of thousands of albums, consistently sold out concerts around the world, and performed on high profile TV shows likeThe Today Show, Jimmy Kimmel, Tonight Show w/Jay Leno,andAustin City Limits. The band also stars in Drew Barrymore's Never Been Kissed and has been featured on PBS Kids.
La Misa Negra
La Misa Negra is a 7-piece band from Oakland, California, known for their unique blend of cumbia and high-energy, Afro-Latin music. On stage, they deliver an electrifying performance that explodes with infectious dance grooves and punk rock energy, powered by horn and accordion-driven riffs, a fierce rhythm section, and a vintage-inspired sound. Since their live debut in the fall of 2011, La Misa Negra has toured the country, sharing stages and festival bills with the likes of Red Hot Chili Peppers, Stevie Wonder, Lenny Kravitz, Thievery Corporation, SZA, Mon Laferte, Julieta Venegas, Ana Tijoux, Bomba Estereo, George Clinton, Antibalas, Budos Band, and Ozomatli. On the strength of their wild and one-of-a-kind shows, they have gained a reputation as one of the most exciting live bands to emerge from the Bay Area in recent years, garnering a diverse fan base that transcends musical, cultural, and generational divides.