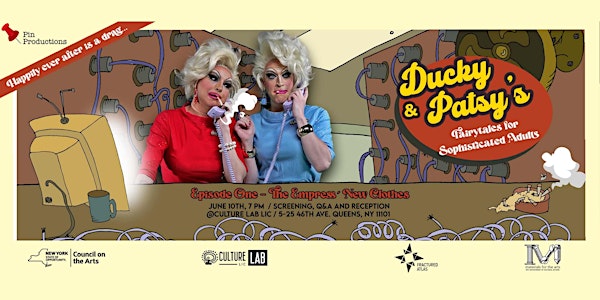 Ducky and Patsy's Fairytales for Sophisticated Adults at Culture Lab LIC!
a screening of the Empress' New Clothes starring Ducky & Patsy, Gorgina, and Pussy Willow. Written and produced by PinProductions.
By Ducky Sheaboi & Pasty InDecline
Date and time
Saturday, June 10 · 6:30 - 9pm EDT
Location
Culture Lab LIC at The Plaxall Gallery 5-25 46th Avenue Queens, NY 11101
Refund Policy
Contact the organizer to request a refund.
Eventbrite's fee is nonrefundable.
About this event
2 hours 30 minutes

Mobile eTicket
Join us at Culture Lab LIC for the World Premiere of Empress' New Clothes, the first episode from Ducky & Paty's Fairytales for Sophisticated Adults. Saturday, June 10th from 6:30-9:30 PM. Attendees will witness the screening of the final version of Empress' New Clothes with the cast and producers. Plus, get the chance to ask questions about the process of creating this animated world meets drag extravaganza!
Tickets are pay what you will and every bit is greatly appreciated! There is ample seating available but is considered first come, first served. There will be a fully stocked bar available...so be sure to leave the kids at home!
Opening reception 6:30 PM
Doors at 7 PM
Screening of Empress' New Clothes 7:30 PM, followed by a cast and production Q&A with the audience
Closing reception 9 PM
Drenched in campy antics, Ducky and Patsy's Fairytales for Sophisticated Adults is a delightfully absurd ride for those that enjoy a big, long…laugh and a cheeky middle finger to those pushing for artist censorship.
Summary of the short movie:
In a queer re-telling of the Hans Christian Andersen classic, the empress of a run-down city concludes that the best way to help her people is to throw an extravagant gala to "raise awareness." But, when two impeccably dressed swindlers offer to make her a gown that only empathetic people can see, her true character is…how shall we say…exposed.
About the production company, PinProductions:
The bulk of the work we do at PinProductions is based on classic tales. By reframing classic tales we are able to elevate characters that we believe should be the protagonists in this day and age. During the thick of the pandemic, we began producing Spanish retellings of classic tales for children. These projects combined live action with animation to give the show a theatrical bend. We knew we had to work together the first time we saw Ducky and Patsy perform. Their work is influenced by their queer Southern roots plus New York City's flourishing drag community. They both embrace camp with plenty of glamour. They are natural storytellers, and their embrace of the theatrical has made this project a perfect partnership.
The Cast:
Ducky and Patsy: New York's dynamic drag duo who constantly push the envelope through campy antics.
Gorgina: a professional makeup artist who loves utilizing the power of drag to feel her fantasy.
Pussy Willow: a sexy clown muppet resembling a DIY art teacher in drag.
Wigs, Costumery, Ducky & Patsy's Makeup from Styled by Michael: a Japanese hair, wig, and makeup artist styling the likes of international superstars and the finest of New York's drag community.
Empress' New Clothes script written by Susannah Dalton
Directed by Susannah Dalton and José Ignacio Vivero
Story by Ducky, Patsy, Susannah Dalton, José Ignacio Vivero, and Has Christian Andersen
About Culture Lab LIC:
Culture Lab LIC is a 501(c)(3) formed to be the arts and culture umbrella for Western Queens. We present local, national, and international art of all genres, while supporting New York artists and other nonprofits by providing space, resources and a sense of community.
Operating out of a 12,000 square foot converted warehouse, Culture Lab LIC hosts two fine art galleries, an 80 seat theater, classroom space, an 18,000 square foot outdoor venue, and a robust residency program. Culture Lab LIC is dedicated to upholding, equity, diversity and inclusion across all our platforms.