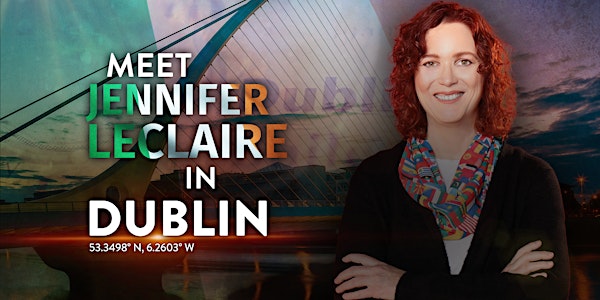 Dublin: Prophetic Encounter with Jennifer LeClaire
Meet Jennifer LeClaire for a night of prophetic encounter in Dublin.
Date and time
Tuesday, April 25 · 7:30 - 9:30pm IST
Location
Abundant Grace Christian Assembly 28 Fitzwilliam Street D04 FH24 Dublin Ireland
About this event
Meet Jennifer LeClaire for a night of prophetic encounter! Jennifer will teach, pray and impart at this one-night-only event. Come expecting. Please don't register if you are not coming to Dublin.
Join Awakening Prayer Hubs at www.awakeningprayerhubs.com.
About the organizer
Jennifer LeClaire is an internationally recognized author, apostolic-prophetic voice to her generation, and conference speaker. She carries a reforming voice that inspires and challenges believers to pursue intimacy with God, cultivate their spiritual gifts and walk in the fullness of what God has called them to do. Jennifer is contending for awakening in the nations through intercession and spiritual warfare, strong apostolic preaching and practical prophetic teaching that equips the saints for the work of the ministry.
Jennifer is the director of Awakening House of Prayer in Fort Lauderdale, FL, founder of the Ignite prophetic network, Company of Seers, Company of Scribes, Caleb Company, , Awakening Prayer Hubs prayer movement, Awakening House church movement and AHOPU.org.
Jennifer was the first-ever female editor Charisma magazine before resigning in 2017.
Jennifer is a prolific author who has written over 50 books.
Jennifer also sits on the media advisory board of the Hispanic Israel Leadership Coalition. Jennifer is affiliated with: Christian International Apostolic Network; Network Ekklessia International, an apostolic network founded by Dutch Sheets; Forerunner Ministries, founded by Ken Malone; USCAL, the United States Coalition of Apostolic Leaders; The International Society of Deliverance Ministers
Jennifer has a powerful testimony of God's power to set the captives free and claim beauty for ashes. She shares her story with women who need to understand the love and grace of God in a lost and dying world. Click here for a personal Q&A with Jennifer.
Click here to read Jennifer's endorsements.
You can also learn more about Jennifer in this broadcast on Sid Roth's It's Supernatural.