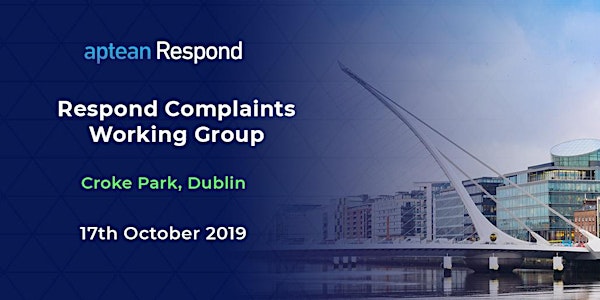 Dublin Complaints Working Group
When and where
Location
Croke Park Dublin Ireland
Description
Aptean Complaints Working Group is Heading to Dublin!
This free event is a chance to discuss industry topics and best practice, along with regulation and agenda items raised by attendees. The event will take place under Chatham House Rule meaning that as an attendee you can openly discuss your pains without fear of being publicly quoted.
Past topics for discussion have included:
· The Definition of a Complaint
· Vulnerable Customers
· Errors vs. Complaints
· Governance: MI and RCA
· Reporting
· PPI
Spaces are limited to ensure vocal discussion, so register today to save your place.

---
Agenda
12:30 -13:30: Networking Lunch
13:30 - 14:00: Presentation by Susannah Hewson, The CX Change
14:00 - 15:30: Discussion Session One
15:30 - 16:00: Break
16:00 -16:45: Discussion Session Two

About the Speaker
Susannah works with businesses to help them improve their customer experience. With a background in social science, she works with a range of sectors including retail, pharmacy, financial & tourism. Susannah trains both customer and non customer facing staff and also runs solution planning workshops around specific areas of the customer journey that are impacting negatively on customer satisfaction. Susannah previously ran the Customer Experience Management module for the Institute of Banking, and more recently she's worked with financial brands such as Capital Credit Union and Bank of Ireland Global Markets & Treasury.
About the Presentation
Susannah will talk about the importance of emotion in resolution and complaint handling, and will give tips on anticipating emotions and designing responses to deliver the best outcome for both the customer and the business. This will involve turning the viewpoint from the business to the customer, learning to read their emotional state and using the right language to show empathy and care.

________________________________________________________________________________________
Aptean's chair will provide topics as a guide, but a large part of the discussion will be driven by what you want to hear more about; this may be others' opinions on regulation or an experience you'd like to share.
Carlos Rodriguez from the EMEA Marketing team will be coordinating this event. If you have any questions or would like to suggest a discussion topic, then she can be contacted by phone: +44 (0)1604 614 189 or email: carlos.rodriguez@aptean.com.