Dubai ICO Summit - Cryptocurrencies, Blockchain & Token Economy

Tuesday, September 5, 2017 from 9:00 AM to 6:00 PM (Gulf Standard Time United Arab Emirates Time)
Event Details
Please note, the event is being changed to 5th Sep in respect of the Eid holiday requests by attendees. 
When : 5th September 2017 9am to 6pm 
What : Dubai ICO Summit , Cryptocurrencies, Blockchain and Token economy
Where: Emirates Towers , Shaik Zayed Road, Dubai , UAE 
Why should you learn about Initial Coin Offerings & the Token Economy? 
Confirmed Speakers
Arifa Khan, Founder DGCAMP/ Himalaya Labs, UK
Paige Freeman, NewAlchemy.io, USA
David Henderson, Sweetbridge, USA
Martin Mesche, Brickblock, USA 
Scott Nelson, Sweetbridge
More speakers TBC
Dubai ICO Summit - Overview
We are bringing to Dubai for the first time, the global leaders of digital currency space, and experts who can help you succeed in cryptocurrencies market, and educate you on how to invest in or launch a successful ICO! 
An Initial Coin Offering or ICO is a blockchain-based means of crowdfunding in which a company issues tokens — essentially a mini-cryptocurrency that can be traded or can unlock benefits.
Blockchain-based tokens in a sense monetize a startups network effort (and distribute ownership and influence to the widest audience possible).
Tokens can be bought with currencies such as bitcoin, or, more popularly lately, ether, which is linked to the ethereum network. One startup raised more than $150 million in just three hours in its ICO, and Bloomberg reported more than $1.3 billion has been raised so far this year through ICOs. Tezos announced the largest ICO seen yet, raising $232 million.
This fundraising method ICO is becoming increasingly popular. In 2016, dozens of startups and projects used ICOs to raise a total of $236 million, according to a recent study by CoinDesk.
ICOs officially overtook VC investments in Blockchain in 2017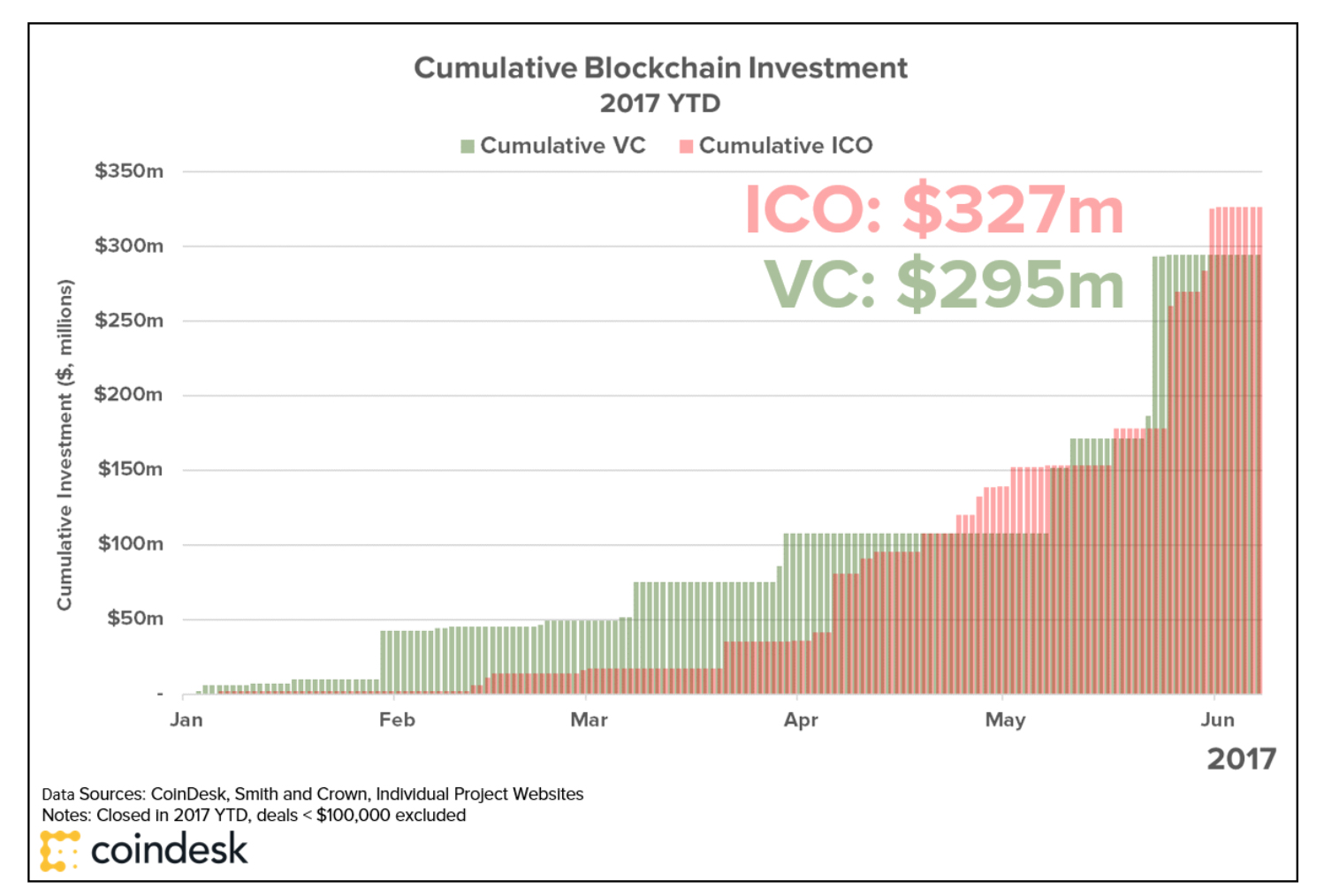 In 2017, ICOs are the most popular buzzword.
Firms have raised $1.3 billion this year in digital coin sales, surpassing venture capital funding of blockchain companies and up more than six-fold from the total raised last year, according to Autonomous Research.
Initial coin offerings have raised about $600 million in the last month alone, according to a July report from Autonomous NEXT. Enthusiasm for new cryptocurrencies created for the initial coin offerings is growing.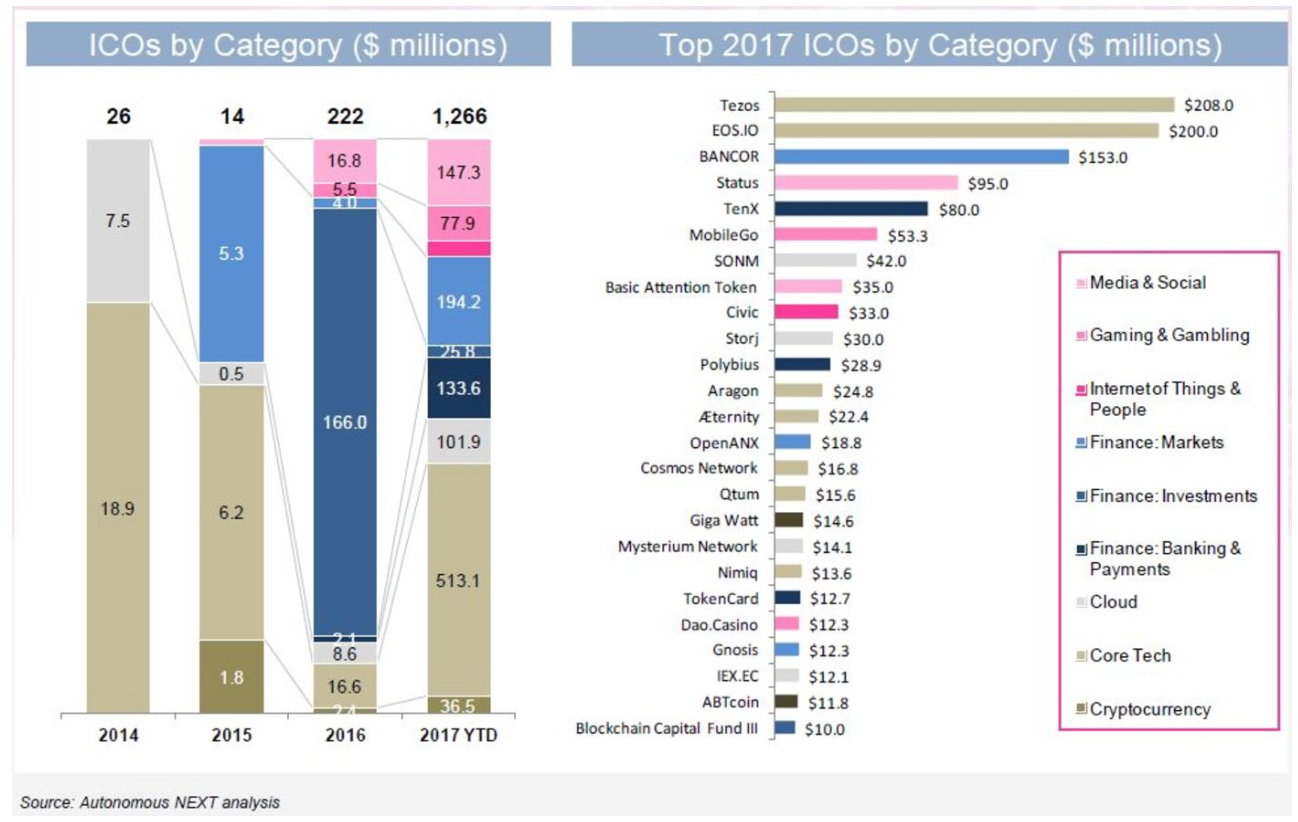 According to Coindesk, though a number of startups (Brave, Civic, Kik) have both traditional VC investment and have issued a form of token, for many startups ICOs are the heavenly manna they could only dream of earlier. The space is wide open for innovation and evolution.
Potential token issuers and investors must not only analyze the application or system (like augur or golem), but also the base protocol or infrastructure layer (like ethereum, waves or lisk) .
How the structures, valuations and legalities evolve is a much larger question, but undoubtedly the continued and growing wave of token sales will focus the spotlight on each of these questions and more. 

Join us in Dubai to learn all about ICOs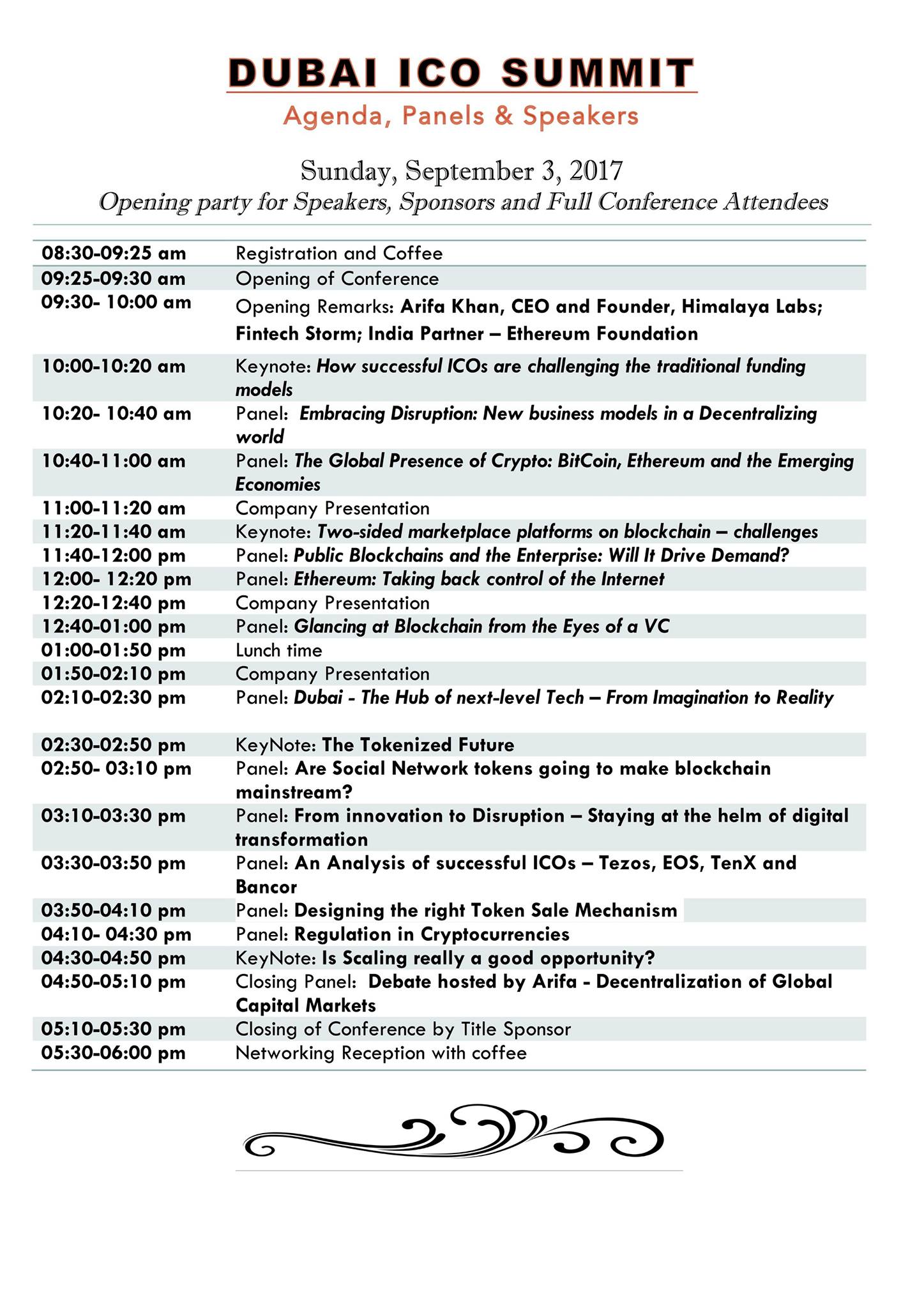 What is a virtual currency? 
According to the definition proposed by the ECB (2012) "a virtual currency is a type of unregulated, digital money, which is issued and usually controlled by its developers, and used and accepted among the members of a specific virtual community". Similarly, according to the EBA (2014), "[virtual currencies] are defined as a digital representation of value that is neither issued by a central bank or public authority nor necessarily attached to a [conventional currency], but is used by natural or legal persons as a means of exchange and can be transferred, stored or traded electronically."
Cryptocurrencies are partly becoming more popular because countries and companies are taking a closer look at the technology that underpins them: blockchain. Japan, for example, approved bitcoin as a legal payment method in April. 
ICOs have disrupted traditional Venture Capital
"We're now sort of at a tipping point, where people are now considering bitcoin or ethereum or digital assets as more mainstream," Dave Chapman, managing director of Hong Kong-based commodities and digital assets trading house Octagon Strategy, told CNBC. "A lot of the people that we service are actually very comfortable with having 1 percent of their net worth into bitcoin or ethereum."
ICOs have in a way disrupted the traditional Venture Capital world and equity funding.  
Even the traditional world of Silicon Valley venture capital has taken to ICOs with Blockchain Capital being the first to raise its fund by offering its own digital token.
Unlike bitcoin, which serves as a kind of digital cash or gold, the tokens distributed through ICOs are like a cross between stocks and currencies. Most token are issued and live on the Ethereum platform and trade on exchanges once the initial offering has ended.
Dubai ICO Summit is sponsored by Himalaya ICO
Come meet several successful ICOs and ICO Marketing experts! 
Read our preliminary paper on Decentralised Global Capital Markets Platform (DGCAMP) here.
http://himalayalabs.com/Himalaya-Executive-Summary2.pdf
What is DGCAMP ? https://medium.com/@misskhan/what-is-dgcamp-2a6fae4cf699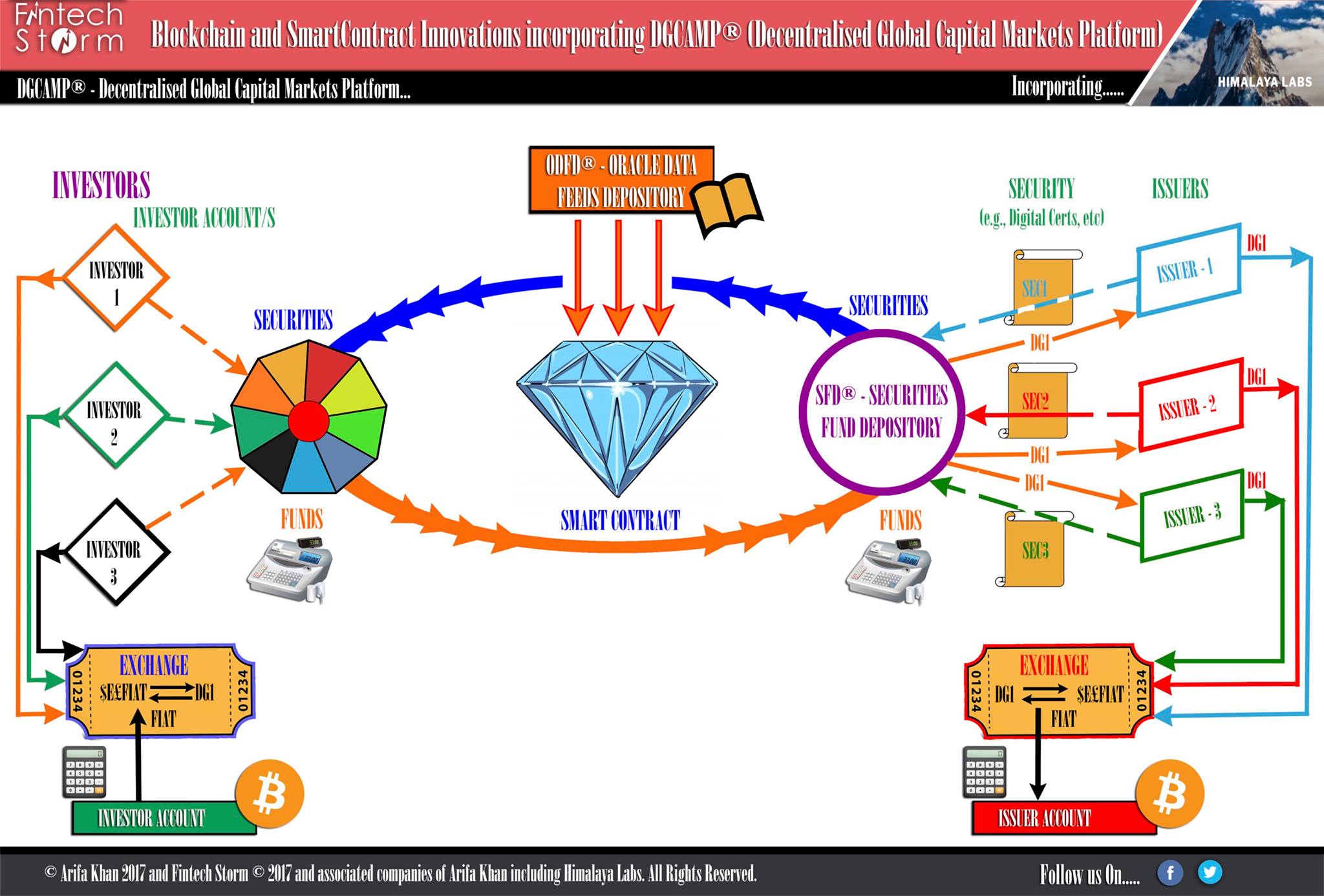 DGCAMP is potentially one of the biggest real world applications for Blockchain. DGCAMP envisages a smart contract architecture replacing the manual processes involved in investment banking, in the issuance of corporate equity and debt securities — processes characterised by opacity and high fees. (Read our preliminary paper)
DGCAMP aims to do away with opacity in capital markets.
Decentralised Global Capital Markets Platform ( DGCAMP ) is a new-age architecture where investors of capital and seekers of capital can interact freely, trustlessly and with minimum friction. The platform can operate with and without intermediaries.
DGCAMP — A definition:
DGCAMP is a blockchain and smart-contract driven platform where issuers (public and private firms, governments, non-profit foundations) can access a broad class of primary market investors (both institutional and retail), complete a variety of automated transactions and processes (such as book building, auctions, syndications, dividend distributions) and can issue a broad array of digital assets to investors. Investors of every type, jurisdiction and financial status can use the platform to learn about investment opportunities across the globe, their regulatory aspects, risks and expected returns, to access due diligence reports, and to invest directly without having to go through intermediaries. A secondary market layer with buyers, sellers, arbitrageurs can easily complement this system. The system can first be envisaged as a single-country system and then extended to a multi-country global marketplace.
Capital allocation will be made in a cryptographically secure, quick, efficient, trustless way.
Decentralised Capital Markets Platform for Digitally Represented Assets (DGCAMP) — a visual representation
Benefits of DGCAMP:
Disintermediation of Investment Banking by a Digital Asset Issuance Platform:
A Smart Contract Architecture can replace everything an investment bank does in securities issuance — book building, IPO pricing, algorithm-based allotment of digitised assets to various subscribers, accepting payments and issuing digital securities, custody of digitised assets
Cost saving, for example: Taking Away IPO fees of 7–10%

De-risking of issuance process : Eliminating counter-party and settlement risks

Post-issue management of investor base and performance reporting

Digital coupon and dividend distribution

Global Open Access Trust-less Platform for direct interaction between Investors and Capital-seekers

Global efficient capital flows between countries

Potential App Market Place for Asset Management Industry and intermediaries to build on our Core Platform

Reputation scoring of investors and issuers enabled over time

Potential platform for independent service providers to sell Research, Due Diligence, Legal and Regulatory Products

Decentralisation of Access to Capital!

Decentralisation of Innovation!
DGCAMP serves as a substitute to the current manually-intensive, time-bound and costly processes involved in the issuance of real world securities for corporates, governments, and non-profits.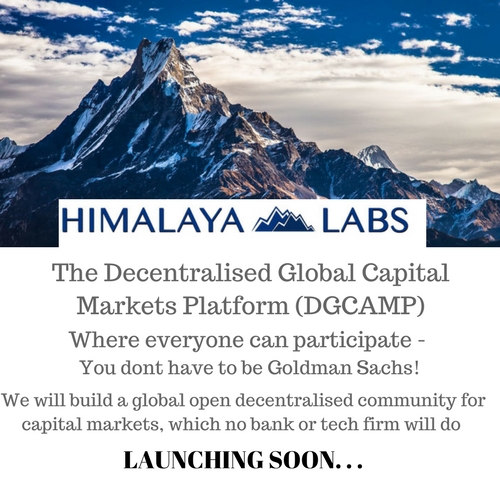 When & Where

Emirates Towers (TBC)
Sheikh Zayed Road
Dubai, Dubai
United Arab Emirates

Tuesday, September 5, 2017 from 9:00 AM to 6:00 PM (Gulf Standard Time United Arab Emirates Time)
Add to my calendar
Organizer
Fintech Storm Series is a spectacular monthly series which started at Google Campus London for fintech folks by fintech folks. We started in 2014 and have hosted around 100 events featuring 100s of fintech & blockhain companies so far . Our famous speakers include Vitalik Buterin, Founder of Ethereum, Nick Szabo. We have featured 100s of companies and CEOs before they hit big : such as Blockchain.info, Revolut, Currency Cloud, Boku, Zapp, Bango, Everledger, Realex Payments, Sage Pay, Azimo, Invoice Sharing, Friendly Score, Invest Up, Azimo, TransferGo, Ixaris, YoYo, iZettle etc. 
To see detailed profiles of speakers and to register visit:
http://fintechstorm.eventbrite.com