NOT GONNA PUT ANYTHING HERE YET :))))) JUST BUY THE TICKET
About this Event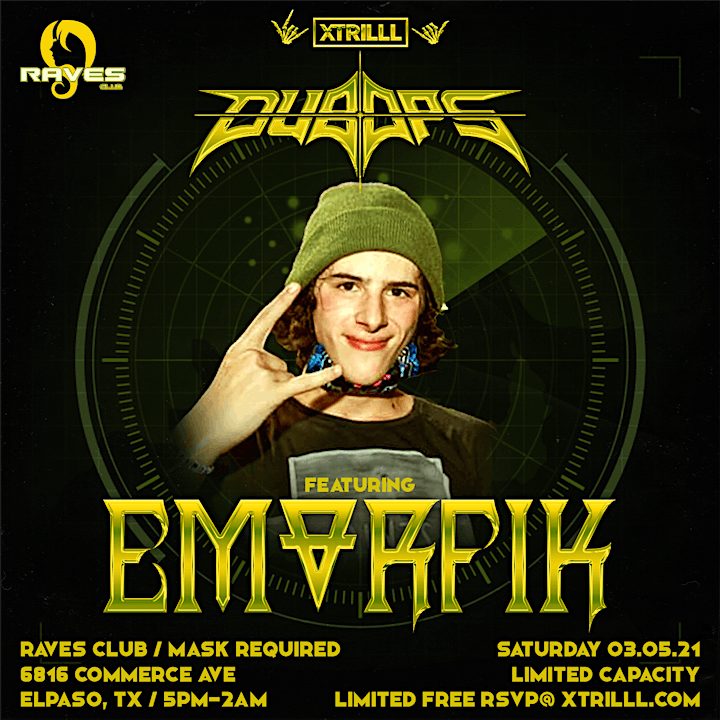 Welcome to DUB OPs!
EMORFIK
"Creator of a powerful sound evolution, an intense auditory experience and an infections energy."
That's how Emorfik describes himself as a DJ and music producer. He comes from a very musical family that includes those playing everything from the ukulele to the piano. He has multiple influences coming from his Hawaiian roots, rock, metal and jazz music. His first encounter with EDM was listening to Skrillex's song "Scary Monsters and Nice Spirits". It only took a short time for him to convince his parents to let him go to his first rave. It was then that he realized that this is what he wanted to do with the rest of his life. Through listening and experience, he began to find his passion with the heavier sides of EDM like Dubstep and Riddim.
His first time performing in front of a crowd was when he was 13 years old at a local venue called The Westcott Theatre in Syracuse, NY. Over the next few years, many shows and multiple controllers later, he was given a small inheritance. He had a choice; a car or a controller of his dreams. Needless to say, the controller is still in his studio to this day. He has evolved into an integral part of the local EDM scene and has opened for acts such as Rusko, Subtronics, Blunts n' Blondes, Protohype, Dubloadz, Riot 10, Midnight Tyrannosaurus and many more.
"When asked what drives me to work so hard...it's seeing all the smiling faces and the fact that even for a small amount of time, I can take people from their everyday lives into a whole other world and create a big circle of love"
​
HEALTH AND SAFETY MEASURES
xTRILLL and Raves have taken the following measures to ensure attendees health and safety.
Extra staff member on every shift specifically dedicated to sanitizing heavy touch points
Security & staff members to enforce mask wearing, social distancing, and assist with sanitation
Dedicated staff member handling health screening, temperature checks, and contact tracing
Operating at reduced capacity
Hope to see you for our first event of 2021!!!