DUB OPs brings the newest electronic bass acts for you to enjoy with a Amazing Audio Outdoor Environments, and the UNDERGROUND VIBES!
About this event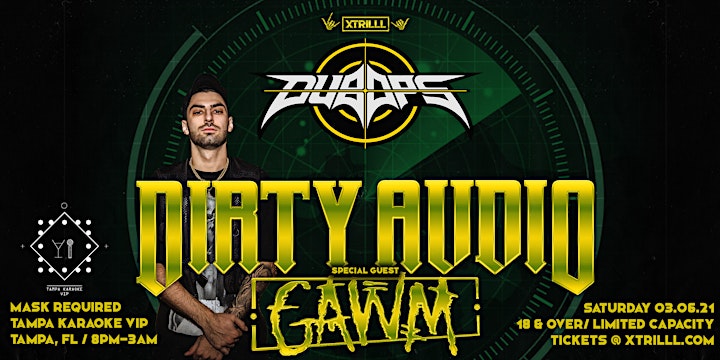 Welcome to DUB OPs!
This is a open-air standing event with room to walk and explore. You may stand and rave your heart out!
At the bottom of this page, you can read the health and saftey measures that TK LOUNGE has implemented to keep everyone safe :)
D!RTY AUD!O is a young, rising star in the electronic dance music scene. A Los Angeles native, D!RTY AUD!O discovered EDM at the age of 12, and it was only a matter of time before it became his true passion. In 2011 he began producing and has gained rapid support ever since.
In 2012, D!RTY AUD!O began touring, playing sold out shows across the US, and in 2013 began touring internationally. Fusing electronic elements with Hip-Hop, D!RTY AUD!O has gained support from artists such as Diplo, Deorro, Carnage, UZ, Flosstradamus, Adventure Club, Krewella, Sidney Samson, Dillon Francis, Steve Aoki, DJ Snake, and more. A Sol Republic Savior of Sound, popping up at #2 on Billboard's Next Big Sound, charting well into the Beatport Hip-Hop Top 10, and releases on Dim Mak, Ultra, CR2, and more are just naming a few of D!RTY AUD!O's recent successes. These along with D!RTY AUD!O's growing popularity, there is no doubt of the bright future in store for this young and talented artist.
HEALTH AND SAFETY MEASURES
xTRILLL and TK LOUNGE have taken the following measures to ensure attendees health and safety.
Extra staff member on every shift specifically dedicated to sanitizing heavy touch points
Security & staff members to enforce mask wearing, social distancing, and assist with sanitation
Dedicated staff member handling health screening, temperature checks, and contact tracing
Operating at reduced capacity
Hope to see you for our first event of 2021!!!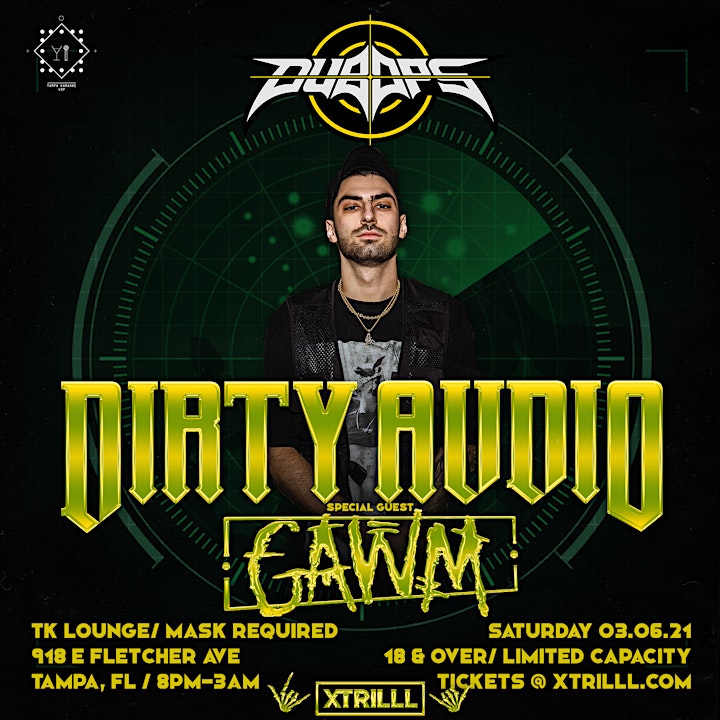 Organizer of DUB OPs ft DIRTY AUDIO w/ Special Guest GAWM