Dual Lean Six Sigma Yellow Belt and Green Belt 4-Days Classroom in Philadel...
Description
Certification Planner is world's leading Lean Six Sigma training and certification provider with 100% success rate. CP is awarded with most trusted training provider of 2018 with 98% referral rate. Our Dual Lean Six Sigma Yellow and Green Belt (DLSSYB/LSSGB) 4 days Guaranteed to Run Bootcamp is one of a kind programs to assist you in becoming a better-quality improvement manager, clear LSS exam in first and achieve dual certification by attending just one class and one exam. CP LSS certification is globally recognized and comes with an internationally valid license number.
Dual LSS Yellow and Green Belt 4 days Classroom Includes:
1. CP Exam Voucher (read below)
2. 4 days of the instructor-led in-person classroom (guaranteed)
3. Course developed by Global Panel of expert Instructors
4. IASSC aligned YB and GB study guide
5. 2 Exam-based mock tests
6. Chapter end - quizzes
7. 100% pass guarantee
8. 45 PDU's certificate
9. Dedicated support by LSSBB certified staff
10. 100% Success rate
Click here to view course details or Click here to chat with us now.
Weekend special classes are organized on special requests.
Please contact Samaira@certificationplanner.com to know the dates.
Course Description:
CP Dual Lean Six Sigma Yellow and Green Belt training with no pre-requisites is an opportunity for quality management professionals to reduce time and money on various level of Lean Six Sigma belts. Learn the core principles of Lean and Six Sigma to implement quality projects, continuous improvement and applications. Course includes how to effectively use the Minitab tool for statistical analysis. The course structure and material are aligned to IASSC exam.
Dual LSS YB and GB certified professional is well versed with Lean Six Sigma Methodology elements to lead improvement projects or member of a team handling more complex improvement projects. Boost your subject matter proficiency with dual certification to increase desirability by employers and salary.
Course Agenda/Curriculum:
Introduction to Lean and Six Sigma

Basics of Yellow and Green Belt

Roles and responsibilities of Green Belts

DMAIC Methodologies

Define Phase

Measure Phase

Analyze Phase

Improve Phase

Control Phase

Lean Management

Exam Passing Tips and Tricks

Feedback Session
At the end of the program, the participant will take an open book exam to score 75% or above and become Dual Lean Six Sigma Yellow and Green belt. CP will provide 2 certificates with an internationally valid license number and can be verified by employer or recruiters any time.
To know more about our Dual Lean Six Sigma Yellow and Green Belt (DLSSYB/LSSGB) training program, Chat with us now or call us at +1855.322.1201 or email us at support@certificationplanner.com.
Examination:
Participant must take an open book LSS Green Belt exam and score 75% or above to receive both Yellow Belt and Green belt certificates.
Participant can choose to schedule an online exam during the class or within 6 months.

Maximum of 3 times participants will be granted access to online exam portal

If a participant fails to pass in all the 3 times. CP will refund the course fee**
Why choose Certification Planner?
Trusted by fortune 500 companies

The highest passing rate in the industry

High-quality course material

Supported by 200+ well-experienced instructors

24/7 dedicated support

Job Planner, an online recruitment portal to enhance your career

Highly experienced management from the training industry

End to end feedback system to support your learning process
Other Courses:
Certified Associate of Project Management (CAPM) | Project Management Professional (PMP) | Lean Six Sigma Black Belt (LSSBB) | Dual Lean Six Sigma Green and Black Belt (LSSGB & LSSBB) | Dual Lean Six Sigma Green Belt (LSSGB) | ITIL Foundation | Digital Marketing Certified Associate (DMCA) | Big Data | Data Science | Salesforce
Head office: 2150 South 1300 East Suite 500, Salt Lake City, UT
Phone: +1855.322.1201
Timings: 05.00 AM to 04.00 PM MDT.
*To know more about the discount and money back, Contact us on chat, email or phone.
Organizer of Dual Lean Six Sigma Yellow Belt and Green Belt 4-Days Classroom in Philadelphia
Terms and Conditions:
Certification Planner offers its tribute to our fallen heroes in the form of Memorial Day offers.  
1) Enroll for courses on www.certificationplanner.com or www.eventbrite.com and avail 
10% off on in-person classroom
15% off on Live online classroom
2) Promotion is valid until May 31st, 2019 (Promotion is not applicable on PgMP, PBA, CISSP, CISA, CSM, CSPO, Big Data course, and Salesforce)
3) Students can soft book a seat by providing name, email and phone number on chat for 7 days and still avail the discount.
4) The offer can not be clubbed with another offer or coupon.
5) Promotion is not valid on Group and Corporate training program.
6) CP reserves the right to modify, change or cancel the promotion anytime without any prior notice.

About Certification Planner LLC.
Certification Planner(CP) is a North Americas leading learning platform. Offering industry recommended short- and long-term training and certification programs to bridge the gap between academic and professional education. We are driving progress by training professionals on career-defining, advanced and trending subjects from different work spectrum like Project management, Quality Management, IT Services and Management, DevOps, Digital Marketing, etc.  
We are the brand trusted by fortune 500 companies and have touched over 30,000 professions across the United States, Canada, Mexico, Australia, Singapore, and the United Kingdom. With our clients at heart, we strive to bring result oriented training delivery to our clients. Our training catalog and courseware is designed, developed and delivered by over 200 certified instructors from across the globe with the highest success of 96.24%.
Certification Planner is awarded as "North Americas Most Trusted Training and Certification Provider – 2018"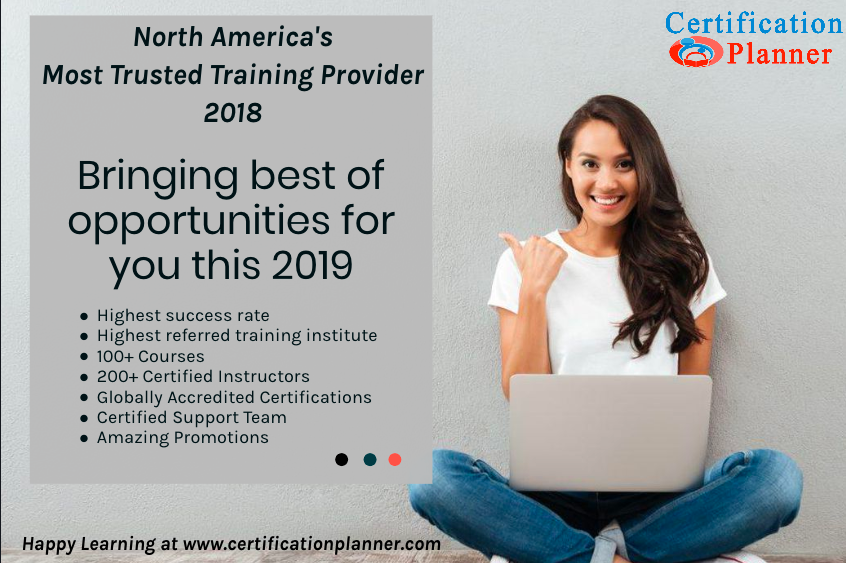 Some of our reviews: 
Scott gross, Personal Manager training: CP accommodated all our requests and was able to customize a learning plan for our company that fits perfectly with the mindsets of our employees. Thank you!
Milena Hessen, Industrial Relations Manager: Excellent work from CP. Assisted us immensely with a high-level training program to 20 of our employees. Will assign them to all our future training….Thank you once again.
Kevin Tomlinson, Quality Supervisor: Well structured course design, helped me quite a lot with the fundamentals and a decent learning faculty
Michael Savage, Construction Manager: Completed my PMP training with them and all I can say is that if I decide to pursue any future certifications I am knocking on their doors again…. hope this explains my review:-)
Dan Greenberg, Manufacturing Technician: Wonderful course! The instructor really got to the point and covered about everything you should know for quality control. They were also very responsive and helpful, which is something I'm most thankful for. Thanks again CP.
Jason tilbury, Operations Manager: The dual learning was quite a complex course as we were introduced to the basics of LSS and the advanced studies as well but the instructor did a good job in delivering the subject clearly and professionally the balanced between both the methodologies was maintained quite well.
What is our Vision?
At CP, we believe in achieving sustainable growth by upgrading the skill set of our clients. We help organizations retain talent and upskill them to overcome hiring and economy competition. Being a responsible training company, we are highly client-centric and all the initiatives at CP begin with the question, "how can we deliver better to our participants and create a happy learning experience?"
What do we offer?
We constantly strive to provide an array of training options that have been fine-tuned and optimized by industry experts. To make training more accessible and convenient, we offer a blended mode of training. Choose from Online Self-Study, Instructor let Online Classroom Training, Instructor-led In-Person Classroom Training solutions. End to end feedback ensures the maintenance of optimal quality.
Quote
"There may be people that have more talent than you, but there's no excuse for anyone to work harder than you do.     
Derek Jeter
 Address: Certification Planner, LLC 2150 South 1300 East Suite 500, Salt Lake City, UT 84106
Tollfree: 855.322.1201
Email: Support@certificationplanner.com