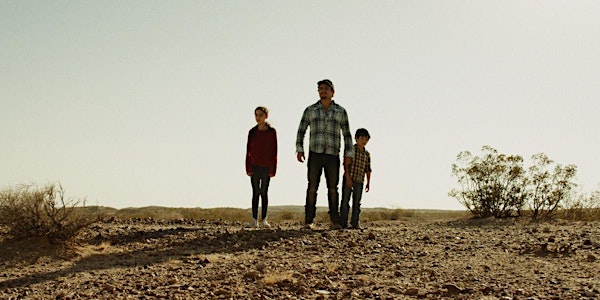 DTLAFF Feature Film - Collisions with short American Nightmare
When and where
Location
Regal L.A. LIVE 1000 West Olympic Boulevard Theater 12 Los Angeles, CA 90015
Description
GENRE Coming of Age | RUNNING TIME 90 min + 8 min | FEATURE FILM and SHORT


Collisions
USA | Narrative | 90 min
When twelve-year-old Itan, straight-A-smart, comes home from school in San Francisco, she is stunned to find their furniture up-ended, and no trace of her mother Yoana. Child Protective Services dumps Itan and her six-year-old brother Neto with their estranged uncle Evencio, a big rig truck driver. Itan can't stand him. He's arrogant, unreliable, and probably criminal. After a desperate search, Itan locates Yoana in an immigration detention center in Arizona and convinces Evencio to take them there.
They are propelled onto the road in Evencio's truck, through the maddening labyrinth of immigration detention. Itan fights to free her mother before she is deported. But her mother keeps slipping from her grasp, as she is transferred from prison to prison. Their journey takes them through the deserts of the southern border, to sprawling truck stops, border patrol offices and secret immigration prisons.
In the close quarters of Evencio's truck cab, Itan and Neto begin to bring a better man out of Evencio. But Evencio abandons them just when it seems they have a chance of stopping their mother's deportation. Are they now truly on their own? Or will Evencio come through and reunite the family?
DIRECTOR'S BIO RICHARD LEVIEN, Levien's short film, "Immersion", premiered at Slamdance, and won Best Bay Area Short Film at the San Francisco International Film Festival and the No Violence Award at Ann Arbor. "Collisions", his debut feature film as a writer / director, received SFFILM / Kenneth Rainin awards for screenwriting, development, production and post-production.

CAST Izabella Alvarez, Jesse Garcia, Ana de le Reguera, Jason Garcia
SOCIAL MEDIA HANDLES https://www.facebook.com/CollisionsMovie
TRAILER LINK https://vimeo.com/288603699
WEBSITE LINK http://collisionsmovie.com/
PRINT SOURCE Richard Levien, richard.levien@gmail.com

American Nightmare
USA | Narrative Short | 8 min

A traffic stop due to speeding takes a turn for the worse landing a mother and her 5 year old daughter in jail.
DIRECTOR'S BIO JESUS NEBOT , is a renowned filmmaker, social entrepreneur & public speaker inspiring college students to find the best solutions to our greatest human challenges, including immigration. Jesus is the winner of 26 international awards for his work as writer, director, producer and star of his first feature film NO TURNING BACK
CAST Jesus Nebot, Susana Santiago, Jo Galloway, Kiana Jun Bartholomew, Ellen Dubin, Joe Ochman
SOCIAL MEDIA HANDLES https://twitter.com/devastatingfilm https://www.instagram.com/devastatingfilm/
https://www.facebook.com/devastatingfilm
WEBSITE LINK http://www.americannightmarefilm.com/
PRINT SOURCE susana@jesusnebot.com