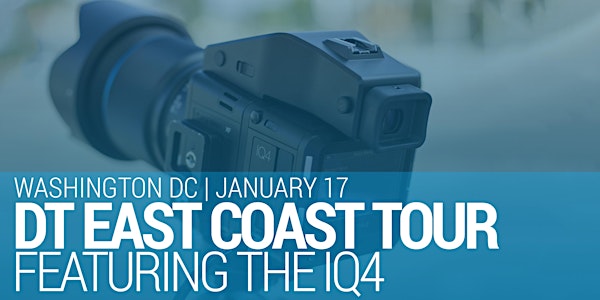 DT East Coast Tour – Featuring the IQ4 – Washington DC
When and where
Location
Studio 52 1508 Okie St NE Washington, DC 20002
Description
Experience Infinite Possibilities with the Phase One XF IQ4
Digital Transitions invites you to join us as we bring infinite possibilities across the East Coast. On January 17th, the DT team will be in Washington DC at Studio 52 from 1:00 – 4:00 PM. We will review the newest features in Phase One's IQ4 150 megapixel digital back around 3:00 PM - the rest of the time is an open house. Feel free to stop by any time during the event to try it for yourself!
This event is for photographers in every field - the IQ4 150MP has unique features that make it ideal for photographers in any specialty. DT representatives will be available to discuss Commercial, Fine Art, and Cultural Heritage specialties.
Featuring our partners at:
Known for being the first studio camera manufacturer to produce an all-metal large format camera, Cambo has since built a reputation for high quality, precision engineered cameras, stands and other studio equipment. Cambo will be joining us and bringing a variety of equipment for you to test out with the new Phase One IQ4 150mp digital back.
More megapixels means larger prints. Our partners at Blazing Editions offer a variety archival printmaking options for artists and photographers alike. They will be joining us at the event and will have print samples from the IQ4 digital back so you can see the possibilities 150 mp brings to printing.
The best customers deserve the best filter system for the best camera system. Learn more about the innovative Wine Country Camera filter holder system
here
.
Contact Kate Stone at kns@digitaltransitions.com with any questions regarding the event or registration. If you're unable to attend, but would like to schedule a demo for the new XF IQ4 Camera System at another time, give us a call at 212-529-6825 to make an appointment.