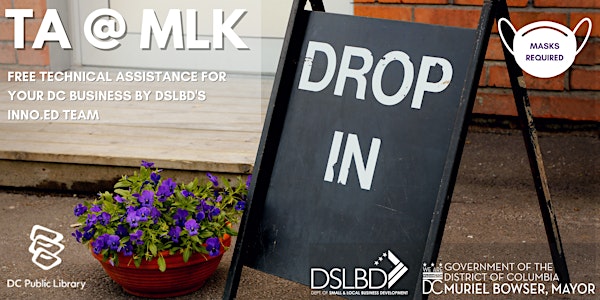 DSLBD General Technical Assistance at MLK Library Wednesdays!
DC-Based Businesses and Entrepreneurs can drop in for technical assistance on any topic related to your business.
When and where
Location
Martin Luther King Jr. Memorial Library, First Floor Coworking Space 901 G Street Northwest 1st Floor Coworking Space Washington, DC 20001
About this event
The Department of Small & Local Business Development (DSLBD)'s Innovation & Equitable Development (Inno.ED) team is available at the Martin Luther King, Jr. Memorial Library on Wednesdays for focused group technical assistance.
About Technical Assistance
Inno.ED staff Shannon Taylor, Caroline Howe, Camille Nixon, and Kate Mereand will be available for drop-in TA from 10-12 and from 1-3 on Wednesdays in October 2022. Drop in for a one-on-one or group discussion about resources, ideas, or support for your DC-based business.
**We will be at the library but not holding TA on October 19th, as that day we will be participating in District Connect.***
We support all DC-based entrepreneurs and small businesses through technical assistance, training, and limited funding opportunities.
Questions or accessibility accommodations? Please reach out to Inno.ED@dc.gov.
Need Translation?
Free language interpretation is available. (202) 727-3900
La interpretación gratuita a otros idiomas está disponible. (202) 727-3900
我们提供免费的翻译服务。(202)727-3900
Une interprétation linguistique gratuite est disponible. (202) 727-3900
무료통역 서비스를 제공합니다. (202) 727-3900
Ukalimani wa lugha bila malipo unapatikana. (202) 727-3900
Có thông dịch miễn phí. (202) 727-3900
لترجمة اللغوية متوفرة مجانا. (202) 727-3900
Learn more about the Inno.ED Team & our programs by watching the video below.