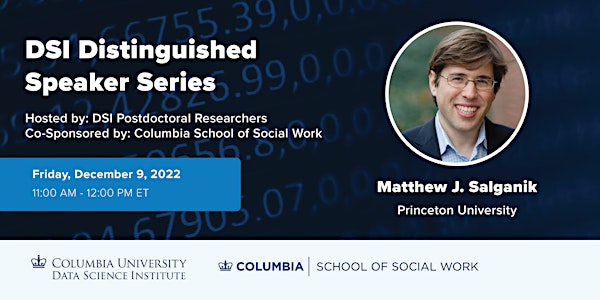 DSI Distinguished Speaker: Matthew J. Salganik, Princeton (HYBRID)
Presented by Postdoctoral Researchers at The Data Science Institute, Columbia University
About this event
DSI Distinguished Speaker Series highlights senior researchers who are applying data science to a broader scientific or academic expertise.
Guest Speaker: Matthew Salganik, Professor of Sociology, Princeton University; and Director of the Princeton Center for Information Technology Policy
Moderated By: Abraham Liddell, DSI Postdoctoral Research Scientist
Co-Sponsored by: Courtney D. Cogburn, Associate Professor of Social Work, Columbia School of Social Work; and Associate Director of Diversity, Equity and Inclusion, Data Science Institute
This will be a HYBRID event. Please indicate on your registration if you will attend virtually or in-person.
In-Person Location: Columbia School of Social Work, Concourse Level (Room C03). Address: 1255 Amsterdam Ave, New York, NY 10027
Virtual: Zoom link to be sent upon registration
The Unpredictability of Life Outcomes
Researchers have long theorized about the processes through which family background and childhood experiences shape life outcomes. However, statistical models that use data on family background and childhood experiences to predict life outcomes often have poor predictive performance. In this talk, we present results from three interrelated studies of the predictability of life outcomes: a scientific mass collaboration involving hundreds of participants, a high-throughput study using hundreds of machine learning pipelines to predict hundreds of life outcomes, and a qualitative study involving in-depth interviews with 40 families. Collectively these studies help to assess and understand the limits to predictability of life outcomes, which has implications for social science theory and for algorithmic decision-making in high-stakes settings.