Location
The Historic Academy of Medicine
875 West Peachtree Street Northwest
Atlanta, GA 30309
Description
DATA SCIENCE ATL CONFERENCE 2018
"The Fourth Industrial Revolution: Blurring the Lines Between Data Science & Industry"
Data Science Atlanta is the largest data science organization in the southeastern United States and one of the most attended in the world. Founded in 2012, we are nationally known for our best-in-class data science programming and content, connecting practitioners and industry leaders who recognize the disruptive impact that data science is having on their businesses and lives. We've done it while pushing the boundaries of traditional professional programming through a variety of topics and formats.
Our inaugural conference, DSATL Conference 2018, will demonstrate this same level of excellence, but on a grander scale. The DSATL Conference 2018 theme is: "The Fourth Industrial Revolution: How Data is Transforming the 21st Century," showcasing the wide variety of advanced data science applications across industry verticals and technical disciplines, with the goal of sharing and inspiring new applications, algorithms and techniques.
---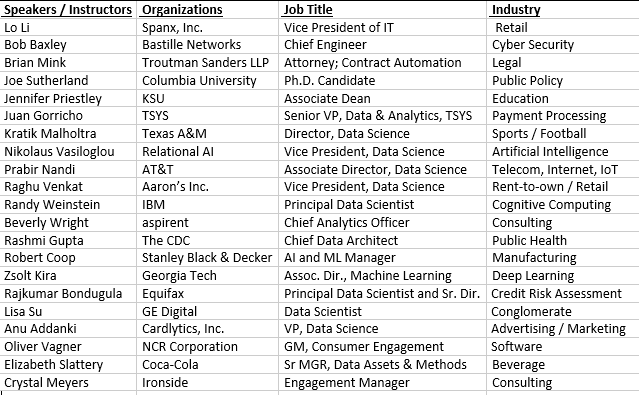 Anu Addanki
Cardlytics, Inc.
VP, Revenue Analytics and Data Science

Bob Baxley
Bastille Networks
Chief Engineer

Juan Gorricho
TSYS
Senior VP, Data & Analytics, TSYS

Lo Li
Spanx, Inc.
Vice President of IT

Kratik Malholtra
Texas A&M
Director, Sports Science and Analytics

Crystal Meyers
Ironside
Engagement Manager

Brian Mink
Troutman Sanders LLP
Attorney; Contract Automation & Analytics


Prabir Nandi
AT&T
Associate Director, Data Science, Chief Data Office

Beverly Wright, Pd.D.
Aspirent
Chief Analytics Officer

Rashmi Gupta, Ph.D.
The CDC
Chief Data Architect

Raghu Venkat, Ph.D.
Aaron's Inc.
Vice President, Data Science

Randy Weinstein, Ph.D.
IBM
Principal Data Scientist

Rajkumar Bondugula, Ph.D.
Equifax
Principal Data Scientist and Senior Director

Zsolt Kira, Ph.D.
Georgia Tech
Associate Director, Machine Learning; Branch Chief, Machine Learning

Jennifer Priestley, Ph.D.
Kennesaw State University
Associate Dean

Robert Coop, Ph.D.
Stanley Black & Decker
Artificial Intelligence and Machine Learning Manager

Elizabeth Slattery
The Coca-Cola Company
Sr Manager, Data Assets & Methods

Lisa Su
GE Digital
Data Scientist

Joe Sutherland
Columbia University
Ph.D. Candidate

Oliver Vagner
NCR Corporation
General Manager, Consumer Engagement

Nikolaus Vasiloglou
Relational AI
Vice President, Data Science