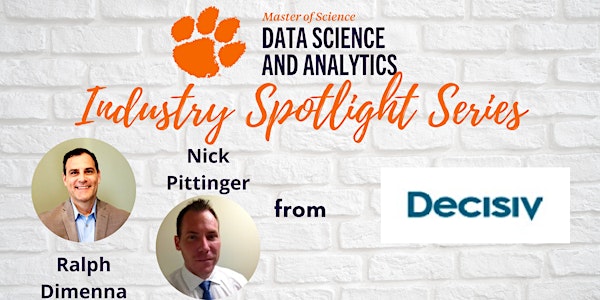 DSA Industry Spotlight: Decisiv
Industry Spotlight: Decisiv Presented by: Ralph Dimenna (Chief Revenue Officer) & Nick Pittinger (Senior Data Scientist)
About this event
Data Science in Commercial Trucking
Abstract:
An overview of how Decisiv, Inc, uses data science and analytics in support of its market leading Service Relationship Management software for commercial trucking. Examples will include NLP and sentiment analysis in support of actionable insights for fleets and dealers.
About Ralph Dimenna:
Ralph is the Chief Revenue Officer for Decisiv, the industry leader in Service Relationship Management (SRM) software. He oversees all customer success, marketing, revenue generating and business development activity for Decisiv.
His key specializations include SaaS, product-as-a-service, fleet management, connected mobility, corporate entrepreneurship, developing and scaling of new business models. Ralph has built, led and operated several businesses with diverse, multi-national, multi-cultural organizations to exceptional performance. Previously, Ralph had an illustrious career with the Michelin Group, serving as President of the Global Services & Solutions Business Line. His oversight included 2,500 employees across five continents (NA, SA, EUR, China, Australia) and multiple subsidiaries.
About Nick Pittinger:
Driven and dedicated data analytic leader with 17 years in the financial services industry and 4+ years in the commercial trucking industry who loves using data to solve real world problems. Able to seamlessly navigate from high level business requirements down to the technical details, leverages the skills and experience of self and others to deliver solutions in an efficient and prioritized manner, and derives immense pride in developing the talents of those around him.
In my current role, I leverage large amounts of service repair data for the commercial trucking industry captured by our proprietary Decisiv SRM Case application to identify key insights and drive future efficiencies across the supply chain. Key areas of focus for my role are around continuous improvement of data quality as well as the ability to identify, develop and deliver innovative data solutions for our business partners.
Tools/techniques/languages/environments - PostgreSQL, Redshift, SQL, Python, github, Confluence, Jira, Jaspersoft, S3, Quicksight
Any questions about this event please emails msdsa@clemson.edu