Event Information
Refund Policy
Refunds up to 7 days before event
Description
"Acquia Learning gave me the tools to earn Drupal 8 Developer Certification!" - Phil from Phoenix Arizona
"You could spend many hours on your own trying to cover this material and never get as far as you can with this class. If you need to go further with Drupal 8 this is how to do it." - Robert from Pennsylvania
---


Learn professional Drupal 8 development and get certified with the Drupal experts
Are you eager to become proficient in using Drupal 8 to power ambitious projects?
Do you want the experience to build skills and confidence to become an Acquia Certified Developer in Drupal 8?
Are you a working professional who wants a course that can fit into your busy work schedule?
This comprehensive 8-week course covers all areas of Drupal 8. You'll build a fully functional Drupal 8 site from design to production. You'll learn best practices in Drupal 8 site-building, theme development, and module development.
This course also specifically prepares you to excel at taking the Acquia Certified Developer - Drupal 8 Exam. The cost of the exam is included in the course registration fee.

The Course includes
Eight weekly 90-minute virtual class sessions
Access to self-paced study materials to learn each week's Drupal topics
Access to collaborative/social learning environment for peer-to-peer and peer-to-instructor asynchronous interaction
Access to private Slack channel for this course for peer-to-peer help
Slack access to instructor during specified weekly office hours
Max class size of about 15 ensures significant instructor attention
Voucher to take the Acquia Certified Developer - D8 exam ($250 value) - 1 free retake included
Agenda
Week 1: Web Fundamentals, Drupal Concepts, and Version Control using Git
Week 2: Drupal site-building Fundamentals & Drupal 8 Views
Week 3: Drupal 8 Module Development Fundamentals
Week 4: Advanced Drupal 8 Module Development
Week 5: Drupal 8 Configuration Management and Multilingual capabilities
Week 6: Drupal 8 Theming Fundamentals
Week 7: Advanced Drupal 8 Theming
Week 8: Project presentations & wrap-up
---
"Class was great! I loved getting such a broad education while still being able to work around my busy schedule." - Jason from Austin Texas
---
Experience learning in a totally new way with 'flipped' training
This innovative course is a 'flipped' virtual training that combines self-paced learning with weekly live virtual classroom sessions led by an expert Drupal instructor.
Each week you will do weekly self-paced learning and project assignments when it is convenient for you, and attend a scheduled 90-minute instructor-led virtual class session. Each session is a workshop where students ask questions, test their skills in applying knowledge, and interact with one another in hands-on activities.
Learning materials are provided through a collaborative online environment which enables instructor-to-student and peer-to-peer discussions throughout the week.
This is a project-based course and each student must build their own Drupal 8 site. After purchase you will be given the class syllabus which details the weekly material.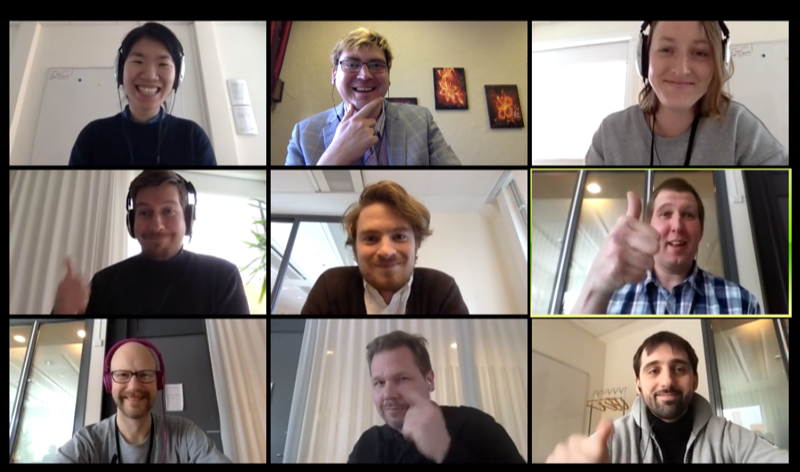 ---
"The targeted training materials and exercises focused my efforts, and the interaction with peers in the class accelerated my learning." - Jeramy from Ithaca New York
"…great way for me to learn at a flexible pace while not interrupting with my other day-to-day responsibilities." - Deborah from California
---
Entrance requirements
This course is not suitable for Drupal beginners. In general, you should have medium to high proficiency with Drupal 7, some familiarity with Drupal 8, or both to enroll in this course. To ensure your success, we are requiring one of the following as a prerequisite.

You must have an Acquia Drupal Certification already (D7 or D8) OR
You have a demonstrable history of at least 6 months of Drupal experience.
Extensive experience with a similar content management system.
N.B. While one of the course's main objectives is to prepare you to take the Acquia Certified Developer - D8 exam, developers already holding that credential may still wish to take the course to solidify their D8 knowledge and project-building experience.
Choose between two course Sections


Section 1 (North America Focused)
Days: Every Tuesday (EST Boston USA)
Dates: 29 January 2019 - 19 March 2019
Time: 15:00 to 16:30 EST
Section 2 (Asia Pacific Focused)
Days: Every Wednesday AEDT (Sydney Australia)
Dates: 30 January 2019 - 20 March 2019
Time: 14:00 to 15:30 AEDT
Note: for quick reference, this Section is Wednesday 12:00 - 13:30 JST (Tokyo, Japan)
Note: for quick reference, this Section is Wednesday 11:00 - 12:30 HKT (Hong Kong)


FAQs
What are the dates of class?
Section 1
The Section 1 virtual class sessions are Tuesdays from 15:00 – 16:30 EST on the following dates:
January 29
February 5
February 12
February 19
February 26
March 5
March 12
March 19
Section 2
The Section 2 virtual class sessions are Wednesdays from 14:00 – 15:30 AEDT on the following dates:
January 30
February 6
February 13
February 20
February 27
March 6
March 13
March 20
Are there any discounts?
Early bird discount ends January 12 @ 23:59 EST
Partners contact your Partner Representative
Will the course proceed for certain?
We need a minimum number of students for the course to be confirmed. In the unlikely event that we do not reach the minimum, the course will be cancelled and all registrants will receive a full refund.
How can I contact the organizer with any questions?
If you have any questions prior to registering, email certification@acquia.com with 'D8 Developer online course query' at the beginning of the subject line.
What's the refund policy?
You can request a refund up to 7 days before the course starts.
PAYMENT DIRECTIONS: To pay by credit card, click on "PayPal Check Out" button and select "Pay with a credit or debit card" option. This allows non-PayPal account holders to use their credit card to purchase seat(s).
How do I register? How do I purchase a Section ticket?

To register and pay for a Section ticket follow these steps, illustrated below:
Click on the "Register" button near the top of the event.
Select a ticket for the Section you want to attend.
Complete the Checkout process.
NOTE:
All training dates are tentative until the required number of students have enrolled.
An Acquia representative will contact you directly when the course "confirm/cancel" decision is made. The decision is made at least one week prior to class start date. Confirmation or cancellation emails will be sent immediately when a decision is made unless otherwise noted.
If your class is canceled, we will make every effort to reschedule your enrollment to assure you get the training you need in a timely manner.
Date and Time
Refund Policy
Refunds up to 7 days before event