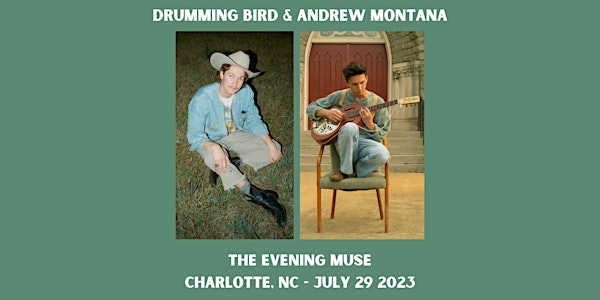 Drumming Bird and Andrew Montana
Drumming Bird and Andrew Montana
Date and time
Starts on Saturday, July 29 · 7:30pm EDT.
Location
The Evening Muse 3227 N. Davidson Street Charlotte, NC 28205
Performers
Headliners
Drumming Bird
Andrew Montana
About this event
2 hours 30 minutes

ALL AGES

Mobile eTicket
Drumming Bird is the main vehicle of singer-songwriter Austin Sawyer. The 24-year-old has been writing and performing music as Drumming Bird for over 8 years, meticulously crafting a sound that lies somewhere between the youthful noise of indie rock and the poignant working-class introspection of Americana. Drumming Bird's latest chapter is defined by Nashville's once-renowned culture of honest songwriting and steel guitars, and the clamor of DIY home studios that litter the city today.
The growth of Drumming Bird's burgeoning fan base has been catalyzed by national TV placements, including Showtime's hit show Shameless, high-octane live performances at some of the Southeast's flagship clubs and a June 2022 solo tour, supporting Daniel Nunnelee on 23 shows nationwide.
"American Spirits" was released on May 19th, and reached a wide new audience with its timely and pointed lyricism. It has quickly established Sawyer as a songwriter's songwriter, earning praise from the likes of Katie Pruitt, Manchester Orchestra, and Lori McKenna. It also scored him second place finishes in Unsigned Only's 2022 Songwriting Contest and American Songwriter's 2022 Song Contest, along with placements in Spotify's Fresh Finds and Fresh Finds: Folk playlists. The following single "Electric Cowboy" premiered in late July and landed on Spotify's editorial playlists: Fresh Finds, Fresh Finds: Rock, and Grade A.
These singles culminated into a 5 song EP, American Spirits, released December 8th, 2022 via AWAL.
Facebook | Instagram | TikTok | Spotify
************
Andrew Montana is a 23-year-old folk artist based in Charlottesville, Virginia. Andrew has been writing and performing since he was a young teen but really found his stride during the pandemic as a result of his social media presence. He then spent several months of 2021 isolated in a remote cabin in the mountains of North Carolina, recording his debut album, "Azalea, Holly". Andrew's first single from that album, "Strawberry" (a murder ballad about unconditional love) hooked listeners with its catchy melody and intriguing premise and helped him find a wide audience. Since its release, he has toured extensively and dropped seven additional singles from the album, which was released in March of 2023
About the organizer
**IMPORTANT UPDATED COVID POLICY
"WE ASK ALL EVENING MUSE PATRONS TO FOLLOW THE CURRENT CDC GUIDELINES WHEN ATTENDING AN EVENT HERE AT THE MUSE.
IF YOU WERE EXPOSED TO COVID-19 AND ARE NOT UP TO DATE ON COVID-19 VACCINATIONS, STAY HOME AND QUARANTINE. IF YOU ARE SICK OR TEST POSITIVE FOR COVID-19, ISOLATE AND DO NOT ATTEND PUBLIC EVENTS. SINCE CHARLOTTE / MECKLENBURG COUNTY HAS LIFTED THE MASK MANDATE WE THOUGHT WE SHOULD MAKE IT CLEAR THAT WE STAND FOR PERSONAL CHOICE IN THE MATTER. BOTH STAFF AND PATRONS ARE ENCOURAGED TO AND RESPECTED FOR THEIR PERSONAL CHOICE REGARDING THE WEARING OF A MASK. WE CONTINUE TO ENCOURAGE FULL VACCINATION AND AS ALWAYS THANK YOU FOR YOUR CONTINUING SUPPORT AND FOR HELPING TO KEEP OUR VENUE AS SAFE AS POSSIBLE DURING THESE CHALLENGING TIMES."
Everyone must have their State Issued ID scanned at the door. If you are over 21 but do not have a legal ID, we will not be able to serve you adult beverages. For All Ages Shows, there is a surcharge at the door if you are under 21.