Drum Circle Facilitation as a Therapeutic Tool: Assessment & Treatment

Saturday, October 18, 2014 from 7:30 AM to 4:30 PM (CDT)
Event Details
Drum Circle Facilitation Workshop
Drum Circle Facilitation as a Therapeutic Tool:  Clinical Assessment, Treatment, and Beyond
Presented by
Heather Hodorowski, MS, MT-BC, LPC
Founder/Director, 'Inana Rhythms
Music Therapy Coordinator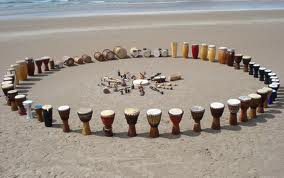 Schedule
7:30 am - 8:00 am      Registration (Coffee/light refreshments will be served.)
8:00 am - 8:45 am      Welcome/Introductions/Opening Drum Circle
8:45 am - 9:30 am      Drum Circle Facilitation Fundamentals:  Tools & Techniques
9:30 am - 9:45 am      Morning Break
9:45 am - 10:30 am    Drum Circle Facilitation Fundamentals: Concepts & Intentions    
10:30 am - 11:30 am   Practice Time
11:30 am - 12:30 pm   Lunch on your own.  A list of local restaurants at various price points will be provided at the workshop.  
12:30 pm - 1:30 pm     Applications of Drum Circle Facilitation to Clinical Assessment

1:30 pm - 2:30 pm       Applications of Drum Circle Facilitation to Clinical Treatment
2:30 pm - 2:45 pm       Afternoon Break (Light refreshments will be served.)
2:45 pm - 3:30 pm       Drum Circle Facilitation as Therapeutic Metaphor
3:30 pm - 4:00 pm       Closing Drumming/Wrap-up/Evaluation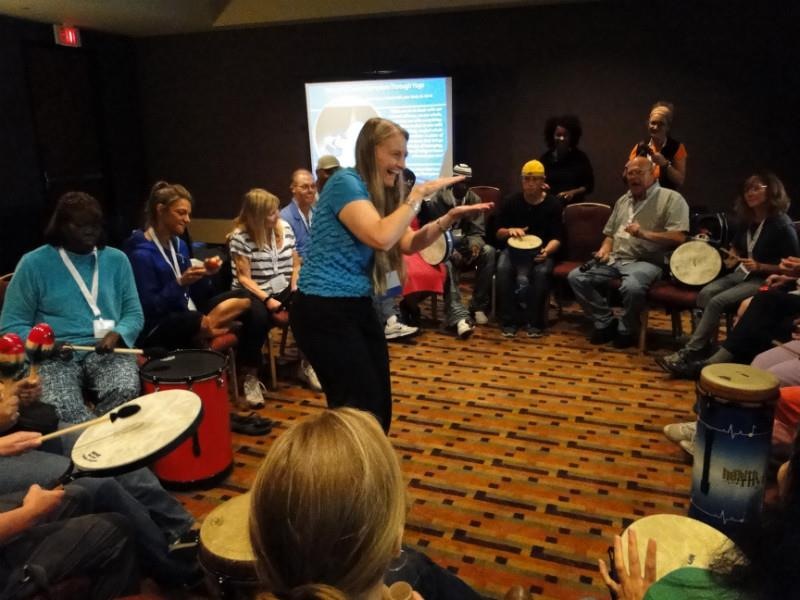 Learning Objectives
Drum circle facilitation is prevalent across the world as a tool for building community, corporate team building, and general health/wellness.  Drum circle facilitation can also be adapted and applied very effectively with various clinical populations as a means toward therapeutic growth.
In this engaging and interactive workshop participants will develop an understanding of:
1.  Basic drum circle facilitation skills, tools, and techniques.
2.  Fundamental concepts, philosophies, and intentions of drum circle facilitation.
3.  Applications of drum circle faciitation to the clinical assessment process. 
4.  Application and adaptation of drum circle facilitation to clinical treatment with various populations (i.e., medical, mental health, developmental disabilities, seniors).
5.  Use of drum circle facilitation as therapuetic metaphor.
1.  Who should attend this training?
Music therapists, music therapy students and interns, social workers, therapists, counselors, clinicians, drum circle facilitators, drum circle enthusiasts, and anyone truly interested in the application of drum circle facilitation to a clinical context and with special populations is welcome and invited to attend.
2.  Do I have to have any formal music/drumming experience to attend? 
No music and/or drumming experience required!  Drum circle facilitation is a tool that can be applied by both musicians and non-musicians.  All you have to bring is a passion for rhythm and using drum circle facilitation with special populations. 
3.  Do I have to bring my own drum/percussion instruments?
No.  All drums and percussion will be provided.  Please feel free to bring your own drum or percussion instruments if you have favorites that you have a special connection to.  Hand drums and percussion instruments including shakers, wooden instruments, and bells will be played throughout the day.  This is your training, make it your own by bringing your favorite instrument!
4.  Are there CMTEs available for Music Therapists?
Although 'Inana Rhythms is not a pre-approved provider through CBMT, this training can easily be used as CMTE credits (approximately 6-7) through the continuing education option.  The breadth and depth of this training relates directly to the CBMT and AMTA Scope of Practice.  If you have further questions about this, please contact me. 

Be prepared to be interactive, to drum, to connect through rhythm, . . . and to have some fun along the way!
For further information or if you have questions please contact:
Heather Hodorowski
When & Where

Buffalo Grove Youth Center
50 1/2 Raupp Blvd
Buffalo Grove, IL 60089


Saturday, October 18, 2014 from 7:30 AM to 4:30 PM (CDT)
Add to my calendar
Organizer
Heather Hodorowski, MS, MT-BC, LPC
'Inana is a Hawaiian word that means "to bring to life".  Heather's passion for recreational drumming and drum circle facilitation began at a training on the shores of Oahu, so 'Inana Rhythms is the perfect fit.
Heather earned a degree in Music Therapy in 2000 and completed a Medical Music Therapy internship at Tallahassee Memorial Healthcare.  As Music Therapy Coordinator at NorthShore University HealthSystem in Evanston, Illinois, she specializes in working with medical populations including oncology, intensive care, cardiac, medical/surgical, and psychiatric care. 
Heather received an MS in Community Counseling and is currently a Licensed Professional Counselor (LPC) in the state of Illinois. 
Heather has received extensive training in drum circle facilitation and mentoring from Arthur Hull of Village Music Circles.  She is currently a Village Music Circles Certified Drum Circle Facilitator as well as Vice-President and Conference Committee Chair of the Drum Circle Facilitator's Guild (DCFG). 
Heather has had the opportunity to facilitate drum circles as a part of her clinical music therapy work as well as with graduate students, children experiencing grief/bereavement at Camp Erin, The World Burn Congress in Milwaukee, Wisconsin, Gold Start Military families, seniors, and many others.   
It is Heather's desire to share her passion for drumming with individuals of all ages, abilities, and backgrounds so they too can experience the power of rhythm to build community, enhance connection, and facilitate change!
Drum Circle Facilitation as a Therapeutic Tool: Assessment & Treatment