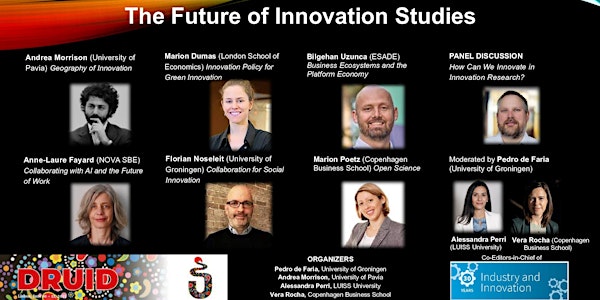 DRUID PDW "The Future of Innovation Studies"
Join DRUID PDW "The Future of Innovation Studies" on June 10 to explore the latest trends and ideas in the field of innovation studies.
By P. de Faria, A. Morrison, A. Perri, V. Rocha
Date and time
Saturday, June 10 · 9am - 12pm WEST
Location
Nova School of Business and Economics 1 Rua da Holanda 2775-405 Carcavelos Portugal
Agenda
9:00 AM - 9:15 AM
Welcome & Introduction
9:15 AM - 9:55 AM
PART 1: "Aged wine" – (Some) Innovation topics that were built to last
10:00 AM - 11:00 AM
"New arrivals" – Emerging hot topics on the innovation research agenda
11:00 AM - 11:15 AM
Break
11:15 AM
Panel Discussion and Q&A: How Can We Innovate in Innovation Research?
About this event
The future looks challenging. The ongoing worldwide transformations – spanning climate change, ageing population, digital transformation, and resource depletion – have put our society in check for the next decades. This calls for a reflection about the future of innovation studies. "The future cannot be predicted, but futures can be invented" (Gabor, 1967).1 In the spirit of this quote, this PDW takes stock of past research on the economics and management of innovation and invites for a reflection about the future of innovation studies. It marks the 30th anniversary of Industry and Innovation and constitutes an opportunity to look both into the past and into the future of innovation studies. In this vein, it intends to give a voice to our community of scholars, collect their perspectives on how "futures can be invented" when it comes to designing a research agenda for innovation studies, and thereby inspire and pave the way for the next 30 years of research on the dynamics of industries and innovation.
The PDW is organized in three components. In the first part, we will take stock of past research in innovation studies and reflect on a few topics that have become established but will need some renewal moving forward, to incorporate the latest insights from the real world, account for enriching interdisciplinary perspectives, and adopt novel and promising methods and research approaches. The second component will include presentations on some emerging themes that are becoming increasingly central in the innovation research agenda, partly due to the recent transformations and global challenges posing new threats to sustainability, economic development and social stability. This component of the PDW aims not only at showcasing relevant examples of the variety of urgent topics that the innovation community will have to tackle in the next future, but also at forging closer links between different parts of such community that, so far, have been disconnected from one another. The third and final component will gather the various speakers in a panel discussion aimed at brainstorming about innovative practices in innovation research and engaging the audience on subjects such as the opportunities and challenges of interdisciplinary teams and projects, the role of mixed-methods studies, new approaches to the review process in academic journals, and alternative ways of producing scientific knowledge (e.g., the role of open science in the future of innovation research).