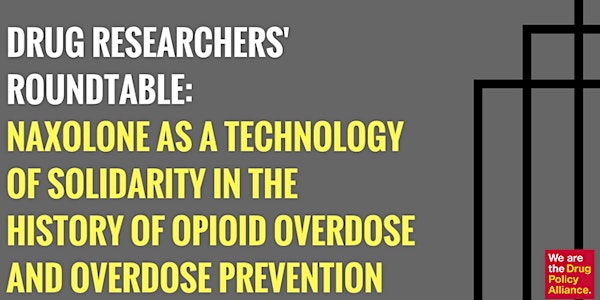 Drug Researchers' Roundtable: Naloxone as a Technology of Solidarity in the History of Opioid Overdose and Overdose Prevention
By Drug Policy Alliance's Office of Academic Engagement
Date and time
Tuesday, February 27, 2018 · 4:30 - 5:30pm EST
Location
Drug Policy Alliance 131 West 33rd Street 15th Floor New York, NY 10001
Description
Drug Policy Alliance's Office of Academic Engagment and SUNY-Stonybrook present the Drug Researchers' Roundtable a monthly meeting for academics and researchers in the field of drug policy, criminology, and addiction and related fields to present their work to fellow New York based scholars, academics, researchers, and drug policy advocates. Researchers will be selected to briefly present on current research and engage in open discussion with the participants, to cultivate interdisciplinary conversations, foster a space for sharing information and feedback on research, while deepening knowledge and expertise of those working within drug policy.
Presenting at our roundtable is Nancy Campbell, Professor of Science and Technology Studies in the School of Humanities, Arts, and Social Sciences at Rensselaer Polytechnic Institute in Troy, New York. She is a historian of drug science, policy, and culture, focusing on the knowledges and practices produced in the interaction between scientific communities that study drugs; communities of drug users; and communities dedicated to the treatment, counting, or characterization of drug users, and political conditions with which they live.
Naxolone as a Technology of Solidarity in the History of Opioid Overdose and Overdose Prevention
T-shirts sport the slogan "Keep Calm and Carry Naloxone," "HERO" bracelets signal that the wearer carries Take-Home Naloxone, and Overdose Awareness Day pins commemorate the sense that overdose deaths are an urgent problem the world over. Governmental and non-governmental organizations are dedicated to distributing "power in a bottle"—the molecular means to save a life using naloxone. Few who were not physicians, pharmacologists, Emergency Medical Technicians, or active participants in the harm reduction movement had heard of naloxone when I began writing this book. Since then naloxone has exploded—hundreds of thousands of kits have been distributed. Thousands of "rescues" or "reversals" have been made, registered, and researched within the world of harm reduction; thousands of "unnecessary deaths" prevented. Law and policy in all fifty U. S. states and many countries have been changed to allow anyone to be supplied naloxone after brief training, and to enable the administration of naloxone in order to save someone's life.
Naloxone works as a "technology of solidarity" for this book's protagonists, who are bound to each other and to those whose lives they have saved. They tally lives saved and numbers of kits distributed; they work in jails and prisons, at needle and syringe exchanges; and train first responders regardless of reluctance or enthusiasm about becoming enrolled in overdose response. Through the actions of these proponents, many obstacles to naloxone distribution have been overcome or at least eased. This is a book about the confluence of social movement actors that brought narcotic antagonists to cultural prominence. The talk will cover address the problems and promises of histories of the present, and of the forms of knowledge production on which they rely.
Follow the event on twitter: #drugresearchersRT
About the organizer
Founded in January 2016, DPA's Office of Academic Engagement (OAE) works to bridge the divide between research and effective drug policies. Too often our drug policies are driven by ideology, politics, stigma, greed, and/or racism rather than the evidence about what works. With evidence-based policy and science in general under attack at the federal level, insisting on policy grounded in scholarship and providing policymakers with the tools to access and use research is more important than ever.