Description
Drug Free Marion County, an anti-drug coalition whose work is aimed at preventing and reducing the impact of substance abuse on crime, health and individuals in our community, will be celebrating its 20th anniversary in service this year. A 20th anniversary celebration "Drug Free Marion County Celebrates 20 Years: Yesterday, Today and Tomorrow" is planned for Wednesday, August 22nd at 6pm at the North United Methodist Church, 3808 N Meridian St, Indianapolis IN.
The 20 Year Anniversary Celebration event is FREE and open to the community. With Tony Lamont, from WTLC & Indiana Black Expo, Inc., as our host the evening includes a dinner, program with past board presidents, IN Family & Social Services Administration representative, U Indy student, and a dramatic presentation by Young Actors Theater.
As our organization embarks on its 20th year, Drug Free Marion County has launched its "20 for 20" campaign. In hopes that all supporters will donate $20 to celebrate 20 years of service to the community. For every $20 donation made, Acadia Healthcare/Indianapolis Treatment Center is matching that in honor of our first 20 years. If you would like to make your donation before the event, you can do so here.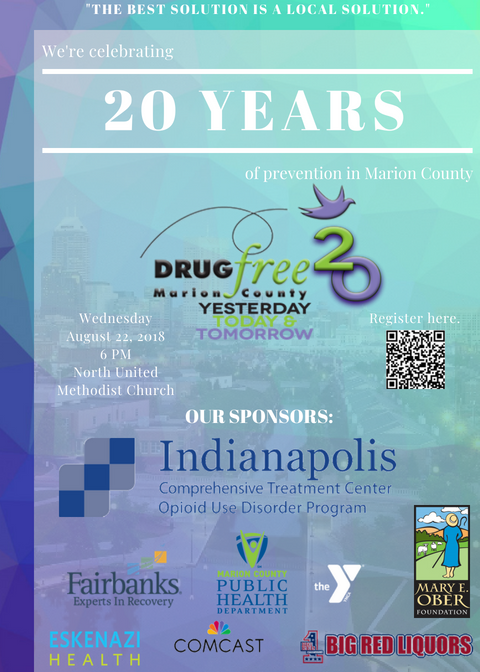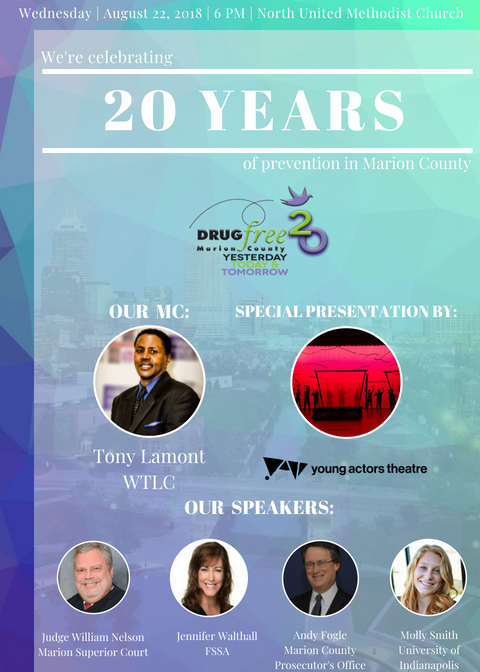 Please join us in celebrating this milestone!
For more information about donating or the celebration, please contact Randy Miller, executive director, at 317-254-2815.
About Drug Free Marion County:
Drug Free Marion County was founded in 1998. The mission of Drug Free Marion County is to advocate for a healthier, safer Marion County through prevention and education to reduce substance abuse among youth and adults. The vision is to be the community resource to eliminate the negative consequences of substance abuse. Our motto: "The best solution is a local solution."