Description
Becca C. will be on-hand to answer questions about general sewing, a project you may be working on, or how to use your machine. Bring your own machine or use one of ours. If you are bring your own sewing machine, having the owners manual will help. We can't wait to see you!
Cost is $14.29 (includes eventbrite fee) or $16 at the door, if spaces available.
Open to people of all ages, interests and abilities. Whether you're a complete novice to sewing, want a refresher, or you're a seasoned pro, you are all welcome and will all have fun!
In addition to the workshop we can also check out your sewing machine and may be able to help with minor repairs, lubrication, etc. Additional charges may apply for repairs and the purchase of parts is your own responsibility.
About Becca: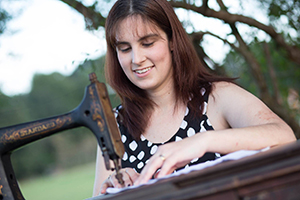 Becca learned to sew in her high school Home Economics class. She started with a pillow and worked her way up from there. Now with more than 17 years of experience under her belt, she most enjoys sewing costumes for her daughter. Her favorite sewing machine is an "Iron Maiden," a 1910 Standard Company treadle powered sewing machine. She loves sharing her knowledge with others to help keep the tradition of homemade clothing and costumes alive and well. As a member of STEAM Junction, Becca and has created several projects including using a ShopBot CNC router to cut vinyl records into clocks and other artwork. One of her next projects will be rubber stamp making using STEAM Junction's Muse laser cutter. Becca has been a volunteer and has contributed to Alamance Makers Guild and Maker Faire Burlington.