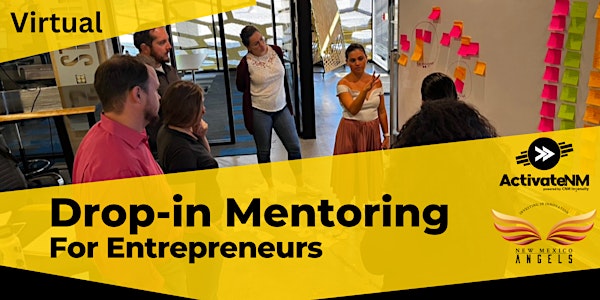 Multiple dates
Drop-in Mentoring for Entrepreneurs
If you're ready to take your startup venture in NM to the next level, tap into an expert network of mentors and resources to make it happen!
Date and time
Starts on Friday, January 20 · 12pm PST
About this event
What is Drop-in Mentoring for Entrepreneurs?
Need business advice? Our experienced mentors are ready to help you tackle your latest problem. Drop in for expert advice in strategy, finance, fundraising, pitching, sales, marketing, talent, and more. Perfect for any entrepreneur from idea to scale.
How It Works
Join the virtual breakout room with our subject matter expert and ask your question. It is that easy!
First-come, first-served. We recommend joining on time.
You can switch rooms to talk to multiple experts.
Open to everyone. You do not need to be a member of ActivateNM.
Select an upcoming session to RSVP. The sessions are typically on the third Friday of each month in 2023.
Notice:
By participating in this event you are opting-in to receiving messages from us related to our offerings. This event may be recorded for quality purposes.
Learn more about how ActivateNM can help your small business or startup by visiting:
About the organizer
About ActivateNM
Activate New Mexico (ActivateNM) helps tech founders build valuable businesses that are going to disrupt a particular market through big visions and innovative, transformative ideas. We love New Mexico, and we believe entrepreneur-led economic development creates opportunities that lead to prosperity. We are committed to nurturing New Mexico's entrepreneurial community and thus, promoting prosperity in our state.
To learn more, please visit: https://activatenm.com/