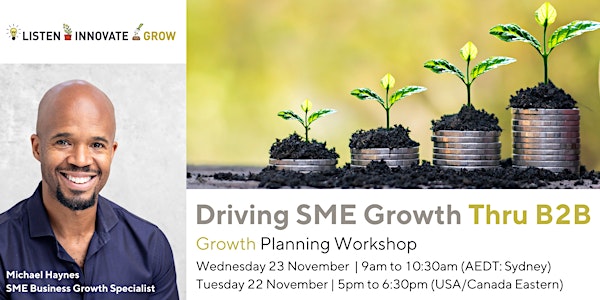 Driving SME Growth Thru B2B
How SME CEOs can proactively acquire clients and drive growth in highly competitive and changing B2B markets
About this event
Who Is This For?
CEOs and Business Owners of service-based Small and Medium Sized Companies (SMEs) that are currently (or looking to move into) operating in Business-to-Business (B2B) markets
Workshop Description
Unless you've been living in a cave the past 3 years, you know that business has changed A LOT. We've had a global pandemic, an economic slowdown and "business as usual" simply isn't going to cut it anymore.
Why?
Because the marketplace has gotten more competitive. Buyers have become more discerning. What used to work even 2 years ago when it came to driving revenue in the Business to Business market simply isn't working as well as it used to.
Sales cycles are longer.
More people are involved in the decision making.
And most importantly: Buyers have become a lot more empowered and discerning as a result of their own education process about your service.
In other words, the old "show up and throw up", where salespeople just throw as much as they can up against the wall talking about their company and offerings and hoping that it sticks, is no longer an option.
So, the question becomes, "What can CEOs of service based, small to medium sized enterprises do to generate more sales and increase their growth opportunities?"
In this workshop, Speaker & SME Business Growth Specialist Michael Haynes shows you:
• 3 Steps for driving growth and increasing revenue in today's highly competitive B2B market…even if you've previously tried "everything" before.
• 2 Essential Elements of today's new B2B customer, which includes what they NOW want and are expecting from a perspective service provider, how they NOW behave and what you can do based on that information to better influence their buying behaviour.
• 1 Simple Solution proactive CEOs can take to turn around previously failed sales and marketing efforts.
Bottom line: You will leave with the session with an action plan for acquiring clients and driving business growth, that you can start implementing right away.