Multiple Dates
DRIVING DIGITAL SALES & FINANCIAL MANAGEMENT TRAINING FOR SMALL BUSINESSES
Become better equipped with modern sales and financial management tactics, knowledge and tools to maximize your business profitability
About this event
Driving sales and proficient financial management are integral and important part of a business, these two determines if a business is making profits, also determine the long & short term future of a business. Financial management is one of the most integral responsibilities of business owners and managers, You need to consider all the potential consequences of your financial decisions also Investors are usually keen to look for signs of security within business operations. Effective financial management allows for the correct balance between risk and profit maximization. Financial management also endorses better decision making, at this training we would be teaching business owners practicals on on how to use digital tools to increase sales and also proficient financial management.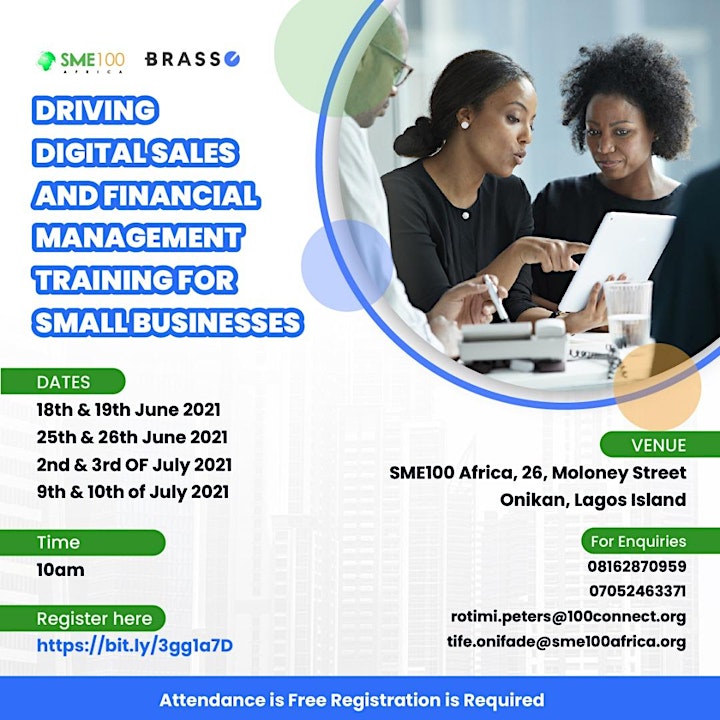 Organizer of DRIVING DIGITAL SALES & FINANCIAL MANAGEMENT TRAINING FOR SMALL BUSINESSES
Who We Are
SME100Africa stimulates entrepreneurship among Young Africans. We identify and support entrepreneurs, enabling communities to reap the transformational benefits of SME participation in the economy. We spotlight exemplary entrepreneurial models that can help improve the capacity of young entrepreneurs to get the skills, networks, and resources they need to build global businesses. We launched operations in the year 2015 and have already recruited more than 10,000 entrepreneurs into our network. Our online communities are fast becoming the go-to places for anyone interested in entrepreneurship in Africa as evident by the growth we have seen in our communities..
Access to Finance
Capacity Development
Access to Inspiring Networks
Access to Information
Access to Market