Description
Join us as executives from JE Dunn, Henderson Engineers and Populous share insights on marketing and communications leadership in Architectural/Engineering/Construction firms, including leading their organizations through change, and women's leadership in a predominantly male business. Listen to these compelling AEC Marketers share their experience as drivers and agents of change to guide success for their organizations .
Panelists: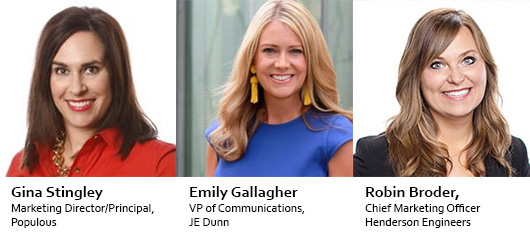 Gina Stingley, Marketing Director/Principal, Populous
Gina manages a multi-million dollar marketing budget for the firm's design efforts throughout the Americas, focusing on strategic planning, business development, brand development, and firm growth.
Robin Broder, CMO, Henderson Engineers
Robin leads corporate-wide marketing and sales strategies, fostering employee engagement, procuring work, building client relationships, and creating brand awareness. She is also a national speaker, working to build the brand of Henderson
Emily Gallagher, VP of Communications, JE Dunn
Emily leads the national public relations and corporate communications efforts, including digital, web, and social strategy, crisis communications, media relations, and internal communications for JE Dunn, which has 20 offices around the country.
Moderated by Maggie Fitzgerald, Hoefer Wysocki's AVP/Director of Marketing Strategy and ANA Business Marketing Kansas City's Vice President of Programming. With a career spanning two decades in AEC and Tech marketing, Maggie understands the challenges faced and conquered by our panel.
This will be a lively panel discussion with time for Q&A and networking at the end. Get your ticket and guarantee your spot! Lunch will be provided.